At $14, the Question Is: Can You Afford NOT to Buy the Behringer SF300 Super Fuzz in Sweetwater's Black Friday Deal?
Get some classic Japanese fuzz flavor on your pedalboard right now for the price of a pack of strings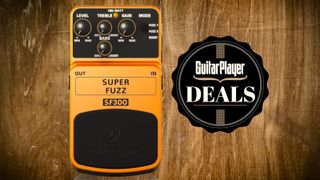 (Image credit: Behringer)
Ask any owner of the Behringer SF300 Super Fuzz and they'll likely agree it's one of the best buys they've ever had.
They'll probably then be equally happy to point out it's virtually identical to the long-discontinued and highly sought-after Boss FZ-2 Hyper Fuzz.
But while those collectible Boss fuzz boxes can fetch upwards of $300 on the used market these days, you can bag a brand-new Behringer SF300 Super Fuzz now for a mere $14!
It almost feels wrong. But go on. You're worth it.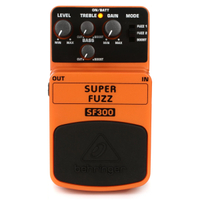 Behringer SF300 Super Fuzz: $29 $14
If you like vintage fuzz, you'll love the Behringer SF300 Super Fuzz. Based on the Japanese fuzz pedals of yore, this absolute bargain of a stompbox delivers famously thick, powerful distortion in spades but can also be used as a handy booster if needed. Treble and Bass knobs allow you to dial in the perfect tone while modes 1 and 2 provide two distinct flavors of classic fuzz.
The origins of this, the archetypal Japanese fuzz, go back to the late 1960s when Honey made their landmark Psychedelic Machine and FY-6 circuit Baby Crying fuzz pedal.
When Shin-Ei took over the Honey operation, they started manufacturing the FY-6 pedal for a plethora of brands, including Univox who marketed it as the Super Fuzz (famously played by Pete Townshend).
This 6-transistor monster of a fuzz pedal sports two modes comprising a bass-heavy scooped sound and a more midrange-focused tone.
As per the Boss FZ-2 Hyper Fuzz, the Behringer SF300 Super Fuzz allows selection of these different fuzz flavors via a three-way switch labelled Fuzz 1, Fuzz 2 and Boost.
While the Boss FZ-2 Hyper Fuzz features a stacked tone knob ranging Cut to Boost, the Behringer SF300 Super Fuzz sports separate Cut/Boost Treble and Bass knobs.
Likewise, the pedals' Gain and Level controls set their er, gain and level, respectively.
All in all, this provides a pretty broad scope of vintage-style fuzz tones to play with; from wasp-in-a-tin to elephant-in-a-canyon, it's all there.
But the question is: at $14 can you afford not to buy this essential fuzz pedal in Sweetwater's unbelievable Black Friday deal?
All the latest guitar news, interviews, lessons, reviews, deals and more, direct to your inbox!
Guitar Player is the world's most comprehensive, trusted and insightful guitar publication for passionate guitarists and active musicians of all ages. Guitar Player magazine is published 13 times a year in print and digital formats. The magazine was established in 1967 and is the world's oldest guitar magazine.
When "Guitar Player Staff" is credited as the author, it's usually because more than one author on the team has created the story.