An Eddie Van Halen-Owned & -Played Ripley Frankenstrat/Kramer Striker is on the Auction Block
Also owned by Leslie West at one point, the '84 model is thought to have been EVH's backup guitar for the '1984' and '5150' tours.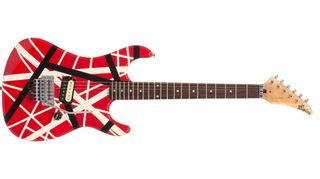 (Image credit: Heritage Auctions)
A 1984 Kramer Striker/Ripley Frankenstrat once owned and played by Eddie Van Halen, and subsequently gifted to Leslie West, is on the auction block.
Put up for sale by Heritage Auctions, the guitar began life as a Kramer Striker, but was custom-modded by luthier Steve Ripley, whose stereo guitars were a favorite of Eddie's. The guitar is believed to have been Eddie's backup for Van Halen's 1984 and 5150 tours, before he gifted the guitar to West at some point between 1986 and 1990.
The guitar was hand-spray-painted and -striped, and notably – instead of the maple fretboard found on a typical Frankenstrat – features a rosewood fretboard. A Ripley-embossed headstock can also be found, plus a single humbucker and a Floyd Rose tremolo.
In 1990, West gave the guitar to "the consignor" – a man who operated as West's personal bodyguard between 1989 and 2001.
The current bid for the Kramer/Ripley guitar is $10,000. Bidding for the guitar ends this Sunday, April 11.
For more info on the guitar, stop by entertainment.ha.com.
Get the latest news, reviews and product advice straight to your inbox.
Thank you for signing up to GuitarPlayer. You will receive a verification email shortly.
There was a problem. Please refresh the page and try again.