A Previously Unheard Rolling Stones/Jimmy Page Collaboration, "Scarlet," Has Been Unearthed
The 1973 track will be included in the upcoming reissue/remaster of 'Goats Head Soup.'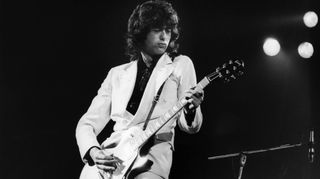 (Image credit: Robert Knight Archive/Redferns/Getty Images)
"Scarlet," a previously unheard Rolling Stones track featuring Jimmy Page on lead guitar, has been unearthed.
The track - which also features Blind Faith's Rick Grech on bass - was recorded during the sessions for the band's 1973 album, Goats Head Soup, and will be included in the upcoming multi-format, remastered reissue of that album.
Though "Scarlet" itself has not been released yet, you can hear another previously unreleased track from the sessions, "Criss Cross," below.
As cool as this discovery is, it's not the only time Page and "The Greatest Rock and Roll Band in the World" have recorded together. Page also played on "One Hit (to the Body)," a Top 40 hit from the Stones' 1986 album, Dirty Work.
The Goats Head Soup reissue, featuring "Scarlet," "Criss Cross" and a third previously unheard track, "All The Rage," will be available via Universal Music on September 4.
Fans can preorder it at The Rolling Stones' website.
Get the latest news, reviews and product advice straight to your inbox.
Thank you for signing up to The Pick. You will receive a verification email shortly.
There was a problem. Please refresh the page and try again.