Joe Walsh, Jeff Lynne, Glen Ballard, and More Highlight Electrifying 2023 Songwriters Hall of Fame Induction Ceremony
The 52nd annual star-studded event honored a melting pot of songwriters from multiple genres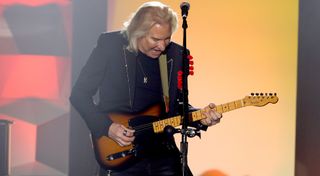 (Image credit: Theo Wargo/Getty Images/Songwriters Hall of Fame)
Wielding his black Gibson Les Paul, Electric Light Orchestra mastermind Jeff Lynne performed a mesmerizing version of the Electric Light Orchestra 1977 classic "Mr. Blue Sky" in honor of his induction into the 2023 Songwriters Hall of Fame.
The 52nd annual star-studded event, held June 15 at New York's Marriott Marquis, honored a melting pot of songwriters from multiple genres, including rock, pop, country, theater, and hip-hop.
"I'll never forget writing this song," Lynne told the black-tie audience. "Back in 1977 in Switzerland, I was staying in a chalet in the Alps getting ready to start what became the double album Out of the Blue. For two weeks, it had been dark and misty, and I hadn't written a bloody thing. Then one morning, I woke up, the sun was shining, the sky was blue and suddenly I could see the Alps. In the next two weeks I wrote 14 songs, including this one."
During his induction speech, Lynne recalled how his unique and distinctive sound was shaped as a child in the 1950's. "My musical education began with a longwave radio and a record player in the living room with my family in Birmingham, listening to the classical music my dad preferred.
"This technology bought the whole world into our home, one song at a time. Everything I needed to know about the power of music. I would search the radio for pop music. Each song was like a two-minute miracle, and I knew that was exactly what I wanted to do."
Joe Walsh presented Lynne with his award and performed a rousing version of the ELO classic "Don't Bring Me Down." Walsh infused the song with his unique, wiry guitar licks, performed on a sunburst Fender Esquire.
"The first time the world heard Jeff's band Electric Light Orchestra, heads exploded," Walsh said during his speech. "Nobody had heard anything quite like ELO. Who were these guys? How many were there? There had to be at least 30. Nope, pretty much one guy.
"All of this is due to Jeff's writing and wizardry in the studio. He's a good musician who can conceive and incorporate full orchestrations while the song is being born long before other songwriters could imagine a world where all that could exist. It's that unmatched talent he has, to take a great song, bring it to life, and turn it into an unforgettable record."
Producer/songwriter Glen Ballard was also one of the evening's honorees. Ballard's speech touched on the winding road that led from an early job opening mail for Elton John's label Rocket Records to writing for and producing albums for Alanis Morissette, Aerosmith, Van Halen, and Michael Jackson.
"The journey of a songwriter is quixotic and occasionally exotic," he reflected. "Never a straight line but sometimes serpentine."
On the red carpet prior to the event, Ballard spoke about working with Van Halen in the mid '90s:
"I only wrote three songs with the group, but I did spend almost a year with Ed Van Halen. It was a very educational time for me. I almost gave up guitar playing, after spending so much time watching him play! Who can play like that? I used to watch him warm up for an hour every day. Ain't nobody else picking up a guitar with Ed in the room! He was an incredible musician, incredibly dedicated and I miss him dearly."
Recounting his breakthrough record – Jagged Little Pill by Alanis Morrisette – Ballard said: "Working with Alanis was a walk in the park. We just had fun. We got together twenty times, and we wrote twenty songs. Everyone thinks she was angry. No! She was laughing all the way. We were having fun. She would come to the studio with a notebook full of stuff and I would start a riff and it was organically built from there."
In addition to Lynne and Ballard, other inductees into the Hall's class this year include New Jack Swing pioneer Teddy Riley, Nashville songwriter Liz Rose, and Grammy-winning songwriter Gloria Estefan, who enters the Hall as the first Latina female inductee.
Theater legend Tim Rice was presented with the prestigious Johnny Mercer Award for musical excellence, and Post Malone was honored with the Hal David Starlight Award for young songwriters making a significant impact in music today.
On the red carpet prior to the event, several Song Hall inductees and hitmakers recounted the writing sessions that produced classic hits and offered advice for creating songs.
Desmond Child (songwriter "Livin' on a Prayer," "Dude (Looks Like A Lady)":
"I co-wrote 'Livin' on a Prayer' with Richie Sambora and Jon Bon Jovi and that was a magical moment. When we wrote it, we started with the story. I was on piano and Richie was on acoustic guitar and Jon was writing lyrics. That riff was developed during the production phase when Jon and Richie were rehearsing and building the song with their producer Bruce Fairbairn."
"Writing songs has always been a sacred circle. I don't even think about music until it's time to write. Then I show up with a blank pad and paper with whoever is writing with me, and we start. And magic happens. I'm so grateful for the career I've had. I've worked hard, but I've also been very lucky."
Post-Malone
"It's so cool to see people tell a story and other people listen and relate to that story and have it helped them. It's super cool to reach out to people through music and lyrics. I don't know if it's good or not. But it makes people feel something and that makes me super excited."
Paul Williams (Grammy winner and ASCAP President) on AI technology:
"The latest fight is going to be AI and to use it effectively. It's important to say 'yes' but it's also important to say 'no' if our music is used. As my wife says, 'they're selling pancakes and they're using your batter.' But ASCAP is up for the fight."
Glen Ballard:
"My advice to songwriters is to listen to the greatest songwriters ever and everything that is on the radio. Find the difference between those things and write as frequently as possible. Don't sit around and wait for inspiration. If you're not inspired, go take a walk or overhear a conversation on the subway. There's something you can write about. Allow yourself to be inspired. Be courageous to take chances and try not to copy."
Liz Rose on the writing session that produced Little Big Town's "Girl Crush":
"We were just writing a song. We didn't have much time because we had another session coming up. Lori had the idea. Hillary sat down and started playing the guitar and sang the first four lines. We didn't even know what it was about, just that it was a cool song. We wrote in about 45 minutes.'
All the latest guitar news, interviews, lessons, reviews, deals and more, direct to your inbox!