The Ultimate Greta Van Fleet Guitar Lesson
Learn how Jake Kiszka bridges the past to the present with tasteful 1970s-style rock guitar riffing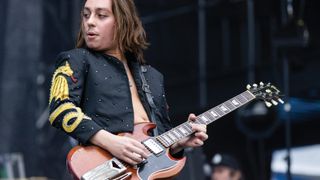 (Image credit: Getty Images)
Back in the early '90s, when the Black Crowes appeared on the music scene, my friends and I (and many critics of the day) promptly wrote them off as sounding just a bit too much like the Rolling Stones. But we soon discovered we were each listening to them on the down-low, won over by their hooky songs and solid guitar playing. They ultimately transcended that initial hasty comparison, and some of those same songs are now considered classics.
Greta Van Fleet, formed in 2012 by the Kiszka brothers – Jake (guitar), Sam (bass) and Josh (vocals) – along with original drummer Kyle Hauck, have similarly created a bit of a stir with critics' comparisons to classic Led Zeppelin. But the young band is quickly solidifying their staying power with the recent release of their third full-length album, Starcatcher.
Powered by Jake's creative wielding of his Gibson SG, the quartet have won over an army of fans with their impressive high-energy songwriting. In this issue's lesson, we'll take a look at what makes Jake's playing tick. (Note that while the guitarist sometimes tunes down a half step, all music examples presented here are in standard tuning.)
"Safari Song," the first track from Greta Van Fleet's second EP, From the Fires, yielded a 2019 Grammy win for Rock Song of the Year. Right off the bat, Jake employs a nifty combination of droned bass notes left ringing under bluesy riffing.
Ex. 1 is based on the song's intro, and the key to making it work is to perform each string bend downward, pulling the string in toward your palm, so as to avoid a collision with a held note on a lower string, which could stop it from ringing.
Jake actually only employs a drone over the riff's first chord (A), but our example expands the technique to the following two chords, G and D. (Nashville session ace Tom Bukovac is a master of this type of playing, and his YouTube videos are well worth checking out.)
Finally, be sure to fret the G bass note with your thumb, as indicated.
Jake often demonstrates an affinity for adding secondary guitar parts to Greta Van Fleet's songs, a great example of which is Starcatcher's "Meeting the Master." Ex. 2 is inspired by the song's high-energy middle section and demonstrates how to add some tension to basic backing chords.
Composed entirely of dyads (two-note chords), the lower voice mimics the bass line of the backing guitar's chords, as the upper voice alternates back and forth between tension notes, which release to chord tones.
Let's have a look at bar 1. Over a D chord (D, F#, A) the high voice darts back and forth between F#, the 3rd, and G, the suspended 4th. A similar and even spicier move occurs in bar 2, where an F# note functions as a suspended sharp 4 (sus# 4) of C.
An effective way to become aware of where your options for tension are is to associate them with chord shapes.
Ex. 3 shows where to find two common tension notes in relation to three D triad inversions on the top three strings, specifically the suspended 2nd (E) and the suspended 4th (G). This is some useful knowledge to have for creating musical rhythm parts and solos.
Apply these shapes to other major chord shapes, then visualize where the tension notes are found in relation to minor shapes too, as demonstrated in Ex. 4.
Having these melodic-harmonic choices available is helpful, but oftentimes my students say, "That's great, but how do I even begin to come up with a secondary part?" A terrific approach is to listen to your initial rhythm part and ask yourself, "What can I do differently to complement the original part rhythmically?"
Let's take a look at what Jake came up with for the secondary part just before his solo in "Lover, Leaver," from 2018's Anthem of the Peaceful Army. Over a choppy stop-and-start rhythm, he adds a burst of continuous 16th notes, which creates new momentum from which to launch his solo.
Ex. 5 is reminiscent of this section. A quick position shift is required after each note pair, which is most easily accomplished by not pressing down too hard on the strings with your fret hand. To reduce friction, use a light touch, applying just enough pressure to cleanly sound the notes.
Another way to add some rhythmic interest to your parts is to add accents, which simply means to play certain notes louder than others. As a band, Greta Van Fleet often does this by accenting the weak beats of a bar.
In a bar of 4/4 , the "strong" beats are beats 1 and 3 – not coincidentally, the ones on which you most often start or end a song.
On the other hand, beats 2 and 4 are considered the "weak" beats, and accenting them can add some "rhythmic dissonance" to the proceedings.
This effect can be heard in songs like Starcatcher's "Farewell for Now," and Ex. 6 takes this same approach.
Note how accenting the G5 chord on beat 2 of the second bar throws us slightly off balance for a moment. This sort of shifty rhythmic phrasing can often lead you to create dynamic and, most importantly, cool-sounding parts.
Keep in mind that, as we had previously approached creating secondary parts rhythmically, we can also take a similar tack here. Before even considering what notes to play, ask yourself what would fit rhythmically, as this can lead you to new and unexpected places. Plus, your drummer will be proud of you.
Now let's bridge the divide between rhythm and lead playing by exploring how Jake will seamlessly add single-note riffs between strummed chords. He does this in many of Greta Van Fleet's songs, a prime example being Anthem of a Peaceful Army's "Age of Man."
Ex. 7 is informed by the guitarist's approach on this track. Played in the key of F# minor, the single-note passage that begins on beat 3 of the first bar starts out as a standard F# minor pentatonic (F#, A, B, C#, E) phrase.
But then notice the addition of the G# note, borrowed from the natural minor scale (F#, G#, A, B, C#, D, E), which adds a new burst of color. The fill in bar 2 covers similar territory. Sure, you can strum through those beats, but why not spice up the proceedings with some riffy goodness?
The intro to Starcatcher's "Sacred the Thread" is a great example of Jake's talent for crafting a compelling part by combining the approaches we've discussed above. Here he mixes both single notes and dyads and introduces a nifty technique in which an open string is allowed to ring when shifting a chord shape up or down the fretboard.
Ex. 8 is based on this section and explores the concept of mixing things up. Notice how, in bar 1, the open G string is allowed to ring through the sliding chord form, creating a chime-like effect.
Later in "Sacred the Thread," Jake takes this open-string technique even further.
Ex. 9 illustrates a similar approach. Here, the droning open strings are re-struck for each of the chords, and also ring longer, allowing the dissonances created to be even more noticeable.
In "My Way, Soon" from Greta Van Fleet's 2021 release, The Battle at Garden's Gate, Jake creates a melody line within a static chord to add some interest, instead of simply strumming. Like the song's intro, Ex. 10 begins with an E chord that showcases an inner melodic line extending through beat 2 of bar 1.
Notice how the open B string is used as a drone against the melody, giving it more weight. To accomplish this, when fretting the 4th-string F# on the eighth-note upbeat in beat 1, allow your pinkie to lightly touch and mute the 3rd string.
The same muting technique is applied in bar 2, where a fretted dyad on the 4th and 5th strings is sounded together with the open 1st and 2nd strings.
Allow your fret hand's 1st finger to mute the unused 3rd string in much the same way. Having this muted string between the dyad and open strings also conveniently offers the opportunity to add finger vibrato to the fretted notes without disturbing the ringing of the open strings.
So the next time you're presented with a single chord played over a long period of time, try incorporating a simple melody to make your part stand out.
In "Stardust Chords" from The Battle at Garden's Gate, Jake flips things around by using muted strings, but this time incorporating a low drone. Ex. 11 takes a similar approach, inspired by the song's intro.
Notice at the outset how the melody notes on the 3rd string over the Cm/G and G chords sound more clearly due to the non-use of the 4th string, which is muted by the fret hand.
By combining this technique with an interesting chord progression and rhythms that feature syncopation (stressing "off-beats," which are anything other than the strong beats), Jake is able to create both an exotic and funky vibe in his song.
While much of Jake's soloing vocabulary fittingly draws from the tried-and-true minor pentatonic scale (1, b3, 4, 5, b7), he also thinks outside the box, at times conjuring ear-catching musical non sequiturs drawn from other melodic resources.
Let's close out this lesson by referencing an unorthodox lick Jake plays in his solo in "My Way, Soon," from The Battle at Garden's Gate. At 3:24, he creates an abrasive-sounding minor 2nd interval (one half step) with notes on the 3rd and 4th strings, intentionally allowing them to ring together.
Informed by this rather unusual application of dissonance, Ex. 12 demonstrates how chromatically moving this minor 2nd shape up the neck with a sequence of slippery finger slides creates some death-defying drama. (It's interesting to note that guitarist Elliot Easton of the Cars played a similar phrase toward the end of his solo in the 1978 classic "Bye Bye Love.")
Wherever you drop the needle on any Greta Van Fleet record, you'll likely find yourself face-to-face with Jake Kiszka's tasteful 1970s-style rock guitar riffing, subtly imbued with his own unique twists and turns.
As the band leaves the critics' comparisons behind, they continue to satisfy their fans by creating analog-sounding music for a digital world.
All the latest guitar news, interviews, lessons, reviews, deals and more, direct to your inbox!
Jeff Jacobson is a guitarist, songwriter and veteran music transcriber, with hundreds of published credits. For information on virtual guitar and songwriting lessons or custom transcriptions, reach out to Jeff on Twitter @jjmusicmentor or visit jeffjacobson.net.