21 Darkly Enticing Musical Ideas Using the Natural Minor Scale
Whether you're a rookie, intermediate player or seasoned veteran, these Aeolian flavored riffs are bound to inspire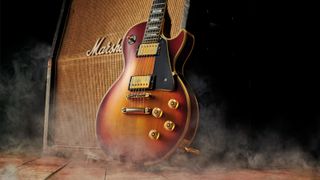 (Image credit: Future)
If there's one thing that rock, blues, jazz, country and funk guitarists have in common, it's that most of us enjoy playing in minor keys and tonalities. There's just something about the inherently darker feel of a minor harmonic environment that speaks and resonates so well on our instrument.
Couple that with the fact that all guitarists, lead and rhythm players alike, love a good riff, and we arrive at the point of this lesson: how to craft your own minor-key riffs.
Whether you're a rookie, intermediate player or seasoned veteran, check out this sampling of 21 darkly enticing musical ideas. There's bound to be something that will stoke your creativity.
E Minor Scale Patterns Along the Fretboard
For the sake of continuity and comparison, all the examples in this lesson are based on the E natural, or pure, minor scale (E, F#, G, A, B, C, D), also known as the E Aeolian mode.
First, check out the neck diagram in Fig. 1.
Here we show five different box patterns of E natural minor, laid out end to end, as they overlap and connect in order, from the open position all the way to the top of the fretboard.
Note that once you get to Pattern 5 (at the 9th-fret position) the patterns start over again, an octave higher from where they started.
The only pattern that doesn't exactly match its octave-higher doppelgänger is Pattern 1.
In its open-position form, the F# note above the first octave has to be played on the D string.
In the upper position, that note can now be fingered on the G string's 11th fret.
Take some time to play through the patterns to get a feel for how they segue into one another. This is important, as many of the following riffs toggle back and forth between neighboring patterns.
Open-Position Riffs
First up is a low-string example (Ex. 1) based on two heavy musical themes: Edvard Grieg's spooky orchestral piece "In the Hall of the Mountain King," crossed with Randy Rhoads' signature riff from Ozzy Osbourne's "Crazy Train."
It's interesting to note that the classical repertoire is a fertile breeding ground of motif-based musical passages that can be used as inspiration for original riffs.
Ex. 2 is inspired by metal ballads of the '80s, like White Snake's "Is This Love," Def Leppard's "Bringin' on the Heartache" and Cinderella's "Nobody's Fool."
Let's take a moment here to talk about some basic music theory.
The triad chords harmonized from the E minor scale are Em (E, G, B), F# dim (F#, A, C), G (G, B, D), Am (A, C, E), Bm (B, D, F#), C (C, E, G) and D (D, F#, A).
This lesson will also refer to these seven chords as i (1 minor), iidim (2 diminished), bIII (flat-3 major), iv (4 minor), v (5 minor), bVI (flat-6 major), and bVII (flat-7 major).
This correlates with the numeric formula for the scale degrees of the natural minor scale (1, 2, b3, 4, 5, b6, b7).
This example is based on the i (Em) and bVI (C) chords of the key, played in an arpeggiated fashion.
The fancy chord names refer to the various scale degrees that are attached to the basic triad structure.
Em(add9) (E, G, B, F#) and Cadd9 (C, E, G, D) are common chord grips in the melodic rock repertoire and probably feel familiar under your fingers.
The Cadd9(#11) (C, E, G, D, F#) is a sparkly chord most often used in passing between changes. On "Stairway to Heaven," Jimmy Page employs a similar shape in the triumphant ensemble figure that leads into the solo section.
Ex. 3 is a bluesy folk-rock example that brings to mind retro tunes such as the Turtles' "Happy Together," Joe Walsh's "All Night Long" and the Doors' "People are Strange."
It features useful moves that could easily be deployed in a traditional 12-bar blues in E minor.
Next, we have another low-string rocker (Ex. 4) that's an amalgamation of three classic riffs: Michael Jackson's "Beat It," Roy Orbison's "(Oh) Pretty Woman" and Heart's "Barracuda."
It starts in open position and segues briefly to the neighboring Pattern 2 box.
While some of the Pattern 2 notes could be transported to open position, the fretted note choices offer a beefier tone and opportunities for fret-hand vibrato.
Ex. 5 is a bluesy acoustic passage designed to highlight a i - v - i progression in E minor (Em - Bm7 - Em).
The first half of bar 1 rides along the border region of Patterns 1 and 2, then moves to a slick set of 6ths dyads (E/G and D/F#, respectively) before going out on a legato-fueled lick based on the chord tones of the overlapping Bm7 (B, D, F#, A) chord change.
This example is fashioned for a fingerstyle approach (thumb and fingers only). Follow the pick-hand notation carefully and things should fall into place.
Although the majority of country songs seem to be in major keys, there are some minor-key barnburners in existence (Charlie Daniel's "Devil Went Down to Georgia," for example).
In keeping with our minor theme, Ex. 6 combines Patterns 1 and 2 for an open-string enhanced example that's inspired by classic pickers such as Ricky Skaggs, Glenn Campbell, Roy Clark and Danny Gatton.
This example is transcribed for a hybrid-picking approach (pick and fingers). Use an aggressive pick attack, and snap up forcefully with your middle finger on the opposing higher strings.
Classic arena rock (Rush, Journey, Van Halen) is the setting for the next example (Ex. 7).
Opening with a trio of rhythmically offset power chords, the riff moves to an ambitious pair of arpeggiated figures – Cadd4 (C, E, G, F) and Em11 (E, G, B, D, F# , A) – and goes out on an intriguing pedal-point passage, pivoting off of a D note.
Moving on up the Neck
Pattern 3 is a favorite hangout for a lot of '70s rockers, particularly in the key of E minor.
The low strings in the pattern have a pentatonic feel (E, G, A, B, D) that's easy to manipulate and mold into beefy riffs like the one in Ex. 8.
Play through it and you should hear echoes of Stevie Wonder's "Superstition" and the Eagles' "Life in the Fast Lane."
Ex. 9 is a nod to Police guitarist Andy Summers ("Walking On the Moon," "Don't Stand So Close to Me," "Every Breath You Take").
Chordal by nature, the riff discloses the diatonic possibilities available within the key of E Aeolian minor.
The Em7 chord is the obvious one, but the other three chords are all colorful renditions of the bVII chord (D).
D/A is an inversion of the triad itself, D9sus4 (D, G, A, C, E) is a hallmark voicing of Andy's playing style, and the D13/C (D13 [D, F#, A, C, E, B, with C in the bass]) is a common jazz voicing often used in funk and gospel music.
Regarding the tone of this riff, the essential ingredients are a light flange (or heavy chorus) setting, coupled with a delay slap set to about 500ms.
The rock-shuffle riff in Ex. 10 is inspired by one of the several riffs that drive "Carry On Wayward Son," by Kansas.
This one can be a bit tricky to perform, but if you follow the suggested fret-hand fingerings, it should be easy to get up to speed with practice.
Ex. 11 is a moody, atmospheric passage that can be played either fingerstyle (as transcribed), with a pick only or with hybrid picking.
The goal here is to allow all the notes to ring together as long as possible.
The suggested fret-hand fingerings may seem a bit unorthodox, but try them, and experiment with other fingerings.
Ex. 12 is a shout out to some of the masters of R&B rhythm guitar: Reggie Young (Dobie Gray's "Drift Away"); Cornell Dupree (Brook Benton's "Rainy Night in Georgia"), Steve Cropper (Otis Redding's "Sittin' on the Dock of the Bay"), Curtis Mayfield (the Impressions' "People Get Ready"), and, of course, Jimi Hendrix ("Castles Made of Sand").
Chock full of hammer-ons, pull-offs and sliding 4ths, the example deftly nails the changes of the active chord progression.
"Hauntingly bittersweet" perhaps best describes the mood of the acoustic example in Ex. 13.
Similar to some of the chord shapes favored by Eric Johnson ("Forty Mile Town" and "Cliffs of Dover"), the passage also calls to mind Paul Simon's playing style on Simon & Garfunkel's "Scarborough Fair/Canticle."
Speaking of which, the 3/4 time signature helps promote a Renaissance-style flair, if you will.
Although constructed with acoustic guitar in mind, this example also sounds good on a clean, compressed electric guitar with a long-decay reverb setting.
The Pattern-4 figure in Ex. 14 is a nod to Jimi Hendrix.
Equal parts "Voodoo Child (Slight Return)" and "Little Wing," it utilizes every note of the E natural minor scale.
Ex. 15 is a Latin jazz-style example that highlights a ii - V - i progression: F#m7(b5) (F#, A, C, E) - B7(b9) (B, D#, F#, A, C) - Em7 (E, G, B, D).
Take special notice of the 6ths dyads in the latter half of the passage.
While commonly deployed along parallel string sets up and down the fretboard, it's also possible (and practical) to play 6ths across the fretboard in a box pattern.
Ex. 16 caps off this Pattern-4 portion of the lesson with an example that exhibits the 16th-note-oriented rhythms and fills on funky, classic rock songs like the Doobie Brothers' "Long Train Running," Eric Clapton's "Layla" and "Forever Man," and Edgar Winter Group's "Free Ride."
Notice that the fancy fretwork over the C chord is transported up to Pattern 5 for a complimentary, motif-based response.
Spend some time with this example, as this area of the fretboard can be fertile ground for crafting funky rhythm riffs and fills over this type of progression.
The End of the Line
Ex. 17 brings us full bore into Pattern 5, the last pattern in the lineup before the fretboard begins to repeat itself.
Half hard rock, half country flash, this riff exudes a rather dichotomous nature.
Although the fretted notes are exclusively housed in the Pattern 5 box, open-string embellishments (hammer-ons from the low E, pull-offs to the open G string, and open high-E string snaps) help generate the rambunctious nature of this unique example.
Ex. 18 brings us full circle back to Pattern 1, now an octave higher in its upper position at the 12th fret. (This pattern is familiar territory for beginning, intermediate, and veteran rockers.)
Launched by a riff similar to that in Lenny Kravitz's "Are You Gonna Go My Way," the passage switches gear and segues to a legato-fueled line that zips back-and-forth to Pattern 5.
Ex. 19 is a galloping, hard-rock excursion that stays firmly ensconced in Pattern 1.
Picking accuracy is crucial for this riff to sound "in the pocket".
Follow the picking direction notation, as well as the fretboard fingerings.
Ex. 20 explores the upper regions of the neck with an R&B/soul-style riff that starts out in Pattern 2 (upper position) and travels down into its lower neighbor, Pattern 1.
6ths and 3rds intervals are the main theme of this chord-tone-conscious passage.
Notice that these dyads hit the chord tones of the changes when they arrive in the progression: G/B on the Em7 chord, and E/C on the Am7 chord.
This is an important procedure when creating riffs that work musically over chord progressions.
Ex. 21 caps off our lesson with an extended passage that covers the entire fretboard.
Consider it a musical exercise for cruising through small sections of each neighboring pattern.
Here's a breakdown of each section: A descending Em7 arpeggio (E, G, B, D) kicks off the first measure (Pattern 4, upper position), followed by a three-note cluster that's perhaps best described as a Dsus2 (D, E, A) chord shape (Pattern 3, upper position).
Next comes an interesting set of notes that skirts the connecting borders of Patterns 3 and 2.
Bar 2 opens with another arpeggio handoff, for which a descending Am7 arpeggio (A, C, E, G) bleeds into a Cmaj7 (C, E, G, B), then segues to a unique series of whole-step slides that, when sustained, morph into power chord shapes (harmonic 5ths intervals).
Upon arrival in Pattern 2 at the bottom of the board, the passage goes out on a descending Gmaj7 arpeggio shape (G, B, D, F# ) and a resolving low-E note.
Mastering E minor is beneficial, but see what you can come up with in other keys.
A minor would be the logical next step.
Using the neck diagram in Ex. 1 as a guideline, just shift the entire grid up five frets and they will be aligned in the key of A minor.
Pattern 5 would be situated at the 2nd fret, and Pattern 4 would be in open position.
Have fun!
All the latest guitar news, interviews, lessons, reviews, deals and more, direct to your inbox!