Vintage Vault: 1966 Fender Jaguar Prototype
Vintage guitar veteran David Davidson of Well Strung Guitars shows us this strange cat from Fender's misty past.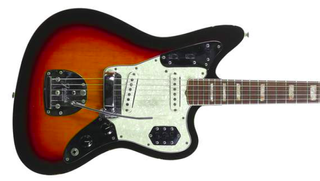 (Image credit: Paige Davidson/Well Strung Guitars)
My first Fender guitar was a Jaguar. When I was a child, I used to check the local buy-and-sell newspaper every day and one day, among a garage sale, I saw the words 'Gibson guitar'. That's all it said. I was nine years old, so I asked my dad to drive me over there with my $40, which I had made delivering newspapers.
It was an ES-125TC. They wanted $100 for it and my father broke these people's chops relentlessly until I got it for $40. I was so excited. You know, a Gibson guitar!
Anyway, after having that guitar for about a year, I decided I wanted to sell it because I wanted to save some money for a Stratocaster. So, with my parents' help, I put an ad in the same buy-and-sell newspaper and I asked $100 for it. This guy asked me, 'Would you be interested in a trade?'
I had never even heard of Fender Jaguar, but then he came by with a [first year of production] 1962 Burgundy Mist Jaguar. I was just blown away by the fact I had a Fender guitar in my hands. My father went to the negotiating table for me, and the guy said, 'How about I give you my Jaguar and $40 for the Gibson?' So, I got my $40 back and a free Burgundy Mist Fender Jaguar, which I still have.
I was obsessed with surf music and thought it was a really cool electric guitar. You'd see photographs in magazines of people playing Jaguars all the time. Even Roy Clark was playing one, it was crazy – Fender just put them in everyone's hands.
This was around 1973/1974 and I was just a kid. They stopped making them in 1975, but production had ground almost to a halt by 1970. I think the purpose of the Jaguar was to try to tweak the Jazzmaster with a faster neck and an extra fret. The idea was to shorten the scale from 25.5 inches to 24 inches and to keep working with the separate Rhythm and Lead circuits.
Later on, they tried to make those guitars fancier. In late 1964 and early 1965 they started using pearloid dot inlays, and then they went to the neck binding in late 1965. Finally, block markers were added in the first quarter of '66. I think the idea was to have a competitive look similar to the block inlays Gibson started putting in their ES guitars in 1962. I think it took a little while for Fender to catch up, but when CBS took over the company it was like a war. Everything was reactionary.
The Environmental Protection Agency had changed the rules and Fender suddenly found themselves using heavy wood that they wouldn't have used before. They were obsessed with trying to get a lighter guitar. I have a lot of other prototype Fenders from that period: a Marauder, a thinline Stratocaster, a spruce-top hollowbody Telecaster, and a Telecaster Thinline prototype. These were all [Roger] Rossmeisl ideas they were trying out, while attempting to come up with something lightweight and usable.
The 'smuggler's' Teles were in '67, and the Tele Thinline came in '68, so they were obviously experimenting with trying to make lightweight guitars. They worked out a lightweight Tele, but after 1966, Jaguar and Jazzmaster sales fizzled greatly. By '67, both of those guitars were an afterthought because Hendrix appears with a Stratocaster.
This guitar is one of the most unusual instruments I've seen. Just the angling of the bridge pickup is saying, 'We need to get more Stratocaster out of the Jaguar.' You know, a hybrid. But obviously it never happened. The slotted polepieces of both pickups are adjustable. That's the first Fender guitar with adjustable polepieces. They work differently from any other pickups and it sounds completely different to a regular Jaguar; it's much thicker sounding. Regular Jaguar pickups sound kind of midrange-y and almost nasal. And yet these pickups give it that lower end. It's a combination of that and the fact it's chambered that changes the sound.
In [the lower bass bout] there is a long, somewhat hockey stick shaped rout. In [the lower treble bout] there is a doughnut-shaped hole. And underneath the pickguard there is an extra-wide channel routed. It still has the belly contour, but no forearm contour.
It has a flat alder top that was glued on after the alder body was routed, and the seam is disguised by single-ply white binding. The only thing that would have put the icing on the cake with the guitar is if it was a [custom] color instead of sunburst. I mean, if you're going that far, why not just paint it some crazy color?!"
Vintage guitar expert David Davidson owns Well Strung Guitars in Farmingdale, New York.
All the latest guitar news, interviews, lessons, reviews, deals and more, direct to your inbox!
Rod Brakes is a music journalist with an expertise in guitars. Having spent many years at the coalface as a guitar dealer and tech, Rod's more recent work as a writer covering artists, industry pros and gear includes contributions for leading publications and websites such as Guitarist, Total Guitar, Guitar World, Guitar Player and MusicRadar in addition to specialist music books, blogs and social media. He is also a lifelong musician.