The Story of Bill Asher and Don Moser's Amazing Dr. John Night Tripper Guitar
Learn about a very special Telecaster, customized in tribute to the late Malcolm John Rebennack Jr.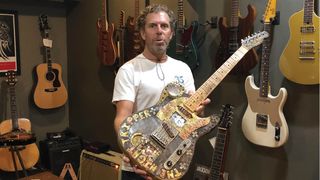 (Image credit: Future / Lisa Johnson)
Don Moser and master luthier Bill Asher may have built the Night Tripper guitar, but it's inhabited by the spirit of Malcolm John Rebennack Jr., the musician, songwriter, performer, producer and six-time Grammy winner better known as Dr. John the Night Tripper, who passed away on June 6, 2019.
Moser and Asher brought their talents to bear on a one-of-a-kind guitar befitting the late musician's elaborate "voodoo medicine" costumes and headdresses, as seen on the cover of Remedies, from 1970.
The Night Tripper sports Moser's ornate metalwork, which is reflective of his other highly decorative instruments that honor African-American folk and blues and give people what he calls "a peek inside the supernatural world" through their voodoo imagery.
Moser's guitars are celebrated works, some of which reside in Cleveland's Rock and Roll Hall of Fame, the Musical Instrument Museum in Phoenix and the Smithsonian's National Museum of African American History & Culture in Washington, D.C.
Far from being just a display piece, however, the Night Tripper was built to be played by musicians who perform at Tipitina's, the famed New Orleans music venue, and this is where Asher's skills as a guitar builder come into play.
The luthier has been making high-end guitars and lap steels for more than 35 years for clients that include Jackson Browne, Ben Harper, Fleetwood Mac, Paul Simon and the Dixie Chicks.
Image 1 of 2
The headstock has "Dr. John" spelled out in metal.
The back hosts a Tarot card in a metal frame bearing Moser's and Asher's names.
As Moser puts it, "I design guitars, and I run with people like Billy Asher, who can bring my designs to fruition. I get my hands dirty on the builds, as well as on the cases for the guitars that my Temple of Tone company makes, but Billy is the technician."
For his part, Asher finds working with Moser to be an inspiring endeavor. "It's not often that a guitar designer who embellishes instruments that have some deeper meaning behind them is recognized like a painter or sculptor," he explains.
"I know a lot of companies that do these decorative, inlaid guitars and get big dollars for them, but Don wants them to be great-playing guitars as well as art pieces. That's why I want to help him deliver a guitar that's going to feel and play like a master-built instrument."
Asher says he's turned down opportunities to work with designers to stay focused on his own instruments. "But when I met Don through a musician friend of ours," he explains, "not only was he passionate and excited about his work but he wanted to create iconic guitars that are connected to musicians he has been inspired by.
"It's so different from anything I would ever do, and these guitars sound unique and powerful. A lot of sweat and thought and design goes into every one of them, along with a little magic."
On that last point, Asher has an intimate connection: His mother is Elizabeth Montgomery, the late star of the 1964–'72 TV comedy series, Bewitched. "My mom was a witch on TV, and I understand white magic and black magic and something in-between, which is voodoo," Asher explains. "That's where you're controlling the magic."
For Moser, that means being in touch with the spirit of the build. "You have to get inside the instrument," he says. "You can't just be drawing by numbers. It sounds corny, but it's absolutely true, otherwise it comes out looking like it was done with no love or mojo or magic.
"Whenever that happens, and no matter how many hours you put into the build, you look at the guitar and think, Wow, I let my ego get in the way of everything, and you just throw it in the corner and say screw it.
"These guitars don't go out there unless they pass the test, and each one has been built for a reason. Some of my guitars are behind glass at these institutions, but the Night Tripper had to be roadworthy, and that's why it exists. It went on a world tour with Ray Holloway, a great guitarist who plays with Robert Randolph and Eminem."
The guitar started out as an '80s Fender Telecaster. It was passed among New Orleans players for years, and even survived Hurricane Katrina, before Moser obtained it and began its transformation.
"I added a steel top and used brass and copper for the lettering and the frames on the front and back," he explains. "Brass screws are used for the rivets, and the signature piece of my Forecaster guitars is the crystal ball, which lights up when you plug it in, and you see a picture of Dr. John underneath it.
"That's the sacred spot. I'm working on a production-line Forecaster that doesn't have a metal top, and people can put something that's significant to them under the crystal ball."
Asher, who handled the technical side, reports that he used a Telecaster-style bridge pickup that he made with Alnico 5 pole pieces and wound with 42-gauge wire. Instead of a traditional Tele neck pickup, he opted for a Strat-style unit (also using Alnico 5 poles and 42-gauge wire) that is similar to one of his Sweet Tea models, but wound a bit hotter.
"The coils are lightly shellac-potted and not waxed, which helps produce better harmonic response and overtones," Asher explains. "Because the guitar looks so unique, I made the bobbin tops out of custom plastic that's used for expensive fountain pens. It has these swirly colors that look great when it's sliced and polished out.
"Although the metal top affects the sound, the guitar is basically a '60s-style Tele with an alder body and maple neck, and the Sweet Tea pickup at the bridge and a Strat-type neck pickup give it a great bluesy tone.
"We did some light chambering under the top to give it more resonance and make it lighter, and I refretted it with Jescar wire and installed a bone nut.
"It plays and sounds great, and that was important to Don, because he wanted the Night Tripper to be a guitar that people will always want to play. It's not about getting five or 10 grand for these guitars. Don has donated almost everything that we've made so far to museums or to charity events to give back to the music community or help people in need. It's been an inspiring ride."
All the latest guitar news, interviews, lessons, reviews, deals and more, direct to your inbox!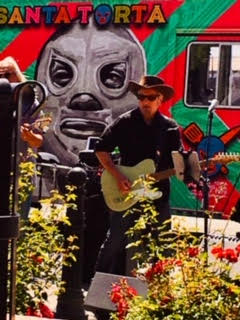 Art Thompson is Senior Editor of Guitar Player magazine. He has authored stories with numerous guitar greats including B.B. King, Prince and Scotty Moore and interviewed gear innovators such as Paul Reed Smith, Randall Smith and Gary Kramer. He also wrote the first book on vintage effects pedals, Stompbox. Art's busy performance schedule with three stylistically diverse groups provides ample opportunity to test-drive new guitars, amps and effects, many of which are featured in the pages of GP.