The Kauer Banshee Deluxe Takes the Edge off the Reverse-Bodied Classic Axe
The 'Bird is the word for Doug Kauer as he presents a familiar favorite with a stunning flame maple top.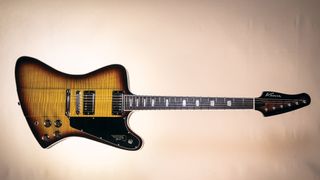 (Image credit: Future / Jerry Monkman)
Many so-called new designs from small-shop guitar makers borrow a little here or there from existing classics. But you know you're doing something right when the design's originators send customers your way for orders they don't want to fulfill themselves, such as left-handed versions.
The same is true when you try to retire a model and its clamoring fans won't let you. So it goes with Kauer Guitars' Banshee Deluxe.
While the company is celebrated for its fully original designs, the Super Chief and Starliner models being two of the best, the Firebird-inspired Banshee was one of the California guitar maker's first creations, produced even before the company existed as a production manufacturer.
"After founding Kauer Guitars around 2008, I didn't build Banshees for the first couple years," Doug Kauer explains. "I wanted to stand on the merits of my own designs."
But as demand for his pre-production reverse-bodied creations increased, he had a change of heart. Since then, Kauer and his five-person team in Elk Grove, south of Sacramento, have put their own twists on the model, distinguishing it from the copies and clones out there.
"Learning how to make the flamed-maple top work on a neck-through guitar - that was a big one," Kauer admits. "And on the current version of Banshee, the control cavity and the spacing between the pots is, like, 15 percent bigger than on a traditional Firebird, which makes a huge difference on the wiring."
Whatever its origins, the Banshee Deluxe utterly screams rock and roll, its iconic shape beautifully updated in this rendition with a characterful flamed-maple top.
Kauer has pulled off some nifty tricks to get this lovely piece of timber to maintain its grain pattern across the stair-step height changes required by the neck-through construction, and this one glows beneath a Dark Burst finish, with a golden-caramel fade at its center and a richer amber on the backs of the body and neck.
It's immaculately sprayed in the gloss urethane Kauer switched to years ago after he hit his limit for California's legal allowance of nitrocellulose and discovered that the change doesn't impede tone or feel one iota.
Kauer believes in sustainable tonewood alternatives, and the Spanish mahogany (often called Spanish cedar) that forms the body's back and the neck/body-core section is one of his most-used components.
White binding gels with the flamey top to enhance the elegance and is nicely complemented by a black pickguard with a slightly relic-looking Banshee graphic etched in gold.
Meanwhile, a well-placed ribcage contour at the upper waist creates a comfortable fit for seated playing. Another benefit of Spanish mahogany comes in the weight department: Even with its sizable body, the Banshee Deluxe weighs just above seven pounds.
The neck/body-core section is a three-piece construction with a narrow strip of Spanish mahogany at its center. The wood is cut from the same blank and reversed before it's glued in, so the counter-posed grain pattern helps to self-stabilize the full length.
This one is carved to Kauer's standard C shape, which is a relatively beefy '59 LP-inspired profile (0.87 inches deep at the first fret and one inch at the 12th) that fit my hand extremely well.
The bound fingerboard is comprised of wenge, another alternative tonewood, which has a subtly stripey diagonal grain pattern and looks and feels like a cross between rosewood and ebony.
Pearloid keystone inlays take position-marker duties. Kauer sticks with the reversed theme for the headstock, with a six-in-line set of Kluson banjo tuners arrayed across the underside. In use, these feel a tad stiff, but that's sometimes the nature of the beast.
In another point of departure from the early '60s classic, the pickups on this model are a pair of full-sized Kauer 'buckers custom-wound to general PAF specs by Wolfetone, and reading 7.40k ohms in the neck position and 8.57k ohms in the bridge. (The guitar is also available with P-90s, mini-humbuckers and other pickups.)
They're wired through individual volume and tone controls and a three-way switch. The bridge consists of a reliably solid Tone Pros Tune-o-matic and a stop-bar tailpiece.
Anyone who's played a guitar built to the classic reverse-bodied F-bird template knows there is something about it that nudges you toward the upper frets, urging you to squeeze out riffs. The Banshee Deluxe is no different.
That aside, a little adjustment and familiarity brings the cowboy-chord region within reach, and this neck plays easily and sweetly in all positions, thanks to virtuous construction and faultless fret work by the in-house Plek treatment every Kauer guitar receives after final assembly.
The guitar rings loudly when played unplugged, with balance and clarity that bode well for the tonewood equation. But the fun begins when I fire up a Friedman Small Box head and 2x12 cab, a Carr Lincoln 1x12 combo and a Fractal Axe FX III through the studio monitors.
Kauer's vintage-leaning humbuckers, choice of woods and the body and construction style have produced a rock warrior with serious sting in its tail. The Banshee Deluxe is great at chunky, tight chordal work amid medium overdrive, yet single-note riffs retain plenty of bite and clarity even when you turn up the gain.
Overall, it exhibits an enjoyable blend of thickness and snap without ever leaning overtly toward one or the other. Which is to say, it can rock like crazy and clean up beautifully when desired.
I find the traditional full-sized humbuckers used here make for a more versatile instrument, not predisposing you to that eviscerating Johnny Winter–esque brightness of the mini-humbuckers in the original early '60s incarnation.
The result is a guitar that will do just about anything you might expect from a good Les Paul, SG or other high-quality 24.75-inch-scale, set-neck dual-humbucker creation, while adding the feel and refinement of a well-crafted, boutique-grade instrument. If its look and feel move you, this is a great way to get your reverse-body 'Bird buzz on.
All the latest guitar news, interviews, lessons, reviews, deals and more, direct to your inbox!
Dave Hunter is a writer and consulting editor for Guitar Player magazine. His prolific output as author includes Fender 75 Years, The Guitar Amp Handbook, The British Amp Invasion, Ultimate Star Guitars, Guitar Effects Pedals, The Guitar Pickup Handbook, The Fender Telecaster and several other titles. Hunter is a former editor of The Guitar Magazine (UK), and a contributor to Vintage Guitar, Premier Guitar, The Connoisseur and other publications. A contributing essayist to the United States Library of Congress National Recording Preservation Board's Permanent Archive, he lives in Kittery, ME, with his wife and their two children and fronts the bands A Different Engine and The Stereo Field.