The Complete Story of Jimmy Page's Sundragon Amp
How did Sundragon replicate the Supro Coronado Jimmy Page used on Led Zeppelin's debut album? Here's the story.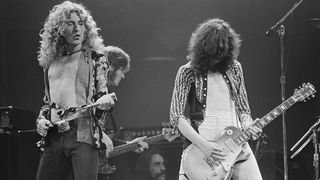 (Image credit: Getty/Jay Dickman / Contributor)
From Angus Young to Zakk Wylde, there is no shortage of artists with signature model guitars.
But the guitar amplifiers that often made those guitars come to life have received far less attention in the marketplace, even though the role they played in crafting groundbreaking tones may have been just as significant. Sure, Marshall has made signature models for Slash and Joe Satriani, and Fender has done likewise for Eric Clapton, George Benson, The Edge and, most recently, Chris Stapleton. But it's fair to say that dead-nuts-accurate reissues of iconic artist amplifiers have been fewer and farther between.
That changed big time in January 2019, when the Sundragon combo made its debut at Winter NAMM in a limited run of 50 hand-built models — at $12,500 a piece — that duplicate the circuit elements of the late-'50s Supro Coronado that Jimmy Page used on Led Zeppelin's first album. The Sundragon project is a partnership between New York amp maker Mitch Colby and musician/producer/guitar collector Perry Margouleff, the latter of whom has known Page for more than 35 years. It was this personal relationship that opened the door to a deep exploration of the amplifier Page used to create his groundbreaking tones on "Good Times, Bad Times, "You Shook Me," Communication Breakdown" et al.
As Margouleff relates, "Jimmy told me that when he got to Led Zeppelin, he realized that, compared to all his other little amps, the Supro's sound was really unique, so he chose to use it for the first Led Zeppelin album and some other recordings, and kept using it throughout his career."
The impetus for replicating Page's amp occurred when Margouleff was approached by the Metropolitan Museum of Art in regard to its 2019 rock exhibition, Play it Loud: Instruments of Rock & Roll. "At first it was to borrow guitars of mine for the exhibit," Margouleff says, "and then when they asked who I knew that should be part of it, I said it would be dynamite to have Jimmy Page's guitars in an exhibit like this. One of the things they expressed interest in was his Dragon Tele [a 1959 model originally given to Page by Jeff Beck]. But unfortunately, the guitar had been sanded down by someone who was staying at Jimmy's house around 1970 while he was away on tour. Can you imagine coming home and somebody goes, 'Hey man, I did you a big favor. I took that silly painting off your guitar'? It was so heartbreaking for Jimmy at the time that the guitar basically stayed in a case for the next 40 years.
"I went to Jimmy and told him that these guys at the Met really wanted him to be part of this thing and would love to have the Dragon Tele. I said, 'How would you feel about restoring the guitar and painting it again? You painted it in the first place, and you could do this again.'
"Well, one thing led to another, and before I visited Jimmy in London again — which was a few months — he says, 'You know, I'm restoring the guitar and will be able to do this with the Met. I'm doing it with the guys at Fender, and we're also going to make a reissue of the guitar.' I asked Jimmy if he thought it might be a good idea to also reissue the amp that goes along with it, and he said, 'Yeah, that is a good idea, but how am I going to do that?'
"I had already given him one of Mitch Colby's Lil' Darlin amps, and Mitch had helped me with the restoration of Jimmy's 100-watt Marshall, and so I said that Mitch and I could do it. But I didn't want Jimmy to give me something that precious and valuable, so I went home and found an old Supro Coronado in my amp collection that had a 15-inch speaker in it. I didn't know about all the variations of that model, but we took my amp and put a 12-inch Oxford speaker in it, along with some good tubes, and I brought it back to Jimmy. We plugged the two of them in, and it was close, but it just really wasn't it. You plug into the real thing, and it's a whole other feeling of touch sensitivity and the type of distortion, and what I like to refer to as the 'swirl,' where you get a little amp that sounds like you're listening to a Marshall.
"I realized right then that we were pretty darn far away from his amp. That's when I said to him, 'I think we can do this, but I really need to take your amp home.' He was amenable to the idea and said, 'You're working hard at this, so let's give it a shot.' So I took the amp home to New York, and Mitch and I discovered a number of anomalies in it."
As Margouleff explains, Page used his Supro Coronado in the early 1960s when he was touring with Neil Christian and the Crusaders. While the group was on the road, the amp fell out of the back of the van and was severely damaged. "They had to put it all back together," Margouleff says. "It was a bit like Humpty Dumpty." Soon after, the American-made amp was deposited at an England repair shop. "The repair person did the best he could just to make the amp operate again after a terrible tumble," Margouleff says. "They used what was available in England at the time, and all the components that got replaced were English components, including the tubes. So it now had Mullard preamp tubes, a Mullard GZ34 rectifier and GE 6L6 power tubes. It was kind of like making trail mix: You're taking raisins and nuts and granola and mixing it all in bag, and what are you ending up with?
"The key is that when Jimmy got his amp, it was a good one to begin with, and what they did to fix it up was good too. When we went to recreate it, the only thing we were really critically concerned with is that it would sound the same. If you just copy the schematic and put it together, it doesn't get there. We tried that. Mitch is very fastidious and has spent a lot of time analyzing all this sort of stuff, and we kept going back and forth listening to it until we got to a place where we said, 'Wow, this sounds great!' That was our road map. It was our ears above anything else. When we brought the new amp to Jimmy, he was very pleased with it, and so we built 50 limited-edition signed versions."
Margouleff and Colby planned to unveil the amp at Winter NAMM 2019 and had reserved a booth at the Anaheim Convention Center. That's when the story took yet another turn. "We needed a press release right before NAMM," Margouleff explains, "so I flew to London and met Jimmy on a Monday morning. We wrote a press release, and the next day I headed back to Los Angeles, because NAMM started on Wednesday." The document contained a valuable endorsement from Page, which said, "I had been impressed with the forensic analysis both Mitch and Perry had put into the research of the sonic reproduction of the original Supro amp to arrive at the Sundragon."
Shortly afterward, Margouleff continues, "Jimmy posted the press release on his Instagram account. And as soon as I got off the plane in Los Angeles, Mitch called me up and said, 'I've had thousands of phone calls. My phone rings continuously, and it never stops!' What happened is that Mitch's cell-phone number was mistakenly on the Sundragon website, and people were calling from all over the world. It was like the gold rush.
"So by the time we got set up at NAMM on Thursday afternoon, the amps were all gone. We were so naïve thinking, Oh, maybe some people will want this; it might take year, but eventually we'll sell all 50 amps. We just thought it would be fun and maybe it would work, but it turned out to be such a fantastic acceptance. Everybody who has played the Sundragon has loved it, and that enthusiasm is really the great part."
Devil in the Details
Mitch Colby unlocks the mysteries of Page's amp:
After leaving his long-held position at Korg (the exclusive U.S. distributor of Marshall and Vox) in 2010, Mitch Colby began building amplifiers under his own name, beginning with the Dual Tone Booster (introduced in 2013) and followed by the Mod Machine and Lil' Darlin. He also acquired the rights to Park amps in 2014 and has introduced a series of models under that brand. Considering such credentials, it might seem that cloning a vintage Supro Coronado wouldn't pose much of a challenge. However, recreating Page's amp and making it sound as close as possible to the original required a ton of investigative work.
"Jimmy's amp originally had two 10-inch speakers, and when it was repaired in the '60s they changed it to a single 12," Colby explains. "Once I had the amp, I was able to really get into the details and figure out what was going on in there."
What can you tell us about the speaker that was in Page's amp?
That's an important part of the original modification, because the sound of that speaker really complements the amplifier. It was an American speaker that had been reconed with a British cone, so it wasn't anything we could recreate. We tried, but the cone manufacturer was no longer in business. Also, the speaker has really been broken in because Jimmy used the amp for years before Led Zeppelin.
So the replacement speaker was put together by someone in England who basically used components they had at hand?
I think that's the case. They had a speaker on the shelf to put in it, and it was magic. There were also some things done to the circuit at the time. They weren't major, but they added up to something really special.
The Sundragon promo states that Page's amp had Mullard preamp tubes, a GZ34 rectifier and GE 6L6s.
Yes, and it's what we're putting in the Sundragon. We scoured the Internet to find dealers who had these new-old-stock tubes because trying to get pieces here and there was impossible. But we found everything we needed.
Did his amp have its original transformers?
Yes, it did, and we went back to the original manufacturer for the Sundragon's transformers. I actually sent them the transformer out of Page's amp, and once they saw it, they knew what was going on.
You'd expect that an amp as old as Page's would have seen some component changes due to routine maintenance. Was there any evidence of that?
Very little. It was almost all original, except for the parts that were probably changed after the amp fell out of the truck. Before I got it, Perry brought it to a tech he knows in the U.K. just to make sure everything was working well, and there was one filter cap that needed to be replaced. Otherwise, it was pretty well stock, except for some things that were changed when it was originally repaired. And, being an old Supro, it had Allen Bradley resistors and a lot of ceramic disk caps and some film caps and other stuff that was available at the time.
But here's one of the keys: I had another Coronado that was in mint condition, and when I compared it to Jimmy's well-used amp, there were certain things in his that were different. You expect resistors and caps to drift, and they either get higher in value or lower in value, so I was able to compare the two amps and figure out what those differences were.
Did you also replicate the Supro's hand-wired circuit?
Yes. It's real point-to-point on terminal boards, and we're doing it exactly the same way in the Sundragon. It's a rat's nest of wires. [laughs] Here's an interesting thing: You know how on a Fender or a Marshall, when nothing's plugged in and you turn it up, it's really quiet? The reason for that is when you disconnect the guitar cord in either channel, one of the jacks shorts to ground. But on the Supro that doesn't happen, and the inputs are different too. They sound more different than, say, on a Fender or a Marshall, where the second input is just lower in level and darker because there's less resistance to ground and more resistance going to the input of the tube. On the Supro it's totally different; one input might have just a resistor and the other one might have a resistor and a cap. So one might sound full and the other one might be scooped. And on the other channel, one is a bit full and the other has less bottom end. Jimmy wanted that replicated on the Sundragon because he said he always used all of the inputs.
Are there any other anomalies in the Supro design?
The tremolo controls work backward, and that's how we kept it. The speed control pot also has a switch, so that when you turn it all the way to the left, it turns the tremolo off. There's a footswitch jack that you can use as well. It doesn't totally bypass the tremolo circuit, but when you switch it off, there is a little more gain.
Page's amp was also configured for 240-volt operation, right?
Yes, there's a step-up transformer in his, so the plug is a two prong, but the transformer itself gets grounded, so there's a three-prong out to the U.K. plug. The step-up transformer in his amp was very old.
Did you have to do anything to the Sundragon to account for this?
No, we ignored that because we figured most of them were going to be sold in the U.S. Out of the 50 we made, I think we sold one in France, one in Japan and maybe one in the Philippines. Also, when we measured it in the U.K., the voltages were right on for what they would have been if you plugged it into the wall in the U.S. Although, if you think about it, Jimmy's Supro from 1959 probably was made for 110 volts, and he was plugging it into a doubler, so it was seeing 120 volts when he was using it. His amp also had a GZ34 rectifier tube, whereas the original would have been a 5R4, which would have been a few volts lower on the B+ side. So Jimmy's amp was a little higher voltage throughout than what Supro intended, and the same thing for the Sundragon.
How long did it take you to figure out everything that was going on in Page's amp?
I had it here for about a month, and it took me that amount of time because there were some small things that were done in there that, while not very noticeable, turned out to be critical to get it to feel and sound right. I learned a lot from a lot of smart people through the years, and I've had that advantage as to what to look for. I've got to tell you, this amp was really frustrating. I thought I did everything, and then at the last minute just a couple of things popped out that wouldn't be very apparent just by looking at it. It worked out in the end."
All the latest guitar news, interviews, lessons, reviews, deals and more, direct to your inbox!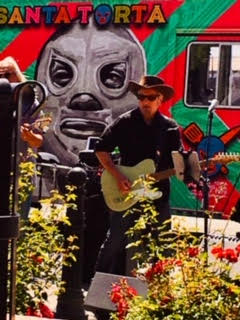 Art Thompson is Senior Editor of Guitar Player magazine. He has authored stories with numerous guitar greats including B.B. King, Prince and Scotty Moore and interviewed gear innovators such as Paul Reed Smith, Randall Smith and Gary Kramer. He also wrote the first book on vintage effects pedals, Stompbox. Art's busy performance schedule with three stylistically diverse groups provides ample opportunity to test-drive new guitars, amps and effects, many of which are featured in the pages of GP.