The 1965 Framus New Sound TV 12-String Has Chime and Jangle for the Ages
This unusual guitar is beautiful, easy to play, six pounds light and sounds like nothing else.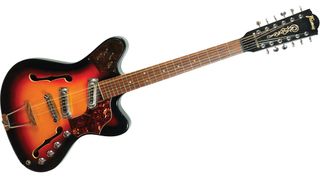 (Image credit: Future / May Yam)
In San Francisco, back in the 1980s, ultra-hip multi-instrumentalist Robin Sylvester hired me to play a drum session for singer, actress and popular KSAN-FM deejay Mimi Chen.
I was a bit of what Robin referred to as a "Quippy," a British expression for guys who are way too into their gear. At the time, I put great stock in new instruments and thought of older equipment as "outdated."
That session was an eye-opener for me. Robin brought in an array of old funky guitars, keyboards and amps, and everything he played sounded fresh. That's when I started to see older instruments in a different light.
This month's 1965 Framus New Sound TV 12-string electric fits right into that epiphany. Strikingly beautiful and somewhat rare, it fills a void in the universe of 12-string electrics.
As a multi-instrumentalist producer myself, I now seek out these "whack jobs" in the hope of finding new colors to add to my palette, and this Framus 12-string is made to order.
Weirdo Factor
You might say it's the extreme angle of the neck pickup, the four switches on their own bit of pickguard or the four chunky metal control knobs. But the real oddity is why this guitar never caught on.
Playability & Sound
I've never played a bad Framus. Made in Germany to exacting standards, this stunner has a semi-hollow body with a deep three-color sunburst and dual offset f-holes.
The "propellerwood" neck is a 20- or 30-ply laminated job, which, as Dr. Christian Hoyer of Framus/Warwick explained to me back in 2009, "is a much harder neck to make than a single piece of maple. But the laminated necks were thought to be stronger and more able to withstand harsh seasonal weather changes."
That's especially important on a 12-string. The slender neck is bolted on, has a rosewood fingerboard with 21 frets, and plays smooth and fast. The True Sound single-coil pickups sound full, and the radical angles at which they're mounted no doubt play a role in that.
The bridge pickup is chimey, as you might expect, but the neck pickup is the bassiest I've heard on any 12-string electric. The pickup-switching matrix on the upper bout offers a kill switch for each and individual tone-circuit bypass switches that act as level boosts.
Rather than use a radically angled headstock to ensure string tension, and perhaps due to the manufacturing process of laminated necks, Framus went with a "towel rack" string retainer above the nut. The finish and inlays have held up beautifully, and only slight checking belies this guitar's 55 years.
Value
When introduced in 1965, the Framus New Sound TV had an MSRP of just under $300. Adjusted to 2020 prices, it would set you back about $2,500 today. Not exactly cheap. I paid about $500 for mine years ago, but today at auction, they are going for between one and two grand.
Why It Rules
It is beautiful, easy to play, six pounds light and sounds like nothing else.
All the latest guitar news, interviews, lessons, reviews, deals and more, direct to your inbox!