Ten High-End Acoustics You Need to Play
Top end acoustic guitars for bigger budgets.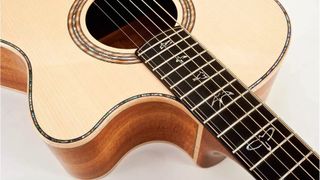 (Image credit: PRS)
Anyone who has ever shopped for an acoustic guitar knows that you can spend a bundle on an instrument made by a premium brand. A high-end guitar has certain attractions that begin to emerge the minute you catch a whiff of the nitro lacquer. Aged solid woods, gleaming frets, superb playability, and a sound that stirs your soul the second you give it a strum are some of the obvious things. But there's also the "X" factor that comes with having an instrument that a celebrated builder had their hands on. After all, what great classic acoustic guitar was ever designed by a committee? Whether you're talking about C.F. Martin or Orville Gibson – or one of the modern-day masters like Dana Bourgeois, Bill Collings, Richard Hoover, or Bob Taylor – the instruments with these guys' fingerprints on them have stood the test of time, achieving the honors awarded them because top players have proven that they rule.
Guitars priced at or above the $2,000 mark are desirable for reasons that range from the purely aesthetic (as in the beauty of the woods, binding, and inlays) to the practical (great tone and playability) to the existential, as in finding a 6-string soulmate that makes you feel good about yourself. Those fortunate enough to be able to spend whatever it takes to reach acoustic nirvana definitely have a lot of choices these days. And while we didn't purposely seek out the costliest models that are out there, this round-up definitely goes uptown with a spectrum of guitars that range from the $2,849 Taylor 714ce to the $8,900 McPherson Camrielle 4.0.
Each of these guitars has its charms that might sway you one way or the other, but all of them are pro-grade affairs, as confirmed by our evaluations of their construction, playability, sound, and, of course, the amorphous "vibe" factor that always plays a role in any guitar purchasing decision.
As we've pointed out in past roundups of "budget" acoustics, you don't have to spend like a drunken sailor to get a happening guitar, but how sweet it is to dip in the high-end pool!
BOURGEOIS BK/SLOPE D
Maine-based luthier Dana Bourgeois has long been known as an acoustic builder at the top of his game, and the BK/Slope D is very much the kind of guitar that helped to build his reputation. It's just the sort of big, bold, slope-shouldered dreadnought that would be known as a "rhythm cannon" in many circles, except that the BK/Slope D does so much more than that. Rhythm, flatpicking, fingerstyle – this powerful flat-top belts it all out, yet with great dynamics and finesse when you need it to, and not merely the kind of power that gets you heard on a crowded stage. And therein lies the origin of the "BK" tag: Dubbed the "Banjo Killer" by bluegrass ace Bryan Sutton, for whom the first example was built back in 1995, this new BK/Slope D comes with a substantial pedigree. (After Sutton's original 1995 Bourgeois Banjo Killer was damaged in the Nashville flood of May 2010, Bourgeois and team took the guitar in for a laborious restoration, reconfirming the specs of these reissue examples in the process).
Even before you hoist the BK/Slope D, the woods in its top and body jump out at you as something special. The solid Sitka spruce top dances with interesting "bearclaw" figures within what is already an extraordinary, almost luminescent grain, and the back and sides are made from beautifully figured solid mahogany. Ivoroid binding graces the top and back (although the fingerboard and headstock are unbound, as per Sutton's specs), there's a tasty multi-ply soundhole rosette, and a backstrip of elegant wood purfling. Add in the custom Tor-tis pickguard; a fingerboard, belly bridge, and headstock facing made from lushly figured ziricote; and ebony bridge pins with pearl dots, and it's an impressive package. Final touches such as a bone nut and saddle and Waverly tuners lend a traditional look, while enhancing the guitar's resonance and sustain.
The BK/Slope D's quarter-sawn mahogany neck is carved to a fairly slim, rounded-C profile, but anything much fuller might make it a tricky reach across the 1 23/32" nut width, inhibiting the picking speed that many players will want to show off on such an instrument. It feels great right up to the 14th-fret neck joint, thanks in part to a confident setup at the Bourgeois shop, with an action that is easy on the swift runs, yet doesn't clank or buzz when you hit the big chords hard.
Dana Bourgeois says this model has "a deep, broad tone, and through wood selection and voicing, we push it in the direction of a bigger bottom end, a lush top end, and greater volume – similar to the characteristics of Bryan's original Banjo Killer." No argument there, as even a trusty, flat-picked G-run booms out as a formidable beast on the BK/Slope D, while the high notes in any simple Travis-picking figures ring velvety and clear. The midrange is rather scooped, yet both pleasant and present, and the volume is almost overwhelming – in an acoustic context – when you put some muscle into open chords.
Whether you're looking for a flat-picking bluegrass performer to get you heard when you take your turn stepping up to the mic, or a big-voiced accompanist to bolder singer-songwriter work, the Bourgeois BK/Slope D has an awful lot to offer, and as such it earns an Editors' Pick Award. – DAVE HUNTER
SPECIFICATIONS
CONTACT bourgeoisguitars.com
PRICE $4,595 retail/$4,135 street
NUTWIDTH 1 23/32" (1 3/4" optional)
NECK Mahogany, 25 1/2" scale length
FRETBOARD Ziricote FRETS 20 medium nickel (14 clear of the body)
TUNERS Waverly
BODY Solid "bearclaw" Sitka spruce top, solid figured mahogany back and sides
BRIDGE Ziricote bridge with ebony pins and bone saddle
FACTORYSTRINGS D'Addario EXP19, .013–.056
WEIGHT 4.25 lbs
BUILT USA
KUDOS Outstanding build quality. Elegant looks. A volume machine, but rich and lush sounding
CONCERNS None
BREEDLOVE MASTER CLASS PACIFIC
Based in the Pacific Northwest cty of Bend, Oregon, Breedlove has been building fine acoustic guitars since 1990, adhering to a concept that combines traditional construction methods with cutting-edge engineering to create instruments that aim to better suit the contemporary player. Featuring an eye-popping orgy of beautiful woods, the Pacific is instrument that embraces a decidedly non-traditional look with its shapely outline and a distinctive bridge that looks a bit a like a Ninja throwing star.
The Pacific specializes in delivering maximum sonic performance from a smaller "concert" body that measures 15" across the lower bout, 9" at the waist, and 11.24" across the upper bout. The dimensions make for a comfortable guitar to hold, and one that feels more like a boutique jazz box than a bulky jumbo flat-top. And, wow, what a looker the Pacific is too with all that curly maple accented by flamed koa binding and 3-ply (black, white, black) edging on the top and back, a koa wedge in the end-pin area, an abalone/koa rosette, and abalone purfling bordered by 3-ply trim around the top. The maple neck is also treated to koa trim atop 3-ply binding, and the ebony fretboard is adorned with yet more 3-ply binding and abalone "sea leaves" position inlays. The headstock wears a classy gloss black facing that complements the gold-plated tuners with ebony buttons.
The Pacific is a nimble instrument that's easy to play thanks to its satin-smooth neck and well-finished, neatly trimmed frets. The neck's medium D profile and low-action setup facilitates speedy picking, yet you can still dig into the strings without them buzzing against the frets. The headstock shape and arrangement of the tuners provide for a very straight string run across the smoothly worked nut, which yields an easy pull to pitch via the smooth-turning Gotoh machines.
Intonation is tuneful in all positions, and this definitely enhances the sense of solidity and focus in the Pacific's tones, which are bright, smooth, and imbued with plenty of oomph in the lows. The midrange is very even and with no tendency to sound honky or boxy, and coupled with the strong top and bottom presence, the Pacific takes things in a more hi-fi sounding direction than most flat-tops.
The Pacific is not a particularly loud guitar – especially compared to some of the big-bodied bruisers in this round-up – but it rings out in all the right ways with plenty of detail, warmth, complexity, and touch responsiveness. This is a guitar that will please fingerstylists and flatpickers alike with its open and expressive tone, and overall I found it to be an inspiring instrument for songwriting, practicing, and gigs. Breedlove definitely has a solid lead on what it takes to build a modern fl at-top, so if you want an acoustic guitar that has the craftsmanship and vibe of a small-lot-custom, but pushes well beyond the classic designs of the '30s and '40s, the Master Class Pacific is something to you will want to experience. – ART THOMPSON
SPECIFICATIONS
CONTACT breedlovemusic.com
PRICE $4,499 street
NUT WIDTH 1 3/4"
NECK Big leaf maple, bolt-on
FRETBOARD Ebony, 25 1/2" scale
FRETS 20
TUNERS Gotoh die-cast
BODY Solid curly maple back and sides, Sitka spruce top
BRIDGE Ebony with compensated saddle and through-bridge stringing
FACTORYSTRINGS D'Addario EXP
WEIGHT 4.12 lbs
BUILT USA
KUDOS Distinctive look. Excellent sound and playability
CONCERNS Would likely need to be amplified in a performance situation
BROCK MODEL OM
Brock Johnston has been building guitars since 1981 with the goal of creating instruments that combine "immaculate aesthetics with unequaled tonal balance and projection." Based on the classic Martin OM (which made its debut in the late 1920s), Brock's Model OM blends top-notch materials and impeccable construction details in what is a surprisingly affordable contender in the premium market. As such, the Model OM's aesthetic is one of classy, understated elegance, with not a hair out of place anywhere.
From the immaculate frets to a sterling interior (where we find parabolic Sitka spruce bracing) to the high-gloss nitrocellulose lacquer finish and curly koawood binding, the Model OM delivers exactly what is to be expected from a high-end acoustic guitar. The open-gear Waverly tuners with ivory-colored buttons are a classy touch, and this guitar manages to visually pop without resorting to overblown cosmetics. Heck, the only shell inlay on the entire instrument is the headstock logo.
The Model OM is an absolute joy to play. Its nimble feeling C profile neck makes marathon chording sessions a breeze, and when an acoustic inspires you to simply strum first-position chords, you know you've got a keeper! The edges of the fretboard are super smooth, and the frets are consistent in shape and polished to a nice matte sheen. I found the string spacing to be comfy as heck whether I was fingerpicking or flatpicking, as it allowed ample room for my picking hand to operate. The instrument balanced on my lap perfectly, but the lack of an endpin strap button was inconvenient from a gigging perspective. Not a big deal, though, since Brock will install one for no extra charge if requested. You probably can't see it from the photo, but there's a clear pickguard to protect the finish in the strum zone.
Sonically, the Model OM emits a hefty amount of volume and punch, albeit in a refined, ultra-musical fashion. The dynamic response is such that you can go from soft, bell-like textures to an authoritative bark that will stand out in a band with its broad projection and taut low-end. There's a tactile sense of muscle and focus behind the notes, and much of this is due to the Model OM's stellar intonation, which allows simple or complex voicings to ring clearly in all regions of the neck. The sonic detail is impressive as airy harmonics blossom in response to your touch, and the low-end presentation is wonderfully clear and round, never sounding too boomy or in any way detached from the core tone.
While shooting a knowing glance toward tradition, yet managing to impart its own sonic DNA, the Brock Model OM is a wondrous piece of work that celebrates one of the most iconic acoustic guitar designs. Its refreshingly simple look belies the excellent craftsmanship and the obvious eagle-eye attention paid to the smallest details. This guitar is a blast to play and is highly suited to a variety of musical applications. Ultimately, however, it's the Model OM's bold tones and exceptional playability that seal the deal and earn it an Editors' Pick Award. – DARRIN FOX
SPECIFICATIONS
CONTACT brockacoustics.com
PRICE $3,200 street, including hardshell case
NUT WIDTH 1 3/4"
NECK Honduran mahogany
FRETBOARD Ebony, 25.4" scale
FRETS 20 medium silver nickel
TUNERS Waverly
BODY Solid Sapele back and sides, Solid Sitka Spruce top
BRIDGE Ebony
FACTORYSTRINGS D'Addario EJ16, .012-.053
WEIGHT 4.4 lbs
BUILT USA
KUDOS Exceptionally built. A soulful instrument with a clear and concise voice
CONCERNS None
COLLINGS CJ35
Bill Collings got his start in the guitar business after relocating from Ohio to Houston, Texas, in 1970, where he began building guitars on his kitchen table using just a few hand tools. His interest and talent for improving his craft soon let to the creation of instruments that caught the ears of Lyle Lovett and Rick Gordon. You might say the rest is history, but Collings has been constantly seeking to make better guitars, and, as witnessed by the CJ35 on review here, the results are impressive. Inspired by "golden age" American-made flat-tops, circa 1930 to 1942, the new CJ35 is a guitar that adheres to the concept that more is indeed more when it comes to large-bodied acoustics. Based on Collings' proven CJ design, the 35 features a slope shouldered body with solid mahogany back and sides and a solid Sitka Spruce top. Internally, the formula gets tweaked a bit in the form of non-scalloped Adirondack spruce bracing with a system of three tone bars. A slightly shorter 24 7/8" scale neck joins the body at the 14th fret via a mortise-and- tenon joint.
Visually, the CJ35 is a class act. The cosmetics are tasteful and the optional dark sunburst nitro-lacquer finish is a glorious alternative to au-natural spruce. The burnished hues in the CJ35's top reveal the distinctive parallel graining of the Sitka, which plays well with the tiger-stripe celluloid pickguard and the ivoroid binding and rosette. Flipping the guitar around, we find a "1 style" walnut back stripe dividing the solid mahogany back, and another piece of creamy ivoroid capping the heel of the neck. Other nice touches include a facing of ebony on the headstock and nickel-plated Waverly tuners with exposed gears and "butterbean" tips. The guitar came up to pitch easily and held its tuning with uncanny stability despite the climate change from Texas to our offices in Northern California.
The neck offers an excellent feel with its medium profile and compound radius. Intonation is tuneful in all positions, and the playability certainly benefits from an easier feel created by the shorter scale. The action is a tad on the high side, but there's no fret buzz either to diminish the feeling of limitless headroom. Collings states that the CJ35 is "designed to deliver deep bass and powerful highs in a package that is well suited for both fingerstylists and flatpickers," and that squares with what we experienced.
The CJ35 has a huge presence, and it can pump out an amazing amount of volume with incredibly little effort. The upper-midrange emphasis in its voicing makes the CJ35 an excellent choice for flatpicking solos or strumming rhythm parts. But this highly flexible instrument with its rich, blossoming sound is equally cool for fingerstyle playing or backing a singer-songwriter. Like a car with a high-output motor, the CJ35 has a lot of reserve power when you need it, and if you play unplugged gigs where a mic is your only amplification system, this big beauty has you covered and then some! – ART THOMPSON
SPECIFICATIONS
CONTACT collingsguitars.com
PRICE $4, 860 street
NUTWIDTH 1 3/4"
NECK Mahogany with mortise and tenon hybrid joint
FRETBOARD African rosewood, 24 7/8" scale (14"-26" compound radius)
FRETS 20
TUNERS Waverly, nickel plated
BODY Mahogany back and sides, Sitka spruce top
BRIDGE African rosewood straight style, compensated saddle
FACTORYSTRINGS D'Addario EJ-17 .013-.056
WEIGHT 4.16 lbs
BUILT USA
KUDOS Righteous vintage look. Big, bold sound. Excellent quality
CONCERNS None
GIBSON SJ-200 WESTERN CLASSIC
This decked-out 6-string Cadillac is based on a custom guitar that Gibson made at the request of country music/film star Ray Whitley in 1937. Whitley knew what he needed sonically and playability-wise from his "signature" guitar (the original now resides in the Country Music Hall of Fame in Nashville, Tennessee), and he obviously wanted a lot of bling on it too– a request that the Gibson craftsmen took seriously, as echoed by the cosmetics applied to this jumbo-sized reissue.
Check the options list: The Western Classic sports four-ply binding on its "Tri-burst" premium AAA Sitka top and three-piece Indian rosewood back, multi-ply binding with a classy "birds beak" on the rosewood fretboard, graduated Mother-of-pearl block-style block position inlays, a "moustache" bridge with yet more pearl inlays, multi-layer pickguard, lovely three-rope marquetry back stripe, gold-plated Waverly tuners with exposed gears, and a script "Gibson" logo and classic torch inlay (both rendered in pearl) on the headstock facing. Given all the time and effort it takes to do this kind of detail work, it's not surprising that Gibson builds less than 30 Western Classics per year.
The SJ-200's Tri-burst-finished, curly maple neck with walnut center strip is carved to a comfy D shape that sits very nicely in the hand. It feels more like the neck on a high-end archtop guitar, and the frets – while not mirror polished – are expertly attended to, with smooth, even crowns and beveled ends that feel almost non-existent as you slide your hand along the neck. Combined with a good setup and fairly low action, the playability is light and easy, and the absence of any fret buzzing is just icing on the cake. The string spacing proved equally comfortable for finger-picking or flatpicking, and in a nod towards contemporary expectations, the SJ-200 guitar intonates well and sounds musically tuneful as you move around the neck.
This guitar has a big, open sound with robust lows, rich mids, and a twangy presence that is due mainly to the Indian rosewood body construction. Ideal for pop, folk, country, and pretty much anything else you care to throw its way, the sweetly voiced SJ-200 is loud enough for stage use (though it probably wouldn't be able to out-gun a good dreadnought in a volume shootout), and it responds well to your picking dynamics, blossoming nicely when played lightly and able to pump out a full bodied and non-compressed sound when you lay into it.
An inspiring guitar to play and a beauty to behold, the SJ-200 Western Classic is not only a one-of-a-kind among modern fl at-tops, it's also one of the nicest Gibson acoustic reissues I've ever seen. The price tag for this very special guitar seems like a real bargain too, considering what it takes to create something of this magnitude in an American factory. The SJ-200 Western Classic would satisfy almost any expectation of what a fl ashy stage axe should be, and it has the performance to back it up., All considered, it earns an Editors' Pick Award. – ART THOMPSON
SPECIFICATIONS
CONTACT gibson.com
PRICE $3,999 street

NUTWIDTH 1.725", bone
NECK Eastern curly maple with compound dovetail joint secured with hide glue.
FRETBOARD Rosewood, 25 1/2" scale
FRETS 20
TUNERS Waverly, gold-plated
BODY Indian rosewood back and sides, Sitka spruce top
BRIDGE Rosewood, mustache-style with bone saddle
FACTORYSTRINGS Gibson, 012-.053
WEIGHT 4.84 lbs
BUILT USA
KUDOS A showpiece instrument with excellent tone and playability
CONCERNS None
McPHERSON CAMRIELLE 4.0
Matt McPherson introduced his offset soundhole technology more than 30 years ago, with the primary goal of increasing the total flexible surface area of a guitar's top. In combination with proprietary bracing and a cantilevered neck that doesn't contact the soundboard, McPherson guitars are state-of-the-art designs that aim to deliver a higher level of resonance than conventional acoustics. The Camrielle 4.0 certainly carries itself in a forward-thinking stride with its elliptical soundhole, asymmetrical bridge, and the fact that you can see daylight under the rear portion of the fretboard. The flamed maple back and sides are neatly trimmed in black/white binding, which extends around the soundhole, as well as across the endpin jack and the leading edge of the Venetian cutaway. The swoop at the tail of the fretboard is a final touch on a fest of curves that visually defines this unique-looking instrument.
The construction is immaculate throughout, and peeking inside the soundhole we find four multi-lam braces glued to the back – each with a mid-span cutout. The bracing under the top is designed to maximize flexibility, and, since it is McPherson's own design, does not resemble the "X" style pattern found on most steel-string acoustics.
The Camrielle's comfortable soft-V shape neck with its wide-ish 14"-radius makes it easy to play whether you're flatpicking lines or playing chords. The frets are carefully shaped and polished to a satin sheen, and the factory setup is excellent. Factor in accurate intonation in all positions – courtesy of the Buzz Feiten Tuning System – and the Camrielle offers a highly enjoyable playing experience.
The electronics package consists of an L.R. Baggs Element system, which, instead of employing an undersaddle pickup that senses string pressure (and is therefore more prone to "quacky" transient spikes), uses an extremely thin, flexible film sensor to capture the motion of the soundboard. It's well suited for the McPherson concept. The Camrielle's amplified sound is natural and open, without any of the boxiness or weird spikes in the frequency spectrum that you sometimes hear when pushing an acoustic guitar though an amp or P.A. system.
The Camrielle 4.0 sounds great from the player's perspective, and much of this is due to the upper location of the soundhole. It doesn't direct the sound at your noggin like a guitar with an opening on the upper bout, but it does create a sense of in-your-face sound that is very satisfying.
Even and balanced, with a hi-fi presentation that makes everything you play sound a little more "produced," the Camrielle is no slouch in the volume department either. Its tonal complexity and touch sensitivity are obvious priorities, but in terms of loudness, this guitar had no problem hanging with any of the others we tested. And while you might think that its less constrained top would compress more readily under hard strumming, the Camrielle sounded and felt absolutely firm when played aggressively.
The Camrielle 4.0 brings some interesting things to the table, but they come at a steep price. That said, if you're a player of means who already owns everything under the sun, a Camrielle 4.0 could be an interesting addition to your collection. – ART THOMPSON
SPECIFICATIONS
CONTACT mcphersonguitars.com
PRICE $8,900 street, as tested
NUTWIDTH 1.75"
NECK Mahogany
FRETBOARD Ebony, 25.5" scale
FRETS 20
TUNERS Waverly gold-plated
BODY Solid flamed maple back and sides, Engelmann spruce top
BRIDGE Ebony with compensated saddle
ELECTRONICS L.R. Baggs Element (3-volt)
CONTROLS Volume
FACTORYSTRINGS Elixir Nanoweb Acoustic Medium
WEIGHT 4.9 lbs
BUILT USA
KUDOS Rich and detailed sounding. Excellent amplified response. Great playability
CONCERNS Price is a deal breaker for most players
MARTIN OM-18 AUTHENTIC 1933
When the discussion turns to the greatest acoustic guitars of all time, it won't be more than a couple of seconds before someone brings up pre-war Martins. We were giddy with excitement when we unboxed this OM-18 Authentic 1933, which is purported to be constructed the "old way," which includes using hide glue and employing the old-school bracing and cosmetics.
Before we ever touched the OM-18, we saw the cool hardshell case in which it was ensconced, a faux-alligator affair with a green velveteen interior. The star of the show, obviously, is the guitar itself, and it's a beauty. Looking sumptuous with a glossy caramel burst on a heavily grained spruce top, the OM-18 effortlessly melds old-world depth and character with brand-spankin'-new cosmetics. The mahogany back and sides are flawless, as is the mahogany neck. The simple binding and pearl position markers remind me of what I love about this style of Martin: no bling, no bells, no whistles – just beautiful craftsmanship. A peek into the soundhole reveals super-clean bracing and all-around impeccable woodwork.
Grabbing ahold of the OM-18, the first thing you're struck by is the size and shape of the neck. Martin calls it their 1933 Barrel and Heel and what it feels like is a big, chunky neck with a pronounced "V" shape. For those who are only used to playing modern acoustics, it'll take a little getting used to. For me, it's a dream to play on, providing ample support for my fretting hand whether I'm strumming barre chords or flatpicking single-note lines. It just feels right.
Then there's the sound, and the OM-18 simply sounds awesome. It's loud and incredibly clear. Every note in every chord seems to occupy its own little niche in the sonic spectrum. It pumps out sweet highs and lows, but the mids are the defining frequencies to my ears and they make this guitar project like crazy. Combining harmonics and fretted notes or doing harp-like cascades produced a rich, pianistic sound that was delicious. One thing that might contribute to the lively tone is the fact that this guitar is a full pound lighter than any other guitar in the roundup. It is startlingly light.
Also, the OM-18's substantial neck dimensions just have to be doing something cool to the tone. Whatever the explanation, the recipe works and works fabulously. Initially we noticed some slight intonation discrepancies, with the G string coming up a touch flat on a Peterson tuner. But as with a lot of great old guitars with uncompensated saddles, some subtle retuning by ear seemed to rectify any and all of those things, and I could play anywhere on the neck, no problem.
Obviously the OM-18's price tag is not for the faint of heart, and that kind of money could also get you a supremely cool vintage Martin. But for anyone who wants a brand new instrument with vintage vibe and construction, this guitar deserves a serious audition. For what it is, it's one of the nicest I've played. – MATT BLACKETT
SPECIFICATIONS
CONTACT martinguitar.com
PRICE $4,999 street
NUTWIDTH 13/4"
NECK Mahogany, dovetail joint
FRETBOARD Ebony, 25.4" scale
FRETS 20 (14 to body)
TUNERS Waverly Nickel 8060
BODY Solid mahogany back and sides, Adirondack spruce top
BRIDGE Ebony Authentic Style Belly with long fossilized ivory saddle
FACTORYSTRINGS Martin Lifespan SP
WEIGHT 3.4 lbs
BUILT USA
KUDOS Gorgeous looks. Great projection. Classic Martin tones
CONCERNS Subtle intonation issues
PRS ANGELUS CUTAWAY ARTIST PACKAGE
At the risk of stating the obvious, Paul Reed Smith doesn't screw around when he builds guitars. His reputation of being a stickler for perfection is legendary, so it should come as no surprise that he would apply the same obsessive zeal that made his electric guitars so popular to all of his acoustic designs as well. The fruits of that mindset were readily apparent on the Angelus Cutaway as soon as we cracked open the snazzy Ameritage case that it shipped in.
We let out a collective gasp when we caught our first glimpse of the Angelus. It's got gorgeous good looks, with a perfect combination of subtle and fancy. The subtle comes in the form of the spruce top, which is nicely grained and elegant, perfectly off set by the pretty Koa sides and back. The maple binding is expertly rendered and provides a beautiful transition between the spruce and the Koa. The fancy part of the equation is represented by the sweetest inlay job that I've seen in a long time. The mother of pearl rosette, purfling, hollow bird position markers, and headstock logo are positively cinematic in their depth, coming alive in prismatic psychedelia when any light hits them. Finally, the thin strip of maple that frames the fretboard and headstock really ties the room – err, the neck – together.
Of course, Paul Smith himself wouldn't care how good an instrument looks if it doesn't sound great first and foremost. No worries. This guitar sounds amazing. The tone is clear, full, and lush. To my ears it has a slightly modern sound to it, and by that I mean a lot of vintage acoustics I love have a very pronounced frequency that they seem to favor. It could be a midrange honk, a super crisp top end, or a boomy bottom. The Angelus Cutaway doesn't do that. It has an incredibly balanced, musical tone that works for whatever style or technique you throw at it. Strummed chords sound massive, but so do flatpicked single-note lines. Switch to fingerpicking and you'll swear that must be what they had in mind when they designed the guitar. The Angelus seems at home and sounds astoundingly good for any kind of music. It also has cannon-like volume and projection, which, coupled with its impressive sustain, means you'll cut through and shine in any acoustic jam.
This is one of the few guitars in this roundup with electronics, and the PRS Pickup System sounds great, even when just plugging in direct. I also really dig the fact that it sports just a simple volume wheel in the soundhole and no big, clunky preamp crammed onto the side – nor any real need for one, as I got very pleasing results with minimal outboard gear to massage the sound.
If you tell most guitarists that a guitar in this price range is great, they'll say "Well, it better be," and they're right. For this kind of cash you deserve absolute perfection and, like they've done so many times before, PRS delivers exactly that. This is a handcrafted, American- made work of musical art and further cements PRS' reputation as a major player in the high-end acoustic market. Bravo! – MATT BLACKETT
SPECIFICATIONS
CONTACT prsguitars.com
PRICE $6,260 MAP
NUTWIDTH 13/4"
NECK Peruvian mahogany, dovetail joint
FRETBOARD Ebony, 25.25" scale
FRETS 21 (14 to body)
TUNERS Proprietary Robson-Designed
BODY Solid Koa back and sides, Adirondack spruce top
BRIDGE Ebony with bone saddle
ELECTRONICS PRS Pickup System
CONTROLS Volume
FACTORYSTRINGS D'Addario EXP 80/20 Bluegrass, .012-.052
WEIGHT 4.82 lbs
BUILT USA
KUDOS Beautiful, balanced tones. Gorgeous cosmetics. Perfect fit and finish
CONCERNS None
SANTA CRUZ OM GRAND
It's always a happy day when a box from the Santa Cruz Guitar Company arrives at the office. I've been a fan of the company's "hippie genius," Richard Hoover, for many years, and I can say without hesitation that I've never played a bad Santa Cruz. The beautiful OM Grand on review here keeps that streak alive in a big way.
Visually, the OM Grand has a dignified, understated elegance, with the small dot position markers, bridge pins, and SCGC logo being the only pearl to be found. The herringbone rosette and purfling add some cool motion and vibe to the top and complement the ivoroid binding on the neck and peghead nicely. The light-colored Sitka spruce top sits beautifully alongside the rosewood sides and is a cool change from the more yellowed finishes commonly found on acoustics. Cosmetically and structurally, this instrument shows unreal attention to detail. Anyone who has ever toured the Santa Cruz facility knows this perfectly well: They will sell no guitar before its time. In fact, according to Hoover, SCGC spends more time tuning the top and matching it to the body than some manufacturers spend on the entire guitar! That commitment to excellence comes through big-time on the review model here, with perfect joints, binding, frets, finish, you name it.
Sonically, the OM Grand is just plain gorgeous. Santa Cruz bills it as the "bigger, lusher, louder sister" to their OM model. We didn't have little sis around to compare but one strum showed why this model is abbreviated OMG. It sports impressive power and brilliant sustain. What strikes me the most about it, however, is its incredible balance and clarity. The string-to-string definition and separation – even on busy Travis-picking passages – is truly remarkable. It accomplishes all this while still retaining a seasoned, old-world warmth. Think hi-def TV in a beautiful, handmade cabinet. Strummed chords, single-note lines, hybrid picking, and finger-picking all sound great on the OM Grand, and they all bring out a kaleidoscope of different timbres and harmonics. I didn't bring this guitar into the studio, but I'm positive it would record like a dream. I did have occasion to audition the OM Grand in an acoustic duo and with a bassist, and in both cases it was the star.
All over the neck, the OM Grand plays cleanly and evenly. The action is surprisingly low but there's no buzzing to speak of until you really dig in. For an instrument that is capable of such delicate sounds, it feels incredibly tough and sturdy. You can bash it pretty much as hard as you want and it just keeps going.
So is there anything not to love about the OM Grand? For me, for what I dig about great acoustics, no. Different materials will obviously produce different tones, and one prominent acoustic artist felt that there was something lacking in the mid frequencies, but I don't hear that. To my ears and touch, this guitar is simply stunning. – MATT BLACKETT
SPECIFICATIONS
CONTACT santacruzguitar.com
PRICE $4,950 retail
NUTWIDTH 1 3/4"
NECK Mahogany, dovetail joint
FRETBOARD Ebony, 25.375" scale
FRETS 21 (14 to body)
TUNERS Waverly Nickel 4060
BODY Solid Indian rosewood back and sides, Sitka spruce top
BRIDGE Ebony with compensated saddle
FACTORYSTRINGS Elixir Nanoweb Acoustic Lights, .012-.053
WEIGHT 4.12 lbs
BUILT USA
KUDOS Flawless construction. Brilliant definition
CONCERNS None
TAYLOR 714CE GRAND AUDITORIUM
Taylor has been making acoustic guitars since 1974, and is now one of the leading manufacturers of fine acoustics and acoustic-electrics, as well as semi-hollow and solidbody electrics. The 714ce features all the moves that make Taylors so popular with working players, and is especially suited for those who desire a big full sound with crisp highs and plenty of bottom.
To get there, the 714ce uses solid Indian rosewood for the sides and back of a Grand Auditorium body with a Venetian cutaway that measures 16" across the lower bout, 20" in length, and 4 5/8" deep. A solid Engelmann spruce top wearing a beautiful vintage sunburst finish is used on this model for enhanced sparkle and projection. Ivoroid binding is applied on the top and back, and there is also a classic three-ring ivoroid rosette and a faux-tortoise pickguard. A nicely shaped ebony bridge with TUSC saddle and black pins completes the package.
The American tropical mahogany neck attaches to the body using Taylor's innovative New Technology (NT) system, which provides a rock solid joint while allowing for tilt adjustments to be made without removing the neck. Carved to a classic Taylor shape, the neck carries a bound ebony fretboard that is decorated with ivoroid "heritage diamond" inlays. Tuning is accomplished via goldplated Taylor machines, and the strings glide over a TUSQ nut that is precisely slotted and neatly trimmed on the ends.
The 714ce is a rewarding guitar to play and a lot of this is due to its incredibly comfortable neck shape and superb fretwork and setup. The string spacing is perfect for playing with fingers or a pick, and though the strings are quite close to the deck – something that acoustic shredders will appreciate – there's absolutely no buzzing. Also, the intonation is extremely sound, allowing chords to ring out clearly and accurately wherever you grab them. The acoustic sound is impressive. This guitar has a ton of sparkle, but it's all well balanced with firm lows and a warm, upfront set of mids. The 714ce pushes out a lot volume too, making it an excellent choice for rhythm and lead playing in practically any performance situation.
The 714ce offers a lot in the flexibility department courtesy of its onboard Expression System. This all-magnetic pickup system uses what Taylor calls a Dynamic Body Sensor mounted under the soundboard and a Dynamic String Sensor under the fretboard – both of which feed a discrete preamp with Volume, Bass, and Treble controls. The system has some obvious advantages in that it is easy to use, makes little visual impact on the clean lines of the body (the three soft rubber knobs are barely noticeable on the upper bout), and it doesn't create any of the plasticy artifacts that piezo pickups can often inject into the sound. Instead, the 714ce delivers a warm and balanced tone that's easy to dial-in with almost any amplifier or P.A., and less prone to feedback than most systems that incorporate a mic inside the body.
The 714ce is a superior performance guitar that plays like a dream, sounds excellent unplugged or amplified, and nails that ideal of a fine instrument that isn't too prissy to take on a cross-country trip! – ART THOMPSON
SPECIFICATIONS
CONTACT taylorguitars.com
PRICE $2,849 street
NUTWIDTH 1 3/4"
NECK Tropical American Mahogany
FRETBOARD Ebony, 25.5" scale
FRETS 20 TUNERS Taylor gold-plated
BODY Solid Indian rosewood back and sides, Engelmann spruce top
BRIDGE Ebony with compensated TUSQ saddle
ELECTRONICS Taylor Expression System
CONTROLS Volume, Bass, Treble
FACTORYSTRINGS Elixir, .012-.053
WEIGHT 4.84 lbs
BUILT USA
KUDOS Excellent construction and playability. Excellent acoustic tone. Expression System makes it easy to amplify
CONCERNS None
All the latest guitar news, interviews, lessons, reviews, deals and more, direct to your inbox!
Guitar Player is the world's most comprehensive, trusted and insightful guitar publication for passionate guitarists and active musicians of all ages. Guitar Player magazine is published 13 times a year in print and digital formats. The magazine was established in 1967 and is the world's oldest guitar magazine.
When "Guitar Player Staff" is credited as the author, it's usually because more than one author on the team has created the story.