Re-Enter the 'Dragon: Take a Closer Look at the Sundragon Standard Edition Combo
Jimmy Page's Supro Coronado is reborn as a more affordable hand-wired combo with fire-breathing overdrive.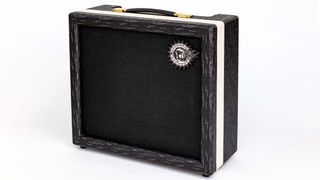 (Image credit: Future)
While he's most closely associated with the 1959 sunburst Les Paul Standards and 100-watt Marshalls that he employed both onstage and in the studio for the majority of Led Zeppelin's mighty reign, Jimmy Page used an altogether different bit of kit to record the group's landmark 1969 self-titled debut.
The guitarist's ax of choice for Led Zeppelin was a stock 1959 Fender Telecaster that had been gifted to him by fast friend (and fellow ex-Yardbird) Jeff Beck. That historic guitar has recently been commemorated with a Fender signature model, complete with a reproduction of the mystical Sundragon painting that Page applied to the instrument after receiving it.
Unlike the Telecaster, which Page used on Zeppelin's early tours, and which can therefore be seen in a number of videos, the late-1950s Supro Coronado amplifier that the guitarist used to conjure Led Zeppelin's legendary overdriven tones had rarely, if ever, been viewed.
It was known that the amp received extensive modifications after it sustained a near-fatal tumble from the back of a van and was subsequently repaired, but what those changes were and how they affected the amp's tone remained shrouded in mystery.
That is until amp guru Mitch Colby and noted collector and vintage gear expert Perry Margouleff, both of whom had worked with Page on previous projects, approached the guitarist with the idea of recreating his Coronado in exacting detail.
The result of that collaboration was the Sundragon Limited Edition combo. Only 50 examples were built, each signed by Page and hand-wired by Colby. Even at the whopping price point of $12,500, the run sold out in an instant after it was announced at Winter NAMM 2019.
Given that overwhelming reaction, Colby, Margouleff and Page decided they would be remiss not to create a more affordable version of the amp. Thus, the new Standard Edition Sundragon was conceived.
"This is still a totally hand-built amp," Colby explains, "except that instead of it all being done by me, we have two more guys in a cottage on Long Island who help."
The list of other modifications to the Limited Edition spec is short. "We changed the preamp chassis a little bit, made it stronger, and mounted it a different way," Colby says. "We're also using new resistors instead of New Old Stock, and most importantly we're using new tubes. Each Limited Edition had almost $1,000 worth of New Old Stock tubes in it!"
Given that the Standard costs less than a third of the price of its predecessor, the bigger story is how much the two iterations have in common.
"It's the same dual-chassis design, with the preamp section up top and the power section on the bottom of the amp, the same transformers, which we had made by the original manufacturer, and the same Jensen speaker," Colby says. "It's also still built on little terminal strips, like the amps in the late '50s were built. And let me tell you, it's a mess in there! There's a reason these old amps are nicknamed 'rats' nests.'
"Add to that the wiring changes that were made when the amp was repaired in the '60s, and it's even more confusing. But that's the way we make the Sundragon, because if you move wires around or change the positions of components, that could change the sound."
The repairs that were performed to Page's original Coronado further complicated the amp's stock wiring and drastically dropped its output. "When the amp was stock, it was probably putting out something like 20 watts clean and maybe 25 to 28 watts overdriven," Colby explains. "After Jimmy got it back, it was only putting out about eight watts clean and maybe 20 watts flat out. That's the same in the Sundragon."
Guitarists hoping to use their Sundragon to power an external cabinet will find there is no output for this application. What's more, the internal Jensen P12Q speaker is effectively hard-wired to the power-section output.
This, Colby explains, is by design. "The circuit itself is not very bright, so it's paired with a Jensen P12Q speaker, which is relatively bright, to counterbalance that. If you plug this amp into a 4x12 cabinet, it won't sound as good."
The Sundragon features two channels, one normal and one with tremolo, each with Regular and Treble inputs. Colby notes that all four inputs are voiced a little differently from one another.
"The Treble input on channel one sounds a little scooped, while the Regular input sounds full because you're getting the full frequency response of the amp," he says. "And in the tremolo channel, the Treble input has very little bottom end and a nasal quality to it that I like, while the Regular input is a little bit smoother."
The control scheme is completed with a volume for each channel, a single master tone, and speed and intensity knobs for the tremolo. (Heads up: Both work backward, as they did on the original Supro.) We tested the amp with both an American Vintage "Thin Skin Nitro" '52 reissue Fender Telecaster and a Gibson Custom 1959 Les Paul reissue, and it was nothing short of revelatory.
What Sundragon has delivered is a unit that produces a sort of ideal of a vintage sound, one that suffers from neither the harsh spikiness of many reissue amps nor the infuriating mechanical rattles, failing components and undesired low-end flabbiness of an amp that has actually been used and abused for half a century.
Image 1 of 2
Because of its low wattage, the Sundragon has a blissful lack of headroom and kicks into overdrive fast. After you pass eight o'clock on the volume, you're adding gain and compression, but very little in terms of loudness.
The Sundragon plays well with PAF-style humbuckers, but as Page figured out more than 50 years ago, this amp seems purpose-built to interface with a bridge-position Telecaster pickup.
The slight midrange bump of the tremolo channel's Treble input fills in the frequencies that Telecasters so often lack for hard rock applications, and it's a magical sound: tight, mean, meaty and, for this reviewer at least, the closest he's going to get in this lifetime to conjuring the sound and vibe of one of rock music's most important albums.
The Sundragon Standard Edition Combo retails at $3,875. See Sundragon Amps for more information.
All the latest guitar news, interviews, lessons, reviews, deals and more, direct to your inbox!