How the Lost Gibson Theodore Came Roaring to Life After 65 Years in the Company's Archives
By Dave Hunter published
Based on a Ted McCarty drawing that was tucked away in a portfolio of lap-steel designs from 1946, the Theodore really brings something unique to the table.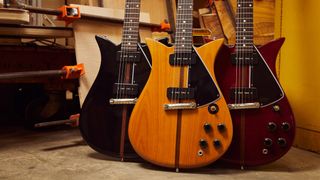 (Image credit: Gibson)
After joining the solid-body revolution with the Les Paul in 1952, Gibson ramped up with impressive speed to meet the forward-looking sounds and styles of the rock and roll era. Just five years on from that introduction, the Kalamazoo-based company was designing and prototyping some of the most revolutionary electric guitars to hit the market, and company president Ted McCarty was very much at the helm of the effort.
McCarty was hired as Gibson's CEO in 1948, promoted to vice president in 1949 and, in 1950, advanced to the role of president, a position he held until his departure in 1966.
Throughout his tenure, however, McCarty functioned as far more than an administrative executive. He'd earned an engineering degree from the University of Cincinnati and was never afraid to step out of the boardroom and into the R&D department, where he either contributed directly to major designs or displayed the foresight to shepherd them from development to prototyping to production.
The innovative ES-175 was presented to the world shortly after his arrival, and his design prowess and/or managerial imprimatur was behind the Les Paul, ES-335, Explorer, Flying V, SG, Firebird, and other legendary guitars, as well as the PAF humbucker pickup. Named in McCarty's honor, the Theodore presented here developed from a sketch the former Gibson president made on March 18, 1957, and which was subsequently archived and forgotten.
The original drawing fell out of a portfolio of lap-steel designs from 1946, which Gibson's head of product development, Mat Koehler, was examining while exploring the archives.
The design is fascinating not only for its trenchant mystique but also because it provides a brilliantly insightful window into some of the avenues Gibson followed around that time, as evidenced by the various guitar models that it put into production.
Based on records of designs that were in progress, as well as dates on patent applications McCarty filed, we know that the drawing on which the Theodore was based was made just as Gibson's Modernist Series guitars were in development.
The Modernist series included the Explorer and Flying V, which went into production in 1958, and the Futura and Moderne, which – like the Theodore – were not produced until some decades later, in pseudo-reissue form. In fact, the patent application for the design that would become the Explorer (which evolved from the prototype for the Futura) was dated June 20, 1957, and shows a split-V, three-per-side headstock.
The Explorer went into production shortly afterward and hit the scene with the now-iconic droopy, six-to-a-side scimitar headstock, a feature foreshadowed in the March '57 drawing for the guitar on which the Theodore is based.
As you can imagine, creating a guitar like the Theodore from a mere two-dimensional sketch has its challenges, as Koehler tells Guitar Player.
"I imagine it was similar to what Gibson had to do interpreting Ray Dietrich's Firebird ideas from the design portfolio he submitted to Gibson in 1962," Koehler says. "A sketch is just the starting point to get to a feasible instrument design. So yes, we had to look at the precedent that existed before and after the design, specifically the Les Paul Special double-cut, which debuted the following year.
"The sketch had a lot of features in common with that, so it was a good reference. The main changes were relocating the selector switch to a more player-friendly location and using a pickguard that lays flat instead of an archtop-style, which Gibson would not have used on a flat-topped model."
With two outward-curving horns on what would have been the first double-cutaway body in the lineup, the Theodore is made from a 1 ½ inch–thick two-piece alder body with a walnut center strip.
Our example is finished in an Antique Natural that lets the wood show through, but there are options for Cherry and Ebony finishes, each of which also reveals the walnut center stripe. The glued-in neck is made from solid mahogany in the tradition of most Gibsons of the day, and it is quite a chunk, with a rounded, almost clubby profile reminiscent of some of the biggest chubsters the company ever produced.
It's a feel I happen to like a lot, although it's something to consider for players who don't want to grapple with that much timber. It's topped with an unbound rosewood fingerboard with pearl dot inlays. Like a 65-year-old rocket from the crypt, the guitar before us is a fascinating rendering of a design from Gibson's most productive era, and it's a nifty instrument in and of itself.
The Modernist Series represented the upscale range of space-aged designs from Gibson at the end of the 1950s, and featured humbucking pickups, solid Korina (white limba) bodies, and gold hardware. Likely, the simpler, alder-bodied, P-90–equipped Theodore presented a way forward for what had started as the Les Paul Special but was intended to tie it in more with the Modernist guitars to come.
In 1958, the Les Paul Junior would receive a double cutaway, and the Special would follow shortly after, but these retained the same basic overall lines as the existing single-cutaway models rather than follow the route of the Theodore's modernist rewrite of the recipe.
Given the oddity of this guitar among others in what would have been the Gibson catalog circa 1957, it's kind of amazing that it works. Koehler concurs, and offers some further thoughts on the subject.
"My theory is that it was definitely a great idea," he says, "but it got stalled in the next phase of development due to the extreme round-over radius and the way it has to flatten out going up to the cutaways. I don't believe Gibson had a way to do this then, and even today with modern CNCs it was a challenge.
"But if Ted was thinking about the next version of the Les Paul Special, another possibility is that they went with a design that was more similar to the existing model and fit into the same case. It's also possible that more designs were pitched from the team and they simply went in a different direction."
Despite its rather outré shape, the Theodore sits well in the lap, inspiring a comfortable and natural playing position. It has a very detailed and lively response when played unplugged, bringing the interesting twist of alder's notable sonic characteristics – clarity, accuracy, immediacy, and good balance – to a guitar that is otherwise built to a Gibson template.
This translates immediately to a somewhat alternative experience that's still very LP Special–like when you amplify the guitar. And yet, given its design and body woods, the Theodore expresses something all its own. There's plenty of P-90 growl in an overall voicing that somewhat favors the upper midrange, while the guitar lends a little more solidity and bounce to lower-fret riffs on the wound strings.
With the bridge pickup's grit dialed down slightly at the guitar's volume control, it hints at a somewhat Tele-like twang due to the alder body, while enfolding a girth and roundness from the 24 ¾–inch Gibson scale length. This sonic template plays through in all positions: There's plenty of roar and aggression for rock when you need it, but it delivers impressive clarity and articulation when you dial it back, producing a clear, chiming tone that's girthy and full.
Rather than standing in for a great double-cutaway, late-'50s Les Paul Special, the Theodore brings something new to the table, with a voice and feel that some players might even prefer, depending on their stylistic needs. Unveiled precisely 65 years from the March 18, 1957 date on McCarty's sketch, the Theodore is being produced in a limited run of 318 guitars in honor of that date.
Collectible extras inside the brown rectangular hardshell case with pink lining include a print of McCarty's original drawing, a 1957-style catalog page print, and a Deluxe Certificate of Authenticity booklet. And, of course, the entire thing behooves us to ask whether there might be some other long-lost wonders lurking in the Gibson archives.
"None as complete as this one," Koehler replies, "but yes, there are many more concepts for headstock and body shapes. Some recognizable, some very odd."
PRICE: $4,999
CONTACT: gibson.com (opens in new tab)
Dave Hunter is a writer and consulting editor for Guitar Player magazine. His prolific output as author includes Fender 75 Years (opens in new tab), The Guitar Amp Handbook (opens in new tab), The British Amp Invasion (opens in new tab), Ultimate Star Guitars (opens in new tab), Guitar Effects Pedals (opens in new tab), The Guitar Pickup Handbook (opens in new tab), The Fender Telecaster (opens in new tab) and several other titles. Hunter is a former editor of The Guitar Magazine (UK), and a contributor to Vintage Guitar, Premier Guitar, The Connoisseur and other publications. A contributing essayist to the United States Library of Congress National Recording Preservation Board's Permanent Archive, he lives in Kittery, ME, with his wife and their two children and fronts the bands A Different Engine and The Stereo Field.
Get the latest news, reviews and product advice straight to your inbox.
Thank you for signing up to The Pick. You will receive a verification email shortly.
There was a problem. Please refresh the page and try again.