Examining a '77 Dumble Overdrive Special 1x12
Rare and revered, and with a price to match, this 1977 combo exemplifies the genius of Alexander Dumble.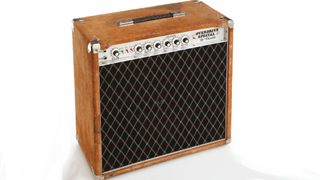 (Image credit: Heritage Auctions / Ha.com)
There's no name in the guitar-amp world that will command more hushed reverence, or a larger price tag, than Dumble. So rare and exalted are these creations that even the better efforts among a host of copies thereof have become highly acclaimed, while an encounter with the real thing is likely to make even the most stoic guitarist go weak in the knees.
So what exactly is a Dumble, and why all the fuss? Let's take a look. Alexander Dumble started repairing and modifying amplifiers in California in the 1960s, and built the first of his best-known model, the Overdrive Special, in 1972.
The term model is something of a stretch, however, given that every one was custom made and slightly different from the ones before and after it. Each incorporated bespoke changes intended to suit the amplifier to the player who had ordered it, usually done after extensive reference by Dumble himself to the customer's playing style and sound.
Dumble applied layers of epoxy over his amp's internal components, either to hide his work from imitators or to cut down on vibration, and possibly for both reasons. To the extent that his designs can be examined, enthusiasts who have looked at the Overdrive Special's hallowed circuit have often declared the amp's foundation to be based on standard 50- and 100-watt Fender amps of the '60s.
And there's likely a solid reason for that. According to Robben Ford, one of the most famous Dumble players of all time, the amp's maker was originally inspired to create the Overdrive Special after hearing Ford himself play through just such a Fender.
"Alexander told me later, after I'd already bought one of the amps from him, that he used to hear me play up in Santa Cruz in Northern California, and I was playing through a blackface piggyback Bassman," Ford told Reverb.com in 2017. "And he said that's where he got the idea. He started modifying Fender Bassman heads and eventually got the idea for the Overdrive Special.
"I can play like myself and sound like myself through other amplifiers," Ford added. "But the last thing I want to do is stand next to somebody else who has one!" Other than the heavily ear-tweaked and custom-grade nature of the rest of the circuit, the most highly acclaimed part of the Overdrive Special is the overdrive stage that gives it its name.
Not so much a separate lead channel, as found in so many channel-switching amps, the Overdrive is a foot switch–selectable stage that brings in another preamp tube, with a full two triodes of added gain, after the standard preamp stage that provides the amp's clean tones. Given this topology, it's a cascading-gain preamp – when switched into Overdrive – that involves four gain stages.
As seen on the front panel of this 50-watt 1x12 combo from 1977 (rare in itself, given most were built as heads), level and ratio controls govern the firepower delivered by the stage, determining overall output and distortion level, respectively.
Sounds simple enough, right? Yet the combination of circuit stages – put together with what many acknowledge as Dumble's genius-level understanding of construction techniques and component selection – results in the kind of delectable, dripping, jaw-dropping tone that just can't be found elsewhere (or so most players, and owners, of the real thing would tell us).
While Dumble's clean tones are considered to be very good, the real pay dirt comes when you switch to Overdrive, eliciting a thick, creamy, rich, yet clear and articulate lead tone that is also extremely dynamic and tactile.
In addition to Ford, Dumbles have been played by Larry Carlton, Jackson Browne, Stevie Ray Vaughan, Sonny Landreth, and Carlos Santana, as well as ace studio and touring guitarist Todd Sharp, who is himself now a highly respected Nashville-based amp maker. Sharp once owned and traveled with two Overdrive Specials, and both were unusual 150-watt versions, no less.
The suede-covered 1977 combo featured here was that of the late Kim Davis of the southern-rock band Point Blank, which toured with ZZ Top and others before launching their own successful six-album career.
Although the creation of Overdrive Specials spanned at least three decades, aficionados have noted an evolution of the circuit over the years, overlaid atop the fact that the amps were all one-offs in the first place.
Without going into excessive inside baseball on the circuit specs, the amps from the '70s tend to be more raw sounding, while those of the '80s and '90s became a bit more refined, broadly speaking.
Much of this had to do with changes in EQ circuits as much as anything else, as Dumble added or removed elements, such as the fabled Skyliner tone stack, or the HRM (for "Hot Rodded Marshall") tone stage cobbled onto the Overdrive stage on some later models, found in the form of internal trim-pot controls.
This amp, serial number 0077, boasts features that were standard for the era, including the bright, deep, guitar/mic and accent switches, and a passive effects loop on the back panel, and it has an added final master-volume control on the rear panel that shoots right through the Dumble Amplifiers logo.
Whether done by Dumble himself or a third-party tech is unknown, although Alexander's pre-purchase contract – required before you could even order one of his amps – generally stipulated that no one other than he be permitted to work on a Dumble.
It's difficult to discern whether Dumble is still making amps, and if he is, how much one would cost or how long it would take, or really even where he is to attempt to contact him to inquire. What is known, however, is that any existing Dumble that comes up for sale on the used market will cost you tens of thousands of dollars, and likely make you the envy of your local guitar scene.
All the latest guitar news, interviews, lessons, reviews, deals and more, direct to your inbox!
Dave Hunter is a writer and consulting editor for Guitar Player magazine. His prolific output as author includes Fender 75 Years, The Guitar Amp Handbook, The British Amp Invasion, Ultimate Star Guitars, Guitar Effects Pedals, The Guitar Pickup Handbook, The Fender Telecaster and several other titles. Hunter is a former editor of The Guitar Magazine (UK), and a contributor to Vintage Guitar, Premier Guitar, The Connoisseur and other publications. A contributing essayist to the United States Library of Congress National Recording Preservation Board's Permanent Archive, he lives in Kittery, ME, with his wife and their two children and fronts the bands A Different Engine and The Stereo Field.