Busting Tonewood Myths: Forget Everything You've Heard About Bass and Treble
Richard Hoover of the Santa Cruz Guitar Company schools us on the nature of tonewoods.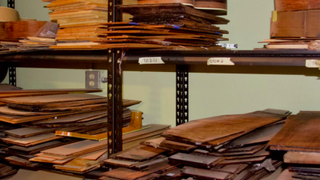 (Image credit: Future)
Here's something of a myth buster," Richard Hoover says. "Woods don't affect bass or treble." What? Isn't rosewood bassier than mahogany? Not according to Hoover, who has more than four decades of experience with tonewoods as the head of Santa Cruz Guitar Company.
So, what exactly do tonewoods contribute to the sound of an acoustic guitar?
The choice of woods determines how bright, articulate and clear a guitar sounds, or how dark, blended and forgiving it is. Indian rosewood is warmer than mahogany, but that's not to be confused with frequency. We'll control bass and treble by how we manipulate those woods, but it's not inherent in the wood. You can check this by picking up a piece of wood and tapping on it. Does it ring bright and clear, or is it more of a warmer sound? That's what's going to translate to your guitar.
Can you give some examples?
Archtop jazz guitars are often made out of maple because it is a bright, clear, articulate wood for players that want you to hear every note they play, separately and with all the nuances that they put into each one.
Blues, country, bluegrass and folk players gravitate toward Indian rosewood because it's a more blended, friendly sound. Eric Skye is a wonderful acoustic jazz fingerstylist. He wanted his signature model to be super articulate, so we use Adirondack spruce for the top and cocobolo for the back and sides because both woods are bright and clear.
I, on the other hand, don't want you to hear every note I play on my guitar. As a singer-songwriter, I'm more interested in the lyrical content coming across, and the blended nature of my guitar accompaniment facilitates that. I want it to be somewhat forgiving. Indian rosewood and a Sitka spruce top produce a warm tone that's right for me.
The word tone is used ubiquitously for different things in guitar language. Can you hone in its meaning for this conversation?
When you pluck a string on your guitar over the soundhole at the end of the fingerboard, it sounds warm and round. The closer you move to the bridge, the brighter, clearer and more strident the sound becomes. That's tone. It doesn't change frequency, bass to treble, but the tone changes. So except for factors such as strings, and extremes like using a brass saddle or bridge pins, the tone of your guitar comes from the woods. When players tell me which woods they're considering, I'll tell them what to expect in sound. If they tell me what sound they want, I'll tell them what woods to choose.
It's really contrary to what a lot of people think. There's a reason why all bluegrass guitars are rosewood. The exception was Clarence White, who mostly played a mahogany guitar because mahogany has more clarity. Think of what he did. He introduced guitar leads to bluegrass, whereas before the guitar was just used for rhythm. So that's where the woods come in. How we treat the woods, that's where we'll EQ the bass and treble.
Visit the Santa Cruz Guitar Company here.
All the latest guitar news, interviews, lessons, reviews, deals and more, direct to your inbox!
Jimmy Leslie has been Frets editor since 2016. See many Guitar Player- and Frets-related videos on his YouTube channel, and learn about his acoustic/electric rock group at spirithustler.com.