AVA Puts an Elegant Spin on Carbon-Fiber Luthiery with its One First Edition
This forward-thinking design is an option for guitarists looking to break the bounds of conventional construction and find creatively expressive new voices.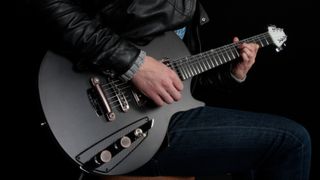 (Image credit: AVA Guitars)
From Mario Maccaferri's injection-molded plastic guitars of the 1950s to Dan Armstrong's late-'60s Lucite guitars and basses, and Gibson's 1980 Sonex line, the use of alternative materials in cutting-edge luthiery is nothing new.
While none of those adventures stayed the course, however, AVA's high-end guitars made from advanced carbon fiber aim to turn the page on the industry's use of endangered materials.
It might be antithetical to say carbon fiber has long been the material of the future, but that seemingly contradictory status abides in the guitar world.
While the stuff has been accepted for use in everything from racing bikes to wind-turbine blades to aerospace applications, it has yet to replace traditional woods in the hearts and minds of guitarists, despite the previous and ongoing efforts of adventurous makers such as McPherson, Kevin Michael, Klos, Rainsong, Gus and a few others.
Founded in 2011 in Porto, Portugal, with the express purpose of building elegant, forward-looking instruments, AVA Guitars determined that carbon-fiber construction was the way to go, and the results indicate they're onto something.
The two examples of AVA's One First Edition models featured here come to GP fresh from their appearance on the Boutique Guitar Showcase Tour 2021.
Carrying First Edition plates numbered 21 and 22 of 100, they beautifully exhibit the company's efforts to render this 21st century material into clean, elegant, subtly eclectic guitars.
How do they do it?
"AVA guitars are the result of more than a decade of research, design, development and testing with engineers and guitar players to achieve and iterate the correct behavior of carbon fiber," AVA CEO Júlio Martins explains.
"Composite materials have a very close resemblance to wood. Both are composed of fibers – cellulose versus carbon fiber – adequately placed into a matrix, in this case a resin. So a very similar approach regarding the orientations of the fibers may be used to mimic the behavior of wood.
"We don't have any issues with wood," he adds. "We just want to show that it can be done differently, with soul and sound. And now we can say that carbon-fiber composite is an adequate alternative, regardless of the good historical use of wood, and a great material for musical instruments."
Obviously, the build process involves careful calculation to maximize both strength and resonance.
"The optimization comes mainly from the type of fibers and the placement and layering of these fibers around the guitar elements – the body, soundboard, neck and headstock," Martins says.
"We used computer-aided simulation and measurements to help us and to ensure that the right behavior and frequencies were being reproduced."
As straightforward as the model appears at first glance – intentionally so, Martins says, to aid familiarity – an in-hand inspection reveals the application of a keen eye for design at every angle and curve.
The basic single-cutaway, dual-humbucker format might imply "Les Paul alternative," but the details are far more modernist than any strict adherence to that archetype might allow, with something of a Scandinavian-meets-midcentury-modern aesthetic playing out across the form as a whole.
The body is much thinner, for one thing, and sculpted so that the inside of the cutaway, neck heel and sides flow smoothly into a gently radiused back, while the top sports a very slight arch from the sharp edges to the center.
Between the shallow body dimensions and the largely hollow-bodied carbon-fiber shell, both guitars come in very light, too, at just a tick over six pounds, and each includes a custom white AVA flight case.
The neck and body are formed as an integral unit to a scale length of 25.4 inches.
The Richlite Black Diamond fingerboard has 22 medium-jumbo Jescar frets with a Tusq nut, beyond which is a tapered, minimalist headstock with a truss-rod access cover and Schaller M6 tuners.
The neck is molded to a medium-C shape that feels nicely rounded in the palm. A width of 1.71 inches at the nut and a flat-leaning 16-inch fingerboard radius yield lots of playing room across the board (which, arguably, might feel a little broad to smaller hands), and the neck is smooth, fast and easy.
The cosmetic details also deliver more than might appear at first glance.
The humbucker-equipped example's nearly black top is the result of AVA's intention to leave the fibers visible. This reveals the unidirectional carbon fiber, in which the fibers are placed in a single direction, rather than the more common woven pattern seen in the control cavity cover.
It all contrasts dramatically with the bright white of the back and neck.
The salmon-pink guitar, which is the same color front and back (with a narrow black binding to separate the two) presents a nicely textured feel from its matte-acrylic finish, with a smoother neck back for easy playing.
Both guitars carry Schaller hardware throughout, including Tune-o-matic-inspired roller-saddle bridges and stop-bar tailpieces – black hardware on the salmon-pink guitar, and an elegant bronzed plating on the black-and-white.
The latter carries a pair of Seymour Duncan Seth Lover humbuckers installed open-coil, with thin filets of carbon fiber atop the coils.
The salmon-pink example has humbucker-sized Lollar Charlie Christian blade pickups.
Both sets do their thing through a custom circuit board beneath the arty control plates, with three-way toggle selector and master volume and tone controls.
One could argue that these AVAs might benefit from more modernist component selection, and there's a great variety of stylish and creative parts out there even off the shelf. On the other hand, the traditional bridge, tailpiece, tuner and pickup designs might also help these otherwise overtly alternative guitars cross over to more conservative players.
Played unplugged, both guitars exhibit good acoustic volume and impressive sustain.
Their sonic foundation is upper-midrange forward, with a little more "snap" than you might expect to hear from a traditional set-neck solid or semi-solid electric.
But different types of guitars can sound so extremely different when played un-amped as it is, and we wouldn't venture to say these sound dramatically different from anything else because of their alternative materials.
Plugged into a Friedman Small Box head with a 2x12 cab and a Carr Super Bee 1x10 combo amplifier, the full character of these instruments roars.
The overall tone of each is more balanced, clear, dynamic and expressive than overtly "modern," especially when you close your eyes and simply play them.
Many players' preconceptions of electric guitars made from alternative modern materials is that they'll sound cold, sterile and clinical, yet both AVA examples are anything but.
There's a subtly gutteral richness at the heart of the tone that seems to be a combination of the instruments' lively acoustic resonance and the pickups doing their thing. This lends a little grind even to cleaner settings when you dig in, but it also cleans up remarkably well through a winding-down of the volume control via the custom electronics.
In this way and others, the humbuckerloaded, black-and-white AVA is somewhat aligned with a good semi-acoustic ES-335 and the like, with that ever-so-slightly raspy vibrational edge leading the fuller body and richness that underpins its sonic personality.
As such, there's plenty of bite and sting without ever being harsh or strident. And while there's decent thickness to the overall voice, too, it's perhaps more in the SG camp (or again, the ES) than the Les Paul camp.
The salmon AVA is a little more individualistic, its Lollar blade pickups giving it a trenchant, slightly raw voice that one might call part P-90, part gold-foil, and one that's very inspiring at that.
It's great for anything from dirty country blues to rootsy snarl to heavier indie and garage-rock styles, and it proved extremely appealing into a variety of amp settings and pedals.
All in all, the AVA One First Edition is a great option for guitarists looking to break the bounds of conventional construction and find creatively expressive new voices in the process, without tipping over into instruments that look or sound overtly experimental or otherworldly.
The Portuguese maker clearly has something going here, and we're excited to see where they take it next.
For more information visit AVA Guitars or South Shore Guitar Boutique.
All the latest guitar news, interviews, lessons, reviews, deals and more, direct to your inbox!
Dave Hunter is a writer and consulting editor for Guitar Player magazine. His prolific output as author includes Fender 75 Years, The Guitar Amp Handbook, The British Amp Invasion, Ultimate Star Guitars, Guitar Effects Pedals, The Guitar Pickup Handbook, The Fender Telecaster and several other titles. Hunter is a former editor of The Guitar Magazine (UK), and a contributor to Vintage Guitar, Premier Guitar, The Connoisseur and other publications. A contributing essayist to the United States Library of Congress National Recording Preservation Board's Permanent Archive, he lives in Kittery, ME, with his wife and their two children and fronts the bands A Different Engine and The Stereo Field.