Amplified Nation's Ampliphonix & Gain 50-watt Head Delivers Inspired Tones From Both Sides of the Pond
Taylor Cox's amp building expertise is brought to bear on this boutique doozy with Transatlantic appeal.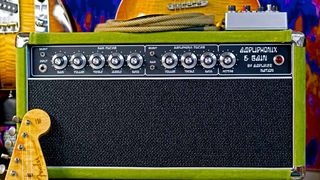 (Image credit: Amplified Nation)
Taylor Cox launched Amplified Nation several years ago as a vintage-amp restoration and repair service outside Boston. It eventually began supplying custom and hobby builders before it became a high-end manufacturing brand in and of itself.
Given his solid grounding in, and hands-on experience with, highly desirable Dumble amplifiers, Cox initially earned his reputation for creating impressive reproductions of those designs, as well as for his own models that expanded on that legendary template.
"Having been a lifelong guitar player, I've always been passionate about great guitar tone," he explains. "An amp isn't just a way to make sound – it's an extension of your instrument."
Achieving the ultimate expression from it, however, requires a dedication to quality on the part of the designer and builder. "Hand wiring and using a selection of great components is the only way to customize the tone and timbre of each individual amp design," Cox says. "Each amp we send out is meticulously crafted, and you can immediately see and hear the level of commitment to quality, inside and out.
"While there will always be a faster way to build an amp, some of the biggest return on tone comes from the inefficiencies of being hand built. Hand-built amps are also easier to modify and repair."
The Ampliphonix & Gain model on review here takes the formula a little further, however, and toward the other side of the pond.
Gain, the first channel on this two-channel head, uses the modified-Marshall template as its springboard, while Ampliphonix, the second, aims to achieve the ultimate American-clean performance, inspired by a rare Dumble Ultraphonix amplifier that resided in the Amplified Nation workshop for a solid year.
This version delivers 50 watts from a pair of EL34 output tubes, with four 12AX7s and one 12AT7 in the front end and solid-state rectification. You can also order it with 6L6s or with a pair of 6V6s for a tamer 22 watts.
"Each channel has its own independent tone stack and gain stages," Cox explains. "This allows for the amp to truly have two separate voices and EQ settings, which is different than the other cascading-preamp designs that we do.
"Lots of people want the Fender and Marshall tones to come from the same amp, and there's a challenge to find a great product that can actually do it. By achieving this, the Ampliphonix & Gain has been one of our most-favorite amps to play."
Given the channels' very different goals, the control panel is clearer and simpler to use than that of some of the more feature-laden D-style amps. The Gain side has controls for gain, volume, treble, middle, and bass, plus a bright switch. The Ampliphonix channel includes just volume, treble, bass, and a bright switch, and the pair share the master reverb control.
Around back are tube-bias meter connection points, speaker outputs (two four-, one eight-, and one 16-ohm), the effects loop jacks, a kill switch for the reverb, and a DIN connector for the included two-button foot switch, which allows channel switching and reverb on/off.
While Cox offers this head in black Tolex, ours came in an eye-catching green suede. The control panels front and back sport a retro-futuristic font, and the stylish knobs have a psuedo–science lab feel that's in keeping with the typeface's kitschy aesthetic.
Of course, many would rightly argue that the real beauty of this amp lies inside. The circuit is based around a rugged glass-epoxy eyelet board populated with quality components and featuring hand-soldered connections to and from jacks, switches, potentiometers, and tube sockets.
The robust power filtering is achieved with a selection of German-made F&T electrolytic capacitors, the transformers mounted outside are all American-made, and the tube-driven reverb features a MOD long-spring reverb tank.
The workmanship is neat and confidence-inspiring and makes you want to buckle it all up again after a satisying look around and get back to playing. I tested the Ampliphonix & Gain with an LP-like Collings City Limits Deluxe with Throbak humbuckers, and a Tele-like Hahn 228 with T-style Fred Stuart single-coils. My cabinet was a 2x12 Germino with Scumback M75/J75 speakers.
Given my current predisposition toward British grind, I hit the Gain channel first and was rewarded with sizzling hot-rodded Plexi-style tones that ranged from toothsome crunch to raging lead, depending on where the gain control was set.
This channel's master-volume control works well, and you can dial it all down to reasonable decibel levels to suit club gigs or basement rehearsals, but it certainly sounds its best when you start pushing the master a little (say, to 11 o'clock and beyond), at which point things get all the more gutsy, thick, dynamic, and, of course, loud.
As per design, the Gain side is Marshall-like, with gobs of midrange grind and low-end thump when you set the EQ accordingly, and the characteristic high-end sizzle that's distinctive in the later master-model and 2204 circuits. That said, it has plenty of its own thing going on, with a little syrupy creaminess in the lower mids that's a touch Dumbley.
All in all, it's a lead sound that works well for a broad range of classic-rock-inspired playing styles, as well as vintage metal at its extremes and cooler blues at its lower ranges. Although it comes second on the panel, the Ampliphonix side of this circuit is mentioned first in the amp's name, and its primacy becomes immediately apparent once you switch to it.
There are plenty of stellar clean, high-headroom amps in boutique land, but coupled with both the humbucker-loaded set-neck and the single-coil-loaded T-style, the Ampliphonix channel displays one of the most impressive and compelling clean platforms I've experienced in a long while.
It's rich and succulent, yet extremely articulate and crystalline. The lows are granite-tight and the highs crisp and shimmery without being piercing. It's a sound and feel that should elicit an "Ahhhhh!" from all who appreciate the virtues of undistorted guitar.
As much as I lean toward a little grit and breakup as a player myself – and often a lot of it – the Ampliphonix channel's sweetness, breadth, and swirling, blooming dimension enhance a rare and uplifting playing experience.
Of course, some players might like to have a master-volume control associated with this clean channel, or some means of eliciting just a little more drive from this voice, but the Ampliphonix circuit took extremely well to a range of boosters and overdrives, including a Wampler Tumnus Deluxe, Xotic EP Booster, and Tsakalis Six OD pedal.
I should also note that the reverb sounds beautifully lush and atmospheric, as applied to the clean channel in particular, but raising its level also subtly raises the gain of each channel, which might take some getting used to.
Rare among even the best hand-wired dual-channel heads (and those based on EL34 output stages it seems), the Ampliphonix & Gain impresses with a fun, raunchy cranked-Brit lead channel, then floors you with an uncompromised and exultant clean channel. That's where so many channel switchers fall down, and it's a feat that makes this amp a true delight.
All the latest guitar news, interviews, lessons, reviews, deals and more, direct to your inbox!
Dave Hunter is a writer and consulting editor for Guitar Player magazine. His prolific output as author includes Fender 75 Years, The Guitar Amp Handbook, The British Amp Invasion, Ultimate Star Guitars, Guitar Effects Pedals, The Guitar Pickup Handbook, The Fender Telecaster and several other titles. Hunter is a former editor of The Guitar Magazine (UK), and a contributor to Vintage Guitar, Premier Guitar, The Connoisseur and other publications. A contributing essayist to the United States Library of Congress National Recording Preservation Board's Permanent Archive, he lives in Kittery, ME, with his wife and their two children and fronts the bands A Different Engine and The Stereo Field.