"All This Equipment is Just to Make a Sound Like We Used to Get Years Ago": Watch Andy Summers Demo His Massive Effects Rig in 1987
Here's why the Police guitarist is an effects innovator.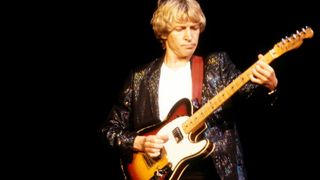 (Image credit: Peter Noble/Redferns)
The Police were one of the most popular bands in the world for several years in the late '70s and early '80s, and Andy Summers's inventive electric guitar work was a huge part of that success.
Although they blended upbeat punk, pop and elements of ska into a sound all their own, each of the three musicians that comprised the lineup – including drummer Stuart Copeland and lead singer/bassist Gordon Sumner (a.k.a. Sting) – had backgrounds in jazz and prog-rock.
Summers had started gigging with local jazz outfits in his hometown of Bournemouth, England while still in his teens, and moved to London shortly after to join Zoot Money's Big Roll Band.
Following stints with Soft Machine and the Animals in the late '60s, he took a left turn by enrolling at the University of California, Los Angeles to major in classical guitar for four years.
By the late '70s, Summers' style and sound were leagues apart from the power chords and extended heavy rock soloing of the day's guitar heroes, his playing laced with atmospherics, jagged rhythmic counterpoint and off-kilter arpeggios.
And Boss's revolutionary CE-1 Chorus Ensemble pedal formed a huge part of his signature tone.
Boss parent company Roland first delivered its stereo-chorus circuit within the Roland JC-120 and JC-60 Jazz Chorus solid state amplifiers of 1975.
The same effect was packaged into an outboard box as the Boss CE-1 Chorus Ensemble the following year, and a legend was born.
Purportedly the first effect to use analog bucket-brigade chips (BBD) in its circuit, the CE-1 has tone that is deep, thick, spatial and multi-dimensional, and while it sounds great in mono, it is truly otherworldly when used in stereo.
Summers' creative use of the unit kicked off a chorus pedal revolution that has barely waned to this day.
All the latest guitar news, interviews, lessons, reviews, deals and more, direct to your inbox!
Dave Hunter is a writer and consulting editor for Guitar Player magazine. His prolific output as author includes Fender 75 Years, The Guitar Amp Handbook, The British Amp Invasion, Ultimate Star Guitars, Guitar Effects Pedals, The Guitar Pickup Handbook, The Fender Telecaster and several other titles. Hunter is a former editor of The Guitar Magazine (UK), and a contributor to Vintage Guitar, Premier Guitar, The Connoisseur and other publications. A contributing essayist to the United States Library of Congress National Recording Preservation Board's Permanent Archive, he lives in Kittery, ME, with his wife and their two children and fronts the bands A Different Engine and The Stereo Field.