A Look Back at the Rickenbacker 365: One of the Storied Company's Most Versatile and Toneful Creations
The 365 has features that make it both a classic Rickenbacker and a great choice by any standard for everything from clanging power chords to chiming arpeggio work.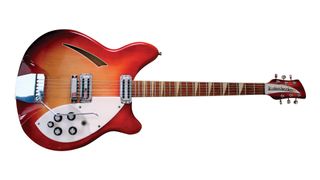 (Image credit: Dave Hunter/Future)
Any discussion of Rickenbackers from the 1960s will usually bring to mind the guitars of George Harrison (the 360/12), John Lennon (the 325), and Roger McGuinn (the 360/12 and custom 370/12).
While the groundbreaking 360/12 12-string made the most sensational splash of the decade, powering the jangle behind groundbreaking recordings like the Beatles' "Ticket to Ride" and the Byrds' "Eight Miles High," it was, like most electric 12-strings, of limited use. And while Lennon did much to reveal the 325's charms, for my money it's hard to beat the 365 for straight-up six-string versatility, upmarket looks, and classic features.
The 365 was arguably the lineup's cornerstone through the company's heyday. The model is exactly like the 360 six-string but adds Rickenbacker's Accent vibrato tailpiece, a simple bent-spring unit that has limited travel and tends to send the guitar out of tune pretty quickly.
That aside, the 365 has features that make it both a classic Rickenbacker and a great choice by any standard for everything from clanging power chords to chiming arpeggio work. At the same time, it's a much better lead guitar than many people give it credit for.
Rickenbacker's 1960s resurgence was ironic, considering its seminal role in the electric guitar's development. Founded in 1931 as Ro-Pat-In, the California-based company was among the first to develop a viable electro-magnetic pickup and the first to debut a production solidbody electric guitar when it released the cast-aluminum Electro A22 "Frying Pan" in '32. The range would really take off in 1953 when F.C. Hall purchased the company from its founder, Adolph Rickenbacker.
The Combo 600 and 800 guitars of 1954 had solid wood bodies in a modernistic dual-cutaway design that was clearly aimed to accelerate sales in the new market. In 1958, Rickenbacker unveiled new designs that led to the familiar classics of the '60s, with the early 330 and 360 models foreshadowing the body shapes, construction methods, and electronics that became standard on the more upscale models of the following decades.
The 1967 model 365 shown here displays several features unique to Rickenbackers of the era and essential to the look, feel, and sound of these rather unusual electric guitars.
Central to the design is a through-neck made from multiple laminates of wood that come together to comprise the guitar's neck and central body core, which runs from the neck heel to the sloped rear portion of the body's top where the tailpiece sits. This is set into a body back made from maple, routed out from behind to create hollow chambers, and capped off in back with a thin slice of maple.
A single bound "scimitar" sound hole reveals the semi-hollow upper bout, while the chambers of the lower are covered by a large, two-tiered pickguard.
Our featured example is finished in the bright-red sunburst known as Fireglo, while Mapleglo (natural), and Jetglo (black) were also available. The softly radiused edges of the body's front meant that no binding could be applied there, but the relatively fancy 360 and 365 models have a tasteful checkerboard binding around the flat back of the guitar.
The relatively thin neck on these Rickenbacker models presents another of the guitar's idiosyncrasies. They carry dual truss rods that can be accessed for adjustment via the long, pointed plastic cover on the headstock that bears the Rickenbacker logo, and are capped with a bound fretboard of a dark red-brown hardwood.
Often mistaken for rosewood, this fretboard is usually made from bubinga (sometimes called African rosewood, though that is in fact something different, and bubinga is not rosewood, properly speaking). On the 365 and 360, these 'boards carry decorative shark's-tooth inlays made from something referred to as crushed pearl, and unlike the dark-wood fingerboards of most makers, they are sealed in varnish.
Amid all the quirks and curiosities so far – most of them unique to Rickenbacker guitars – we have yet to discuss the electronics, which are among the more esoteric features of these appealingly odd instruments. The engine room here comprises a pair of single-coil pickups that have become known as "toaster tops" for the appearance of their dual-slotted covers.
Sometimes mistaken for mini-humbuckers thanks to these parallel slots, they're actually made with a single row of six Alnico pole pieces at the center of a coil wound with 44-AWG wire. The fineness of this wire contributes to resistance readings that appear hot for single coils, but in fact they're relatively low-output pickups, which is partly responsible for their characteristically bright, jangly tone.
On the 365, these are wired for Rick-O-Sound stereo, which routes each pickup to a separate output on the TRS jack, to be sent to two amps via a special junction box or a Y cable. A standard monaural output is also provided.
Controls include individual tone and volume for each pickup, positioned in reverse of most, with the former above the latter. The enigmatic "fifth knob" – much misunderstood and often misdescribed – is a second volume control for the neck pickup, wired in series as a variable resistor, which allows the player to add varying amounts of that unit to the bridge pickup's signal when the selector is in the middle position.
Yes, that can also be done using the pickup's conventional volume control, but this control does it differently and seems to be designed, in part, to compensate for the odd tone cap perpetually wired in series with the bridge pickup, which saps lower frequencies from that unit in normal operation. For this reason, many players bypass the cap to keep it out of circuit entirely, and only then do you really hear what the bridge pickup is capable of.
Given all the above, a good 365 presents a sound that really can't be achieved from any other make of electric guitar. Call it chime with beef, jangle with meat, bright with girth… whatever – it's rock and roll and pop-sugar sparkle all at once, and it was the secret ingredient in countless hits of the '60s and beyond.
Bob Weir used one back in the Grateful Dead's early days, while Pete Townshend, Tom Petty, Mike Campbell, Paul Weller, Peter Buck, and many other guitarists made stellar use of similar iterations of the sound with their own preferred Rickenbacker models. As firmly rooted as it seems to be in Mersey beat anthems and West Coast jangle-pop gems, a great Rickenbacker will surprise you with how easily it weaves its magic into all kinds of contemporary music beneath your fingertips.
Essential Ingredients
Semi-hollow maple body
Laminated maple/mahogany/maple "through neck"
Bubinga fingerboard with shark's-tooth inlays, 24.75-inch scale length
Two single-coil "toaster top" pickups
Rick-O-Sound wiring with stereo and mono outputs
All the latest guitar news, interviews, lessons, reviews, deals and more, direct to your inbox!
Dave Hunter is a writer and consulting editor for Guitar Player magazine. His prolific output as author includes Fender 75 Years (opens in new tab), The Guitar Amp Handbook (opens in new tab), The British Amp Invasion (opens in new tab), Ultimate Star Guitars (opens in new tab), Guitar Effects Pedals (opens in new tab), The Guitar Pickup Handbook (opens in new tab), The Fender Telecaster (opens in new tab) and several other titles. Hunter is a former editor of The Guitar Magazine (UK), and a contributor to Vintage Guitar, Premier Guitar, The Connoisseur and other publications. A contributing essayist to the United States Library of Congress National Recording Preservation Board's Permanent Archive, he lives in Kittery, ME, with his wife and their two children and fronts the bands A Different Engine and The Stereo Field.