A solution for many performing and recording situations, the PSA 2.0 is a remarkable pedal offering great analog tones in a full-featured package that fits in a gig bag. For all it does, the PSA 2.0 earns an Editors' Pick Award.
Pros
+

Excellent sound.

+

Extensive tone-control options.

+

No lag when switching between presets.
You can trust Guitar Player. Our expert reviewers spend hours testing and comparing guitar products so you can choose the best for you. Find out more about how we test.
Based on the PSA-1 rackmount processor introduced in 1993, the new PSA 2.0 is a super-flexible tone machine boasting all-analog circuitry (only the memory and programming sections are digitally controlled) in a sleek brushed-metal enclosure that is slightly under eight inches long and two and a half inches wide.
That's smaller than most foot switches for multichannel amps! Intended to be used as a stompbox or preamp — as well as for direct recording and a variety of other studio applications — the PSA 2.0 is a powerful tone-generator/shaper.
Its phalanx of controls include gain (input sensitivity), buzz (boosts/cuts low-end overdrive), punch (boosts/cuts midrange overdrive), crunch (boosts/cuts high-end overdrive), drive (works like the volume control on a non-master tube amp), low and high (active shelving EQs that boost or cut up to 18dB), level (output volume) and trim (globally adjusts the level of all presets).
The right (up) or left (down) foot switches select the presets. Between them is a foot switch that allows you to alternate between the Active and Search modes: Active lets you step-scroll through the presets using the up or down switches, while Search speed-scrolls up or down to a desired location.
Program changes and storage can also be controlled via MIDI, and it's convenient that the PSA 2.0 provides 10-volt DC power for Tech21's MIDI Mouse ($109) and MIDI Mongoose ($129) foot controllers. A three-digit display monitors the active preset as well as changes in knob settings, whether a program has been stored and when MIDI functions are activated.
The 49 factory presets offer a ton of sounds. The first 29 are divided between replications of well-known Marshall, Fender and Mesa/Boogie amps, and include "styles" of players, such as Hendrix, EVH, Santana, B.B. King, SRV and others.
There are 10 bass and another 10 miscellaneous styles that comprise AC30/Queen, Hiwatt, Fuzz Face, Triangle Muff, Tubescreamer, MXR +, Tele simulator, "American Woman," Pantera and speaker simulator (which can be disabled).
With so many tones on tap, it takes some experimentation to find what works best, but any sound that's close to the mark can be tweaked to taste via the illuminated controls and quickly saved as a custom preset in one of the 77 memory locations.
I tested the PSA 2.0 with an assortment of single-coil and humbucker guitars, including a Fender EJ Virginia Strat and a 70th Anniversary Broadcaster, a Gibson '61 Les Paul Junior and a Johnny A, and a Hamer Newport. My amps were a Fender Deluxe Reverb and a 1969 Marshall PA-20 with a Celestion-loaded Bogner cabinet.
Used like a stompbox, the PSA 2.0 delivered tones that covered everything from jazz and blues to rock and beyond, as you escalate in gain to the shred and metal zones. What's impressive is how organic the PSA sounds and how responsive it is to picking dynamics and changes in guitar volume.
Running into the effects return of a single- or dual-channel tube combo or head is a great way to go if you're looking to expand an amp's palette of tones and still be able to take advantage of the sonic muscle of a tube output stage.
On the other hand, when injected straight into a Fishman SA-220 system, the PSA 2.0 turns it into an excellent electric-guitar rig while still allowing you to have full access to the Fishman's unbeatable acoustic presentation.
The PSA 2.0 weighs under a pound and is the size of a multi-channel amp's footswitch, and yet the range and quality of the tones on offer is exceptional, offering a practical and programmable solution for the stage or the studio.
Specifications
PRICE: $399 street
CONTROLS: Level, high, low, drive, crunch, punch buzz, gain, trim. Three foot switches (down, up, Active/Search modes). Speaker simulation on/off switch, save switch I/O Input, output (1/4" TRS), MIDI in
PRESETS: 49 factory, 77 memory locations
EXTRAS: MIDI for program selection and program data storage. 3-digit display. Universal power supply
WEIGHT: .80 lbs
BUILT: USA
CONTACT: Tech 21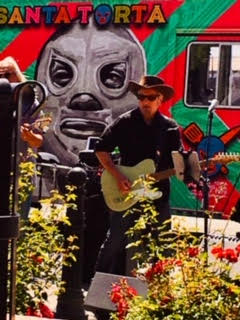 Art Thompson is Senior Editor of Guitar Player magazine. He has authored stories with numerous guitar greats including B.B. King, Prince and Scotty Moore and interviewed gear innovators such as Paul Reed Smith, Randall Smith and Gary Kramer. He also wrote the first book on vintage effects pedals, Stompbox. Art's busy performance schedule with three stylistically diverse groups provides ample opportunity to test-drive new guitars, amps and effects, many of which are featured in the pages of GP.