Taylor's superlative build, V-Class bracing and all-solid construction make for an inspiring instrument that offers great value to serious players of all styles.
Pros
+

V-Class bracing is like steroids for acoustic projection.

+

Rich, sweet tone.

+

Clear, powerful bass.

+

It's great value for a US-built Taylor.
You can trust Guitar Player. Our expert reviewers spend hours testing and comparing guitar products so you can choose the best for you. Find out more about how we test.
Named for the Southern California guitar shop where Taylor Guitars was founded back in 1974, the American Dream series was created to provide an affordable solid-wood instrument that springs from the Grand Pacific round-shouldered dreadnought platform that Andy Powers designed in 2016.
The Grand Pacific is a very different type of Taylor, with a warmer and more "blended" sound that Powers says was inspired by the guitar tones heard on classic bluegrass and country recordings from the '50s and '60s.
Essentially, it's the sound of a steel-string flattop that has been miked, compressed, EQ'd, recorded, mastered and pressed to vinyl. That's thinking outside the box!
The American Dream series follows this same philosophy, while delivering a high level of performance courtesy of V-Class bracing, all at a price that's very affordable for a U.S.-made guitar.
In fact, the guitars in the series are the lowest-priced American-made guitars Taylor has ever offered, and it's no coincidence that they have been introduced at a time when the pandemic has made it more difficult than ever for people to purchase new guitars.
Joining the recent AD17 and AD17e models, which feature backs and sides of solid ovankol (a relative of rosewood) and Sitka spruce tops, the new AD27 tilts the recipe toward a warmer sound and deeper lows via a body made of solid sapele (a tonewood similar to mahogany) and a mahogany top.
This lightweight guitar is fitted with a mahogany neck and is topped with a 25.5-inch scale eucalyptus fingerboard carrying 20 smoothly finished frets and a perfectly shaped black Tusc nut.
To keep costs down, the ornamentation is fairly spartan and consists of a black-maple-black rosette, a tortoise pickguard, black plastic truss-rod cover and heel cap, and Italian acrylic position dots and a headstock inlay.
Tuning chores are handled by Taylor-branded nickel die-cast machines, and the ebony bridge has a Micarta saddle and black pins.
The guitar wears a thin (2.0 mil) matte finish that allows you to really feel the graining of the woods, which all look very attractive under the reddish-brown hues of the Urban Sienna stain. Suffice to say, if you're a fan of natural-looking guitars, the AD27 has you covered.
The C-shape neck feels great with its medium depth and a width of 1.75 inches at the nut. The string spacing is easy to navigate, whether soloing or fingering complex chords, and the factory setup was well dialed in on arrival, providing low and buzz-free string action and rock-solid intonation all along the neck.
This is one of the most rewarding aspects that V-Class bracing brings to the equation, as well as enhanced sustain, which always makes an acoustic guitar more enjoyable to play.
The AD27 has a big voice, and it rings out clearly and has nice complexity in the midrange, with lots of low-end girth.
While not exactly the sonic cannon that, say, a D-28 can be, the AD27 is better balanced top to bottom (at least compared to my '90s Martin) and still pumps out a good amount of volume with little compression when played hard with a pick.
The way this lightweight guitar transfers string vibrations through the body and neck is unreal. It's resonant and dynamic, and the touch responsiveness is something fingerstyle players will appreciate.
The bottom line is, if you're seeking the bright, crisp and articulate tones that Taylors are known for, the American Dream guitars are different animals.
As the low-cost realization of Andy Powers' mission to create an instrument with a round, buoyant tone and the flexibility to cover a wealth of different styles, the American Dream AD27 is a guitar for the times, with an inspiring sound that will please players of all kinds - singer-songwriters, bluegrass pickers and anyone who appreciates great tone. As such, it deservedly earns our Editors' Pick Award.
Specifications
PRICE: $1,399 street
NUT WIDTH: 1.75" black Tusc
NECK: Tropical mahogany
FRETBOARD: Eucalyptus, 25.5" scale
FRETS: 20 medium
TUNERS: Taylor nickel
BODY: Solid sapele sides and back, mahogany top. 20" long, 16" wide 4 5/8" deep. V-Class bracing
BRIDGE: Ebony with Micarta saddle
EXTRAS: Taylor AeroCase included
FACTORY STRINGS: D'Addario coated phosphor bronze
WEIGHT: 4.14 lbs (as tested)
BUILT: USA
CONTACT: Taylor Guitars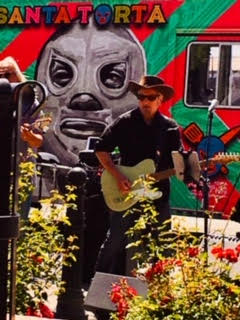 Art Thompson is Senior Editor of Guitar Player magazine. He has authored stories with numerous guitar greats including B.B. King, Prince and Scotty Moore and interviewed gear innovators such as Paul Reed Smith, Randall Smith and Gary Kramer. He also wrote the first book on vintage effects pedals, Stompbox. Art's busy performance schedule with three stylistically diverse groups provides ample opportunity to test-drive new guitars, amps and effects, many of which are featured in the pages of GP.