Warm, amp-like tremolo and plenty of controls to shape it just as you like it, the MTG Tremolo is a convenient and contemporary outboard option for adding the guitar world's oldest effect to your tone.
Pros
+

Rich sound and great range of tremolo textures that can be tweaked to the nth degree.

+

Dedicated level control.

+

True-bypass.
Cons
-

Tempo subdivision function was puzzling on our unit.
You can trust Guitar Player. Our expert reviewers spend hours testing and comparing guitar products so you can choose the best for you. Find out more about how we test.
Co-designed by Fender's Stan Cotey and amp guru Bruce Egnater – as are all models in the MTG line – the Tube Tremolo brings a high degree of control and flexibility to what could be the oldest electronic effect in the history of guitar sound modifiers.
Tremolo has typically involved tube circuitry (at lease in guitar amplifiers), so it's fitting that the Tube Tremolo incorporates a NOS American-made 6205 tube, which is gripped on a small PC board that's affixed to the main glass-epoxy board carrying the majority of the circuit components.
The metal enclosure is comprised of an orange-color anodized-aluminum upper section with a steel bottom plate, and it comes apart easily after removing four machine screws.
Besides input and output jacks, there is a 2.1mm jack for the nine-volt power supply of your choice (200mA minimum), as well as a small recessed switch on the front that lets you turn on or off the blue-lighted indicators on the knobs.
For some reason the indicator on the intensity knob wasn't working, but it was no big deal, and the warranty would cover it. The bypass and tap foot switches have amber LEDs, and the latter blinks in time with the tempo, which can be set with the tap button or the speed control.
Furthermore, pressing and holding the tap switch while turning the speed knob supposedly allows you to select between seven different beat subdivisions: quarter note, dotted eighth, quarter-note triplet, eighth note, dotted sixteenth, eighth-note triplet and 16th note.
I went through all of the selections (which are labeled on the speed control) without finding anything that sounded subdivided, so I wasn't sure if the pedal had a problem or I was missing something.
As it happened, Fender explained that we somehow received a very early unit before the software features were completed. The subdivision function does indeed work and will produce any of the subdivided values from a quarter-note tap.
One of the key features of the Tube Tremolo is the mode switch, with its three distinct settings – triangle/sine/square, ramp/triangle/sawtooth and adjustable square wave.
These, in combination with the wave control, make it possible to get a broad range of tremolo textures, from smooth sine-wave pulse to staccato square-wave effects and all points in-between.
Tested with a Fender Deluxe Reverb, which has a nice-sounding trem to compare with, the TT was easily adjusted to cop that type of smoothly rounded volume modulation by using the triangle/sine/square position with the wave knob set a little south of halfway and the intensity at around noon.
Turn the wave control up, and the response gets progressively tighter and more bouncy as more square-wave signal is blended in. In order to deal with any volume loss that may occur at higher intensity settings, the pedal's level control adjusts the volume of the effect.
It's very handy, and it doesn't affect the sound when the unit is bypassed, so you always get that "boosted" sensation when the effect is clicked on.
The middle position (ramp/triangle/sawtooth) works sort of opposite and delivers a choppier response when the wave knob is turned to the left, becoming smoother and a little brighter (and perhaps more solid-state-like) when turned to the right.
A blend of the two with wave set in the middle and intensity at nine o' clock or so was great for creating beautifully swampy rhythmic effects with the speed set on the low side.
For super-staccato sounds, the third position (adjustable square wave) delivers the helicopter chop in a big way with the intensity at about two o' clock and the wave knob all the way up. What a great effect for giving machine-like drive to a deep rhythm groove or for accenting a break with jackhammer intensity!
Back off on those controls, however, and there are many other shades of square-wave tremolo that sound cool for styles that benefit from its tight-tracking response. Kudos to the Tube Tremolo for its warm tone, wide speed range (0.1 Hz–10 Hz) and multitude of ways to shape the modulation.
Anyone seeking a do-it-all trem pedal should give it a try, and it's cool that Fender and the designers made such an effort to put a modern spin on this age-old effect.
Specifications
PRICE: $199 street
CONTROLS: Wave, 3-position mode switch (triangle/sine/square; ramp/triangle/sawtooth; adjustable square wave), speed, intensity. Bypass and tap foot switches
TUBES: One 6205 preamp tube
I/Ol: input, output, 2.1 mm jack for 9-volt power supply (not included)
CONTACT: Fender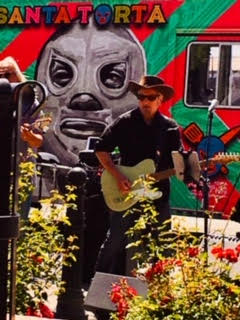 Art Thompson is Senior Editor of Guitar Player magazine. He has authored stories with numerous guitar greats including B.B. King, Prince and Scotty Moore and interviewed gear innovators such as Paul Reed Smith, Randall Smith and Gary Kramer. He also wrote the first book on vintage effects pedals, Stompbox. Art's busy performance schedule with three stylistically diverse groups provides ample opportunity to test-drive new guitars, amps and effects, many of which are featured in the pages of GP.