"We Just Thought We Might as Well Make Another Record Because We Sure Weren't Going to be Doing Any Shows": Zakk Wylde Talks Black Label Society's Lockdown Album
The master shredder emerges with a new long-player that laces ballads with twin-guitar rockers.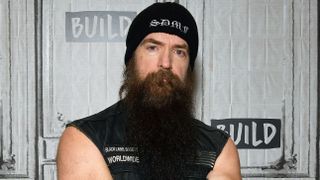 (Image credit: Slaven Vlasic/Getty Images))
Zakk Wylde first came to prominence when he joined Ozzy Osbourne's band as a replacement for Jake E. Lee, making his recorded debut with Ozzy in 1988 on No Rest for the Wicked. The gig was a dream job for Wylde, who'd always loved Black Sabbath and cited Randy Rhoads as one of his favorite guitarists.
Ozzy initially wrote off Wylde as a Rhoads clone, but once the guitarist got the chance to show what he could do, it was a no-brainer for the Prince of Darkness. Wylde has featured on Ozzy's records and in his live band on-and-off ever since. He embarked on a solo career while with Ozzy, recording Pride and Glory in 1994 and Book of Shadows in 1996.
Wylde formed his own band, Black Label Society, in 1999 and has released 15 albums under that banner.
Though Wylde has long been known for his berserker Viking image and uniquely pulverizing electric guitar tone and riffs, there is far more to his playing than down-tuned grooves and screaming pinched harmonics, as heard on the new BLS album, Doom Crew Inc. (eOne). The record showcases three ballads that amply illustrate Wylde's range of moods, styles and songwriting talents.
How did the pandemic affect the making of this new record?
When we came off the road, we figured we'd be back home for a month. Before we knew what was going on, it was over a year. We just thought we might as well make another record because we sure weren't going to be doing any shows. I arranged for the guys to come out to my studio here, the Black Vatican.
I spent a month working on riffs and ideas. The way that I work is to complete a whole song, rather than stockpile an idea for a chorus or a bridge or something. I tracked all the guitars, with no drums or bass, and the rest of the guys laid down their parts in a couple of days.
You're someone who seems to be constantly touring. How did you handle the enforced layoff from live work?
Usually there's a cycle – you're getting ready for something, and there's a reason why you're practicing or rehearsing or whatever. Having the album and working on artwork, or whatever, gave me a real focus. I get an explosion of creativity once I get into the mindset and start working on new songs.
Your approach this time was a little different in that you traded solos on a few songs with Dario Lorina, who also plays guitar with BLS.
On certain songs, such as "Set You Free" and "You Made Me Want to Live," I'd already written the solo ideas, and I got Dario to play some of those parts, a little like the Allman Brothers or something. But on others, he just came up with his own parts. He's an amazing guitarist, plus he can play piano and sing.
You're not afraid to explore a more sensitive side in your music, with three strong ballads on the album. Where does that influence come from?
My first mind-blowing experience with music was when I saw Elton John singing "Lucy in the Sky With Diamonds," on Cher [hosted by singer-actress Cher] in the '70s. That was when I first got chills at the power of music. Elton is a master of the emotional ballad. The thing is, as much as I love Zeppelin doing "Black Dog," I love "Going to California," you know? Same with Sabbath. I loved it when they did "Changes."
What Wylde Audio gear did you use?
I use all my Wylde Audio guitars. I use the Nomad for the rhythms and the Heathens for some of the solos. I've been using Wylde Audio amps for the last three albums. There's some new designs coming out soon as well: the Thorax, the Raider, the Vulture and the Condor.
You were always a huge Sabbath fan, and you even have your own tribute band, Zakk Sabbath. I guess it must have been a dream come true for you to hook up with Ozzy, whereas, ironically, Randy Rhoads never actually liked playing the Sabbath songs.
Yeah, totally. It's kind of crazy that Randy didn't like Black Sabbath, I thought everybody liked Black Sabbath. [laughs] But then again, I think that's the reason that Randy worked so well, because he came from a completely different direction and a completely different set of influences.
I was always a Sabbath freak, and I still am. What is hilarious is that when I was 15, I was playing Sabbath songs at keg parties, and now I'm 54 years old and I'm still playing Sabbath songs at keg parties. Though I guess the crowds are a little bigger. [laughs]
You're pretty loud live. Have you suffered any hearing issues after all these years?
Well, I do have tinnitus, but then again nearly everyone I know who's been on the road a long time has issues to some degree. The funny thing is that when the alarm goes off on my freezer because the door was left open, my wife will ask me if I can hear it, and I can't because it's at exactly the same pitch as my tinnitus. [laughs]
You've seen big budgets with Ozzy, but things have changed so much now that I guess you have to tour to survive in the music business.
It's a different thing. When I first started with Ozzy, if you didn't get a record deal by the time that you were 30, the dream was over, right? I can't tell you how many musicians I knew who'd been struggling for years and didn't get that deal and finally thought it was time to try to get a job.
Today, you can be your own boss if you don't get a record deal. Any band starting out now, they'll be on social media, recording at home, booking tours over the internet and building the empire. There's no sense that if you don't get that deal you're a failure, because you can build your own career. In that regard the business today is awesome, because whoever can put the work in and grind it out can survive. As long as you bring enough in to pay your bills, you can keep plugging away.
You communicate so much through your solos, and of course there is so much more range that the guitar can explore compared to the voice. Have you ever been tempted to record an instrumental album?
When Eddie Van Halen was asked why he didn't do a solo record, he said that every Van Halen record was a chance for him to express everything that he needed to say. It's that way for me, whether I'm playing with Black Label or Ozzy. I've always really loved songs. I love McLaughlin, Paco De Lucia, Jan Hammer. There's a lot to love in instrumental albums, but when I hear "Stairway to Heaven," that solo is perfect – but it's in a song. I love to have the solo in a great song. That's what works best for me.
Buy Doom Crew Inc. by Black Label Society here.
All the latest guitar news, interviews, lessons, reviews, deals and more, direct to your inbox!
Mark is a freelance writer with particular expertise in the fields of '70s glam, punk, rockabilly and classic '50s rock and roll. He sings and plays guitar in his own musical project, Star Studded Sham, which has been described as sounding like the hits of T. Rex and Slade as played by Johnny Thunders. He had several indie hits with his band, Private Sector and has worked with a host of UK punk luminaries. Mark also presents themed radio shows for Generating Steam Heat. He has just completed his first novel, The Bulletproof Truth, and is currently working on the sequel.