Watch Robin Trower's Spellbinding "Bridge of Sighs" BBC Studio Performance
The British guitar legend performs a mesmerizing rendition of his signature track live in 1974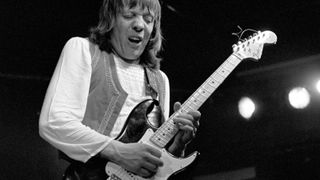 (Image credit: Tom Hill/WireImage)
Between his organically thick sustaining guitar tone and ear-catching note selection, Robin Trower is one of a few guitarists whose signature can be identified within a few seconds of hearing him play.
He's never been one to follow the obvious route in his soloing, choosing to energize his blues phrases with unexpected twists and an emotive quality that wrings the most from every single note.
His career has been long, starting with the British R&B band the Paramounts in 1962 and continuing in 1967 with Procol Harum, the progressive-rock act with whom he made five albums before launching his own successful solo career in 1973.
After hitting pay dirt with 1974's Bridge of Sighs, Trower and his band racked up three more Gold albums, and he's been going strong ever since.
Back in 2019, the legendary guitarist spoke to GP during the release of his album Coming Closer to the Day (Provogue/Mascot Label Group.) Here he discusses songwriting, the creative process, and the secret to his ongoing success...
You've described songwriting as plucking songs out of the air – kind of like Keith Richards' notion that our internal antenna picks up signals from the universe. Do you find it easier to knock those inspirations into songs as you've gotten older?
I'm finding it easier to come up with ideas for songs because I'm working more at it. I set myself a target to play the guitar every day, and the more I play, the more ideas I come up with.
I find ideas which go into my lead work. I never work something out in advance, but I'll come up with ideas that will go into the memory banks. I find that I'm stockpiling riffs and musical ideas, but as for lyrics, I wait until I've got a specific piece of music before I write the lyrics.
I can spend days working on the lyrics, but I'm making a lot of personal statements in my music, so I think drawing on that deeper level takes more time.
Now that you're singing your own songs, do you find your vocal lines affect the phrasing of your guitar fills?
I find that singing does have a bearing on guitar arrangements because you're consciously leaving spaces for the vocal and thinking about the way the two elements weave in and out of each other.
You once said that you thought there were no great white blues players. Can you elaborate on that?
I think all the great blues artists have African blood in their veins. What I tend to think about us Brits is that what we're doing is "blues influenced." There's a depth to what I call "real blues" that none of us can really achieve.
The British blues guitarists are all great players, but I think the music they're playing generally is rock and roll that's blues influenced.
What do you think has helped you to sustain such a long career?
I think I'm very fortunate to have a strong creative drive. There's a well of creativity there to draw on. I'm always working on ideas, and I've always been someone who works hard.
I think that in music and in playing the guitar, you get back what you put in. The more you work at things, the better you get, and if you can continue to improve and find inspiration, you can make music that people will continue to support.
What are you happiest about in your career, and what do you feel you still have left to achieve?
I'm happiest with what I've been doing with the last two or three albums, really. I think I'm really starting to find my feet creatively. I like the way I'm playing now better than ever.
I'm always trying to improve. That's my ambition. You always think the next batch of stuff you produce is going to be your best.
I hope I can continue to produce music that tops what I've done previously and that I can continue to express myself musically and lyrically and keep drawing on the well of creativity that I'm lucky enough to possess.
Order Robin Trower's latest album, No More Worlds to Conquer, here.
All the latest guitar news, interviews, lessons, reviews, deals and more, direct to your inbox!
Mark is a freelance writer with particular expertise in the fields of '70s glam, punk, rockabilly and classic '50s rock and roll. He sings and plays guitar in his own musical project, Star Studded Sham, which has been described as sounding like the hits of T. Rex and Slade as played by Johnny Thunders. He had several indie hits with his band, Private Sector and has worked with a host of UK punk luminaries. Mark also presents themed radio shows for Generating Steam Heat. He has just completed his first novel, The Bulletproof Truth, and is currently working on the sequel.