Walter Trout on the Importance of Humor, Writing From Dreams and Fusing Neil Young and Van Halen on His New Album
On Ordinary Madness, blues stalwart Walter Trout reflects on life and aging with heart and humor.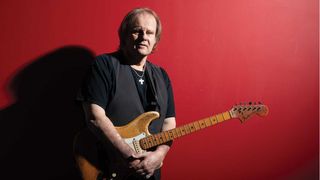 (Image credit: Alex Solca)
Walter Trout is the ultimate blues survivor. At the time that he received his liver transplant in 2014, he was literally days from death, having spent eight months in the hospital waiting for a donor organ.
He dwelled a further six months in recuperation before returning home 120 pounds lighter and realizing he had no memory whatsoever of how to play the guitar. Relearning to play from scratch was a huge undertaking, further hindered by the muscle-wasting effects of his illness that left him unable to press a string against the neck.
Six years and five albums down the line, Trout has recorded Ordinary Madness (Provogue), a career-best collection of songs that broadens his blues-rock palette with hints of Tom Petty, Pink Floyd and Americana.
Recorded in Robby Krieger's Los Angeles studio using gear owned by Krieger, James Burton and Dwight Yoakam, Ordinary Madness finds Trout reflecting on matters of life and death honestly and, occasionally, with flashes of humor.
The affable guitarist shared an endless supply of anecdotes and reminiscences as he revealed the making of this remarkable album.
The lyrics on the new album are deeply personal. Was it therapeutic to put so many of your innermost thoughts and feelings out there?
I have a lot of latent self-doubt and inner demons that still rage. I can face them now without resorting to drink and drugs like I used to do. I've gone 32 years without touching either, but I still have therapy. When I've been riding in the van between gigs, sometimes I'll get self-reflective and try to do some work on myself by writing down thoughts about how I feel.
A lot of the lyrics came out of that notebook, and they originally weren't meant to be lyrics. They were me trying to take an honest look at who I am. They're also dealing with aging, I'm gonna be 70 years old next time. So there you go! It's a record about demons, relationships and aging. It's a happy ditty. [laughs]
Covid-19 has had a devastating impact on the music business. How will you compensate for the loss of your touring revenue?
This summer was going to be my best tour ever. I'm 69 and still climbing that ladder of success, and it's very exciting to me. We've just done a great album, and we can see that there are greater heights to hit. We had some fantastic shows booked with some incredible artists, big festivals. It is a huge hit financially.
The new album is very commercial and is really more a roots/Americana album than a straightforward blues-rock album. How happy are you with it?
I am really happy with it. This is me trying to stretch as a songwriter. I was trying to write songs and not think I need to keep something as a 12-bar blues. I've done 24 albums of original songs, and I want to stretch myself.
"Wanna Dance" has a harder edge than your usual guitar sound.
That's one of those songs about mortality. I'd been listening to one of my favorite bands, Neil Young & Crazy Horse — those records where you have the two raw and nasty guitars playing off each other. After I recorded it and I played it for my kids, I said I was thinking of Neil Young, and my son said, "I think it's more Neil Van Halen." I took that as a compliment.
"My Foolish Pride" may be the most commercial radio–friendly track you've recorded. Your vocal work is exceptional.
For an old guy, I'm still singing okay. Sometimes I put it on and think, Wow, is that me? [laughs] I found a note that I'd written about myself in my notebook, and when I read it, it looked like a song lyric, so I had to write the rest of it. Melody-wise, I think Jackson Browne might have been an influence.
"Heartland" has a touch of Tom Petty about it — a roots-rock vibe.
I'm a huge fan of Petty and that genre. I had a dream about a TV show I was watching called Heartland, and I woke up in the middle of the theme at the end of it, and thought to myself I didn't like the show much but I did like the theme tune.
Then I realized that, of course, there is no show! So I quickly grabbed a guitar and recorded the idea into my phone. That was the first verse and melody. A free one from the universe. [laughs]
"Final Curtain" has a great octave riff immediately followed by a hypnotic melody line. Is that a harmonica doubling up on the octaves?
Yes. I was thinking of doing something hard rocking but keeping it bluesy. I tried to think of different ways to play the lick at the start. I was thinking of old Rod Stewart records, where he'd have a fiddle play that idea. That inspired me to add an octave part and then sometimes double that on harmonica to make that unique sound.
"Up Above My Sky" has a really atmospheric, almost Pink Floyd feel.
It didn't really have a title in the beginning. My producer nicknamed it "Wowee Floyd." That was the Strat but played through one of Robby Krieger's amplifiers, as we were using his studio, which is full of old Doors equipment. I can't remember which amp it was, though. I dreamed the title and my wife came up with the lyrics.
Recommended Listening: Ordinary Madness
• "My Foolish Pride"
• "Wanna Dance"
• "OK Boomer"
• "Heartland"
• "Up Above My Sky"
"OK Boomer," the album's closing song, is its hardest-rocking track. The line, "I love my music loud, I'm geriatric and I'm proud" is a killer.
I've always been a guy who, if someone says something critical about me, I wanna own it. Years ago, somebody sent me an email saying I played too many notes and I was too loud. I grabbed that and put it on one of my T-shirts, in huge letters. It's the same with the implied insult in "Okay, boomer," when the younger kids say it. I also thought after all the heaviness on this album, a little levity to finish off would be good.
"The Sun Is Going Down" goes through many changes, from the psychedelic vocal intro to the big gear transition halfway through.
That's one my favorites. I had the lick and the verse progression. We recorded it with the two verses and the solo, but then I had this idea for a lick to take it into the fast part. I showed it to the guys, and we spontaneously gravitated to where it went.
I did tack on the ending. Teddy [Andreadis], the keyboard player, said we need a really cool ending. The lick was in D minor and he said we should end in Bb. He showed me his idea to do that, and we added that on.
What were you using for guitars and amps?
Guitar-wise, all the solos are the lightweight "road" Strat that Scott Lenz in San Diego built for me, plugged into the Mark Four Boogie I use live. It is very light, and it has Seymour Duncan pickups that he custom made for me.
It sounds very close to the '73 Strat that I used for years but couldn't carry on with, as it was so heavy and was causing shoulder problems for me. "OK Boomer" was tried with Robby Krieger's old SG at first, and one of James Burton's paisley Teles is on the rhythm track for "Heartland."
I used Dwight Yoakam's custom-built Gibson for the acoustic parts. There is some fantastic gear in Robby's studio. I tried a few different amps for some of the rhythm tracks. I didn't use any pedals, of course, although I think the producer may have tweaked a few parts on some songs.
What do you work on when it comes to your guitar playing?
I'm still trying to find new licks and new places on the guitar, and because I broke the pinkie on my left hand, I'm trying to figure out ways to do things with three fingers instead of four. I broke it three times last year, and they took a bone out of my leg to help repair it. It is coming back, but it will never be where it used to be, so that is an adjustment, for sure. I literally play with the hand I've been dealt. [laughs]
Walter Trout's new album, Ordinary Madness, is out now via Provogue.
All the latest guitar news, interviews, lessons, reviews, deals and more, direct to your inbox!
Mark is a freelance writer with particular expertise in the fields of '70s glam, punk, rockabilly and classic '50s rock and roll. He sings and plays guitar in his own musical project, Star Studded Sham, which has been described as sounding like the hits of T. Rex and Slade as played by Johnny Thunders. He had several indie hits with his band, Private Sector and has worked with a host of UK punk luminaries. Mark also presents themed radio shows for Generating Steam Heat. He has just completed his first novel, The Bulletproof Truth, and is currently working on the sequel.