Vinyl Treasures: Trio Matamoros
The music of Trio Matamoros is alive with Cuba's bolero-son traditions.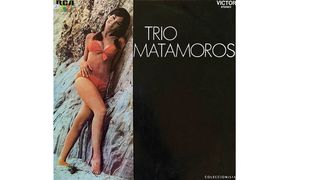 (Image credit: RCA)
I discovered the music of Trio Matamoros at a record store a few doors down from my place in Brooklyn. I walked past the shop many times but resisted going in because the window displayed LPs one could find at any suburban garage sale.
The owner, who ran the place for five decades, showed up like clockwork every day, wearing a suit and tie, and with dyed, pitch-black hair. I love Brooklyn. When I finally wandered into the store one day, the owner looked me up and down and showed me a Barbara Streisand LP. I shook my head, no. Despite the language barrier, I asked him for old Latin music. "Old," I said, "old. Viejo!"
Out of nowhere, he pulled a Trio Matamoros LP. I got a good feeling from the cover, and it was exactly what I was looking for. This was music performed by talented musicians who could easily set up anywhere and captivate an audience without any frills.
Most of these tracks could have been performed live in my living room. This discovery led me to an album search a few years later in Bogata, Colombia. After finding an amazing record store, I had to purchase an additional suitcase to bring stacks of LPs, many by Trio Matamoros, back to the States.
I was buying records made and purchased with love in the '60s and '70s. These albums had soul! Take that, Spotify! Trio Matamoros was formed in 1925 by guitarist singer composer Miguel Matamoros, with Rafael Cueto on guitar and vocals, and Siro Rodríguez on vocals, maracas, and claves.
In 1971, RCA released Trio Matamoros Coleccionista, a compilation of 10-inch sides from 1925 to 1935. These tracks are an amazing collection of Cuban bolero-son, presenting the unique and dynamic sound forged by Matamoros and his cohorts.
They feature Louvin Brothers–style three-part harmonies with seductive phrasing and hypnotic call and responses, along with a driving groove topped off with perfectly placed hot guitar arpeggios. "El Que Siembra Su Maiz," which opens side one, was recorded in Camden, New Jersey, in 1928. Despite being almost a century old, it sounds remarkably current.
I suspect this might have been remastered, but the original spirit is intact. The bass and percussion percolate, the guitars sing out, and Cueto's vocal performance is astounding and festive. The Miguel Matamoros composition "Olvido" is lovely, always aspiring for beauty and connection to the listener. The call and response of "Lejos del olvido" re-energizes itself and creates excitement with every chorus.
Meanwhile, the two guitars intertwine with counterpoint, and harmonies dance above, pushing and pulling the beat. "Alma De Roca," recorded in New York City in 1935, features the vocals of Matamoros, who exhibits an angelic tenor vocal that cries out longingly about the possibilities of rekindling a love, while the group churns and grooves. "La Mujer De Antonio" is my favorite track on Coleccionista.
The guitars of Matamoros and Cueto are stellar and sound so big. "Puro Amor," recorded in Havana Cuba in 1931, is another personal favorite. It's a lovely, endearing song about a man who has an overwhelming love for a woman but can't find the courage to tell her.
As with many of the songs here, it has a humility that appeals to me. "El Paralitico" is another little masterpiece composed by Miguel Matamoros about a rebirth of life, while "El Manicero" features a repeating riff that I never tire of hearing.
Although I don't speak Spanish, I often intuitively know what Trio Matamoros is conveying. The emotions of heartbreak, joy, and family all translate to me via the performances. I sometimes prefer to hear singing in a language I don't speak.
Like the music of Duke Ellington or Ben Webster, the melodies and performances express the intangible so poignantly that there are no guessing games, and the music is so much from the heart, one can intuitively feel what they are singing about. To me, the music of Trio Matamoros is cleansing and wholesome.
Since I bought my first Trio Matamoros LP at my local record store, the shop's owner has passed away and a Dunkin' Donuts sits soullessly in its place. Every time I walk by the building, I feel the ghost of the old proprietor, sense the mirage of the store and feel the music of Trio Matamoros ringing somewhere in my heart, consoling another community loss. But I still love Brooklyn.
Jim Campilongo and Luca Benedetti's new release, Two Guitars, is out now via City Hall Records on CD and vinyl.
All the latest guitar news, interviews, lessons, reviews, deals and more, direct to your inbox!
Jim Campilongo has 14 critically acclaimed instrumental records available on vinyl, CD and digital download here.