Vinyl Treasures: How Ray Charles Disguised Gospel as Soul and Brought it to the Masses on 'Do the Twist!'
Gospel, blues, soul? Ray Charles embraced it all, with a sound that was all his own.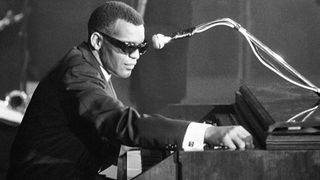 (Image credit: Keystone-France/Gamma-Keystone via Getty Images)
I was first exposed to Ray Charles in 1965 at age seven, when my grandpa Henry took me to Reno, Nevada, to see the Harrah's Car Collection antique-car show, where a vintage 16-cylinder vehicle and other automotive delights awaited us.
Before the show, we spent a day off in Reno, and grandpa Henry, being responsible and loving, made sure I was okay to be dropped off at the casino's Kiddie Theater while he played blackjack for a couple of hours.
Today, the adventure seems like a dream, in part because the "kiddie" movie was a Ray Charles documentary that largely covered his drug use. The film featured Ray talking about heroin, including the struggles he faced as an addict. I vividly recall a scene in which a hypodermic needle was injected into an arm to demonstrate how folks shot up.
Fortunately, Ray's music was featured throughout. I liked it and saw how joyous he was when he performed. I'd never seen anything remotely like Ray Charles and the Raelettes, and I've never heard anything like them since. Nobody sounds like Ray Charles.
Ray began to lose his eyesight at the age of four and was totally blind by the time he was seven. He developed an interest in music and went on to study and read it by braille.
Even if you exclude the decades of brilliant music he made, Ray's life story is amazing, as was his ability to play any style of music with authority and depth. Dig back to his early recordings, like 1951's "I Wonder Who's Kissing Her Now," and you can hear him channeling Nat King Cole. Producer Ahmet Ertegun helped define "the Ray Charles sound" with the 1953 Ertegun-penned hit "Mess Around."
By the time Do the Twist! With Ray Charles was released in 1961, Ray was fully developed as an artist. Later retitled The Greatest Ray Charles, this was a low-budget compilation of previously released tracks, but while superior masters are available, I have no complaints listening to this great album, where Ray melds gospel, blues, and soul into his own style of music.
Side one opens with "Tell Me How Do You Feel," where Ray delivers a story of heartbreak while the Raelettes answer him like a soul army, and his organ breathes and pulsates hip jazz chording throughout. "I Got a Woman" borrows from a gospel two-beat that was exclusively for religious purposes before Ray rebranded it as soul.
Instead of a song about Jesus and eternal life, Ray reshapes it into a song about his ideal woman. "Tell the Truth" features Raelette Margie Hendrix's growling vocals, and she's as intimidating as she is inspiring. Ms. Hendrix is a powerful presence on Ray's recordings, and she exhibits an alpha-female musicality that is always felt dramatically.
"What'd I Say" opens side two. This piece was written "accidentally" while Ray improvised at the end of his live show. His Wurlitzer piano was a new sound in 1959 and Ray brought it to commercial acceptance with his infectious riffing on the breakdowns. "Talkin' Bout You" features the great tenor saxophonist David "Fathead" Newman, whose solos exhibit focus, energy, and musicality.
"You Be My Baby" is a great rocking blues with Ray's fingerprint all over it. My favorite track, "Leave My Woman Alone," is to my ears Ray at his best. The gospel two-beat is hypnotic, while the Raelettes respond in unison lines that intertwine with the great horn arrangement, all of it supporting Ray's spot-on, virtuosic singing.
"I'm Moving" On" begins with the sounds of train whistles and clicking train tracks, launching into it an explosion of melodic power. This LP never has a dull moment.
There are many great Ray Charles compilation albums covering just about every style he mastered, but Do the Twist! is particularly significant because it brings his gospel stylings to the commercial front. Gospel might have been solely for churchgoers if Ray hadn't been a pioneer in fusing its inspiration and soulfulness into a musical setting for the masses.
Even if my grandpa Henry and I had never gone to Reno, I would have discovered Ray Charles somehow, some way. But whoever was in charge of selecting kiddie movies in 1965 at the Harrah's casino children's theater has my debt of gratitude.
Jim Campilongo and Luca Benedetti's new release, Two Guitars, is out now via City Hall Records on CD and vinyl.
All the latest guitar news, interviews, lessons, reviews, deals and more, direct to your inbox!
Jim Campilongo has 14 critically acclaimed instrumental records available on vinyl, CD and digital download here.