Vinyl Treasures: Mary Osborne – A Girl & Her Guitar
This is an essential work from an essential jazz swing guitarist whose bad-ass Charlie Christian-esque style is ripe for rediscovery.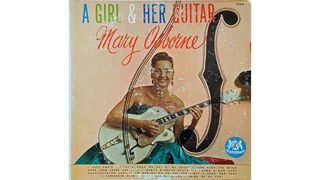 (Image credit: Warwick)
When I open a guitar magazine and see a photo of a guitarist with his shirt off, covered in Harley-esque tattoos, showing off his commitment to weightlifting with a guitar strap that places his guitar below his knees, I become uninterested.
But when I see an attractive woman in an evening dress holding a jazz guitar like it's an extension of her arms, I become very interested indeed. Mary Osborne was more than a pretty face. She was a great swinging jazz guitarist that every fan of swing guitar should hear.
Born in 1921, Osborne began playing guitar at age nine. At some point in her teens, she was influenced by seeing Charlie Christian perform Django's "St. Louis Blues" note for note on electric guitar. She immediately purchased a Gibson ES-150 and started playing lines with a direct, laser-like focus. Her sound is big, as are her statements.
She occasionally slips and slides like a playful Les Paul, with a hard-hitting Mickey Baker edge and a Charlie Christian aesthetic hovering over it, so don't expect gentle utterances. Mary Osborne was a bad-ass, and she's at her best on A Girl and Her Guitar.
Released on the Warwick label in 1959, it features the great pianist Tommy Flanagan, rhythm guitarist Danny Barker, bassist Tommy Potter, and drummer Papa Jo Jones.
It's a superb and accomplished band. "I Love Paris" opens the record with a bang. Papa Jo's rimshots answer Osborne's swinging minor-key lines before the band enters, hard as a rock. This track instantly encourages the listener to stick around for more.
I can't help thinking of Christian as well as Les Paul on "How High the Moon," but Osborne does her own thing. She's bluesy, melodic, and powerful. Gotta love Tommy Flanagan's last note of his opening solo line that is perfectly a half-step off from what I expect. Most every time I hear it, I say "Ha!" out loud.
"Mary's Goodbye Blues" is another favorite of mine. It's blue and swinging but never departs from a candlelit midnight hour. That's not easy to do, and unless everyone is in the zone, the compulsion to make something happen can prevent anything real from happening at all. Osborne and the group succeed beautifully at keeping this performance blue.
"I Found a New Baby" shows Osborne's technical prowess while she shreds memorable melodic lines that are interspersed with power octaves, and there is another great piano solo by Mr. Flanagan. "Sophisticated Lady" is lovely and introspective, with a memorable chord melody intro.
The changes of "Body and Soul" always separate the men from the boys, but Osborne's playing seems effortless while she prioritizes melody over all else. Osborne is always on point and playing "music." She doesn't show off, and she doesn't play for the guitarist in the front row, She conjures up atmosphere and the truth of the moment.
On the intro of "I Surrender Dear," rhythm guitarist Danny Barker complements her playing perfectly before the band enters. Osborne surrounded herself with a world-class jazz militia, and every player on this record is a joy to hear. The LP's last cut, "These Foolish Things," feels like I'm sitting by a warm fire after a wonderful day.
It closes this excellent record perfectly. If you haven't heard Mary Osborne, or are just a fan of Charlie Christian–style guitar playing, A Girl and Her Guitar is a must-have. It's the kind of record one could transcribe or keep on replay to feel uplifted and energized by its vibe. Mary Osborne is the real deal.
All the latest guitar news, interviews, lessons, reviews, deals and more, direct to your inbox!
Jim Campilongo has 14 critically acclaimed instrumental records available on vinyl, CD and digital download here.