"There's a Special Place in Hell for Musicians Who Have a Hit Song That They Despise": Vernon Reid Talks "Cult Of Personality"
The innovative Living Colour guitarist opens up about the band's 1988 breakthrough hit.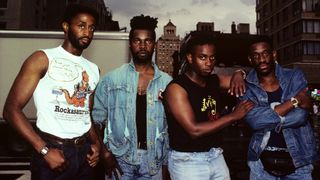 (Image credit: Ebet Roberts/Getty Images)
"I love the song for obvious reasons," Living Colour guitarist Vernon Reid says of "Cult of Personality," the Grammy-winning alt-metal smash from the band's 1988 debut, Vivid. "Sure, it's our most popular song. What it did for our career is incalculable. And it's had a lasting impact on the public. The lyric has a catchphrase that, while we didn't coin it, has become more relevant over the years.
"But there's another reason why I love it so much," he adds. "When we wrote it, it was the best day in our collective life. As a group, we got out of our way and allowed ourselves to create. That's why it's special to me."
"Look In My Eyes"
During their pre-label days in 1987, Living Colour – Reid, singer Corey Glover, drummer Will Calhoun and then-bassist Muzz Skillings – spent most days writing and rehearsing in a loft space in Bushwick, Brooklyn. One day, Glover started to sing a riff idea to Reid. "I really couldn't get what he was doing," Reid says, "but Muzz and I tried playing it, and we worked something up. Then we said to Will, 'Can you put a beat to this?' And in an eerie sort of way, the tune wrote itself."
Once the band had a general framework for the song, Reid pulled out a notebook in which he wrote poems and lyric ideas. "I had this section: 'Look in my eyes. What do you see? The cult of personality.' It was musings on the amoral nature of leadership. Whether these people are good or bad, why are we drawn to larger-than-life personalities?"
As Reid recalls, Living Colour didn't record demos for the song, but they field-tested it nine days later at a gig. "The arrangement wasn't like it is on the record," he says. "The bridge started the song, and the riff came in later. But something was there. The crowd definitely responded well. When I played the riff, you could see people got excited."
The Producer Is Right
Mick Jagger was an early supporter of the band. Thanks to a demo tape he produced, Living Colour snagged a deal with Epic. A short time later, the group recorded at Skyline Studios with producer Ed Stasium, celebrated for his work with big-time New York bands like the Ramones and Talking Heads, among others. (Jagger produced two album cuts: "Glamour Boys" and "Which Way to America?")
Reid credits Stasium with helping to untangle the song's unruly arrangement. "Ed said, 'Start out with the riff and don't give the bridge away too soon,'" he says. "People hate to admit when the producer is right, but Ed definitely made the correct calls."
The band only needed two or three takes to nail the basics, after which Reid set out to overdub a solo. "I didn't have anything worked out," he says. "Whenever we played the song live, I always improvised." Using his main multi-colored ESP Mirage electric guitar through a Marshall JCM tube amp, he laid down a barnstorming first take that Stasium called "a keeper." But Reid wasn't satisfied, so he insisted on one more pass. "And that's the solo everybody knows," he says. "To this day, I hear people say, 'It's whack. It's weird.' Whatever. Personally, I love it."
Sudden Fame
During mixing sessions, Reid had a sense that the song had hit potential. "Something just told me," he says. "That's why I pushed for it to open the album. It grabbed you." Vivid was a slow builder, and after a first single, "Middle Man," failed to ignite radio, the label released "Cult of Personality."
As if flicking a light switch, everything changed: The song reached number nine on Billboard's Hot 100, and the music video became a heavy-rotation MTV mainstay. Sales for Vivid soon exceeded double Platinum. "Nothing can prepare you for that kind of sudden rush of fame," Reid says. "What you had previously imagined about success turns out to be totally different. I didn't have anything to compare it to. It was like I was having an out-of-body experience."
Through the years, "Cult of Personality" has been a staple of every Living Colour show, and Reid can't fathom playing a gig without performing it. "Why would I?" he says. "It's a great song, and I love playing it." He laughs. "There's a special place in hell for musicians who have a hit song that they despise, but you won't find me there."
Pick up a copy of Vivid here.
All the latest guitar news, interviews, lessons, reviews, deals and more, direct to your inbox!
Joe is a freelance journalist who has, over the past few decades, interviewed hundreds of guitarists for Guitar World, Guitar Player, MusicRadar and Classic Rock. He is also a former editor of Guitar World, contributing writer for Guitar Aficionado and VP of A&R for Island Records. He's an enthusiastic guitarist, but he's nowhere near the likes of the people he interviews. Surprisingly, his skills are more suited to the drums. If you need a drummer for your Beatles tribute band, look him up.