The Best Acoustic Rock Intros of All Time
Here, we pay homage to some of the greatest acoustic guitar intros of all time.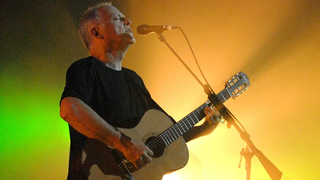 (Image credit: Getty/Brian Rasic)
Throughout rock history, the acoustic guitar has found its way into the rock and roll vernacular. From the Everly Brothers' "Wake Up Little Susie" to Three Days Grace's "I Hate Everything About You," the folk box has found a way to rock.
But perhaps its most prevalent role in rock and roll has been to provide contrast to room-shaking riffs, generally as the mellow introduction to a crushing track.
Here, we pay homage to some of the greatest acoustic guitar intros of all time.
"Jack and Diane"
John Mellencamp
Long before a more mature John Mellen­camp was a celebrity spokesperson for farmers and down-home folk, he was a young Johnny Cougar from Seymour, Indiana, seeking fame and fortune-only it wasn't his choosing. Sure, Mellencamp always wanted to be a rock star, but it was manager Tony DeFries, who'd previously managed David Bowie, who coined the "Cougar" stage name for him in 1976. Mellencamp was furious.
With the success of 1982's American Fool, which contained the Number Two hit "Hurts So Good" and the chart-topper "Jack and Diane," Mellencamp had finally achieved enough clout to add his given surname to the follow-up, Uh­ Huh, in 1983, going by John Cougar Mellencamp. And with the success of 1985's critically acclaimed Scarecrow—as well as the social respect garnered from working with Willie Nelson and Neil Young to organize Farm Aid—the singer lost "Cougar" from his name forever.
"Love Song"
Tesla
The five-man blue-collar band from the Bay Area had made quite a rocking reputation with radio hits "Modern Day Cowboy" and "Little Suzi," from their electrifying debut, Mechanical Resonance. But it was their follow­ up, The Great Radio Controversy, that put the band at the top of the metal heap. After the drop-D swamp­ rocker "Heaven's Trail (No Way Out)"showed fans that the band still rocked, Tesla released the power ballad "Love Song."
Like "Stairway to Heaven," this tune was pieced together from several different sec­tions. "It's like five consecutive parts in sequence, rather than the verse-chorus­ verse-chorus formula," says guitarist Frank Hannon, the architect of the classic intro. "The funny thing was," adds guitarist Tommy Skeoch, "everybody—besides us-thought it should have been three different songs. No one got it, but we fought tooth and nail for it, ended up get­ ting our way, and got it on the record­ and it became our first Top 10 hit."
"Mama I'm Coming Home"
Ozzy Osbourne
Guitarist Zakk Wylde may be best known for his pulverizing pentatonic runs and brutal power chords, but even this rough, gruff gunslinger has a sensitive side. And when Ozzy penned this ode to his mum, an appropriately touchy-feely guitar riff was in order.
So Wylde turned to "Zakk Mylde," played some pedal steel-style guitar, and ripped off the ultra­-slick descending arpeggio lick that opens the tune. "I figured Ozzy might think it was too country," Wylde says. "I expected him to say, 'You've got to be crazy. What, are they putting crack cocaine in your beer now?' But it fits the song."
"More Than a Feeling"
Boston
Most are familiar with Tom Scholz's contributions to guitar technology. As founder of Scholz Research & Development, the lanky guitarist introduced, among many other inventions, the revolutionary Rockman headphone amp, a unit that paved the way for the modeling units, such like the Line 6 POD, that dominate the market today. But it's riffs like the intro to "More Than a Feeling" that make up his greater contribution to music.
Recorded with an old Yamaha acoustic that had been sitting in the corner of Scholz's basement studio, this 12-string opening riff rivals the intro of "Stairway to Heaven" for the most overplayed riff in guitar stores. As a result, rock bands have probably ripped off this riff in their own songs more than any other since. And you know what? It really is more than a feeling when I hear this old song they still play.
"Stairway to Heaven"
Led Zeppelin
What more can you say about "Stairway"? Hands down, it's the most recognizable and famous guitar intro in rock history. And, as with many a great rock riff, song, or solo, it was the result of, as Jimmy Page calls it, "fooling around with the acoustic guitar." Essentially a "Frankenstein" song, Page says he "came up with different sections, which [he] married together."
The immortal intro was recorded on Page's old Harmony acoustic guitar, which can usually be found on display at the Rock and Roll Hall of Fame, in Cleveland, Ohio. More interesting gear trivia: Although you hear Page's main axe, his 1959 Gibson Les Paul Sunburst, on the riffs at the end of the tune, he recorded the solo on an old Fender Telecaster that he'd used on Zeppelin's first record. What's more, the solo was improvised! "I winged it," Page says of his famous piece. "I warmed up and did three of them. They were all different from each other. But the one we used was the best solo, I can tell you that!"
"Tears in Heaven"
Eric Clapton
On March 20, 1991, Clapton's four-and-a­ half-year-old son Conor died when he fell out of his mother's 53rd-floor apartment window, landing on the roof of the adjacent four-story building. Emotionally crushed by the tragedy, Clapton sought solace in his guitar, his reliable companion for 30 years.
When asked to score the 1992 movie Rush, a film chronicling a young couple's struggle with drug addiction, Clapton wrote "Tears in Heaven," a fittingly dark track supported by deft dynamics on the acoustic guitar and his pain-filled voice. The track may have officially been written for the film, but there is little doubt that it was written for Conor. Later that year, Clapton recorded a concert on acoustic, for MTV's popular Unplugged series. When that performance was released as a CD it became Clapton's best­-selling record—remarkable for an artist who lists the Yardbirds, John Mayall's Blues Breakers, and Cream on his resume.
"Wanted Dead or Alive"
Bon Jovi
New Jersey's second-favorite son boasts in this song that he's seen a million faces and rocked them all. It's a good bet that guitar stores across the country saw a good portion of those million faces and had to sit through listening to amateur hands navigate the descending-6ths lick that kicks off the tune.
In addition to spurring sales of Ovation shallow-bowl acoustic guitars, "Wanted" provided a sample of guitarist Richie Sambora's pipes. In fact, of all the hair metal bands putting big vocal harmonies on record (Def Leppard, Ratt, Poison), Bon Jovi was one of the few who could reproduce it live, as Sambora's voice rivals that of Jon Bon Jovi.
"Wish You Were Here"
Pink Floyd
By the time Pink Floyd recorded Wish You Were Here, the band had become legitimate prog-rock superstars, as their prior release, The Dark Side of the Moon, had rocketed the band's popularity into orbit. Still, as they say, blood is thicker than water. Even with that success, Pink Floyd felt an emptiness without its founding father, guitarist Syd Barrett.
The result of those pangs was Wish You Were Here, particularly the track "Shine on You Crazy Diamond," which takes up most of the minutes on the album. Strangely enough, during the recording sessions for Wish, Barrett showed up at the studio. Bald and weighing what appeared to be about 250 pounds, he was nearly unrecognizable to the band.
Of special note, regarding this classic intra, David Gilmour's journey through the Em7, GS, A7sus4, and G chords­ all with a GS chord on the top three strings is one of the earliest successful examples of the droning guitar parts that would become prevalent in heavy rock.
All the latest guitar news, interviews, lessons, reviews, deals and more, direct to your inbox!
Guitar Player is the world's most comprehensive, trusted and insightful guitar publication for passionate guitarists and active musicians of all ages. Guitar Player magazine is published 13 times a year in print and digital formats. The magazine was established in 1967 and is the world's oldest guitar magazine.
When "Guitar Player Staff" is credited as the author, it's usually because more than one author on the team has created the story.