Steve Stevens: How I Wrote "Rebel Yell"
Stevens tells how partying with the Rolling Stones led to Billy Idol's breakthrough hit.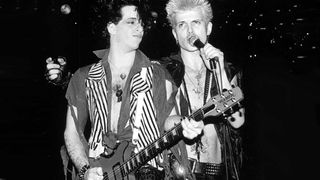 (Image credit: Ebet Roberts/Redferns)
Billy Idol became an early darling of MTV when the cable channel took a fancy to his 1982 video for "White Wedding" and helped make it a hit. But the British rocker was still seen as a new waver, and he knew it would take a special kind of follow-up track to break him into the hard-rock mainstream.
"That's where 'Rebel Yell' came in," guitarist Steve Stevens says of the title track from Idol's 1983 sophomore album. The guitarist teamed up with Idol in early '82 during the making of his self-titled solo debut and became his main co-writer and musical conductor.
"For the next album, 'White Wedding' was the starting point," he explains. "Everything we did had to be as good as that track, if not better. So we threw everything, including the kitchen sink, into Rebel Yell."
Stones-Cold Fix
"We wrote the Rebel Yell songs 'Flesh for Fantasy,' 'Eyes Without a Face,' and some others during rehearsals," Stevens recalls. "But 'Rebel Yell' didn't come about till we went to Electric Lady Studios to start recording. We had the music first. We ran tape as we were demoing it, and, little by little, we started to think that we had something."
But the lyrics didn't come until one night when Idol was invited to a party for Rolling Stones guitarist Ron Wood. "Mick and Keith were there, and they were drinking this bourbon called Rebel Yell," Stevens says. "Billy liked the name and asked the guys, 'Hey, you aren't thinking of using that for a song title, are you?' They were like, 'No, no.' So Billy came back the next day: 'I've got the lyrics!'
"We sketched the song out using a LinnDrum, and it kept getting better and better. Once we got Thommy Price in to play drums, the whole thing took off."
Zap That Ax
"We cut the track live – me, Thommy, and our bassist, Steve Webster," Stevens explains. "My amp was a 100-watt Marshall, but we also recorded a DI, so we blended the two signals. For our song intros, we always liked to use what we called 'the flag': Rather than just count off the song, we had something to signal 'The cavalry's coming!'
"For the opening guitar figure on 'Rebel Yell,' I came up with a Leo Kottke–inspired fingerpicked figure. It was actually a little piece I had done with my previous band, the Fine Malibus."
For his solo, Stevens used some Chuck Berry–style riffing and "a little three-octave thing I got from Steve Howe. But I was also looking for a certain explosiveness," he says.
To that end, he tried to replicate Tommy Bolin's Echoplex manipulation effect from his solo on Billy Cobham's "Quadrant 4," but success ultimately came from an unlikely source.
"At the time, I was collecting toy robots and ray guns, and one day I triggered a ray gun close to my guitar. The sound went through the pickups and out of the amp. And that was the effect I used in the solo! From then on, every time we listened to a playback, we went, 'Wow, this is something!' There was no mystery to it. We knew it was a hit."
Curtain Call
"The track took off right away," says Stevens, whose long tenure with Idol continues to this day. "We filmed a video at the Capitol Theatre in New Jersey, and it got massive exposure on MTV. Since then, we've never done a performance where we haven't played 'Rebel Yell.' It always closes the show, and it's always a thrill."
All the latest guitar news, interviews, lessons, reviews, deals and more, direct to your inbox!
Joe is a freelance journalist who has, over the past few decades, interviewed hundreds of guitarists for Guitar World, Guitar Player, MusicRadar and Classic Rock. He is also a former editor of Guitar World, contributing writer for Guitar Aficionado and VP of A&R for Island Records. He's an enthusiastic guitarist, but he's nowhere near the likes of the people he interviews. Surprisingly, his skills are more suited to the drums. If you need a drummer for your Beatles tribute band, look him up.