Sharon Isbin on Classical Music's Guitar Problem, Self-Expression and Seeing Her Guitar as a Troubadour
As a phenomenally gifted musician and teacher, Sharon Isbin is changing the way people perceive classical guitar.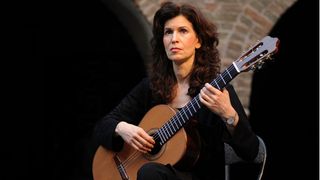 (Image credit: Roberto Serra - Iguana Press/Getty Images)
After winning a Grammy Award in 2001 for Best Instrumental Soloist, Sharon Isbin became the first classical guitarist in 43 years to receive the award a second time, in 2010.
She now has another major honor to celebrate: Isbin has been named the Musical America Worldwide Instrumentalist of the Year, making her the first guitarist to receive the annual award in its 59-year history.
Known internationally as one of the world's most acclaimed classical guitar players, Isbin is notable not only for her talent but also for her highly visible cross-genre collaborations with Steve Vai, Steve Morse, Stanley Jordan and Joan Baez, among others.
And she's done it all while becoming Julliard's first guitar teacher in the school's 115 years and founding its guitar department, where she remains chairwoman.
I caught up with Sharon to talk about her many career firsts and perspectives as a female musical artist.
How do you feel about being the world's top female classical guitarist?
I don't think about it very much because, frankly, the prejudice I have faced has been more about the instrument than about being a woman. It's come from composers who are afraid of writing for guitar, or orchestras that are resistant to the idea of bringing in a guitar as a soloist.
Look at the New York Philharmonic. They hadn't had a guitar soloist in 26 years until I performed and recorded with them in 2004. It's an instrument that has had to battle for acceptance.
How do you make a personal statement in a classical composition?
One of the easiest ways to think about classical guitar is that it performs the roles of many people. It's the troubadour singing the upper line, and you've got the rhythm section and the harmony.
So with all of that, it becomes much more demanding in terms of technique. It's not just about strumming or picking a tune. It's more complicated because you have to carry many independent threads and preserve their individuality.
What's the difference between hearing you and another guitarist perform the same piece?
Expression. I communicate just as a writer communicates when they're writing poetry or a novel. There's something metaphysical, something intangible that reaches you. Your tone is your soul and the different colors that you can extract. I've heard many guitarists who play monochromatically, as if they're painting only in black, white and grey.
Because of how you use your fingernails, your flesh and the angle of attack on the classical guitar, you have access to a variety of sounds. I grew up listening to singers, and that's why they have been my models. My playing is different from many other guitarists because it seeks, in essence, to be the troubadour.
Do you think there is anything innately female or feminine that you bring to your music?
We all bring who we are. Men can be sensuous too. I think women are perhaps brought up to cultivate certain characteristics more than men, but none of that is really limited to gender.
As for me, I bring passion, because I am a passionate person. I bring a lot of feeling, because that's who I am and what I experience. I bring sensuality, because that's part of who I am as well. And what draws me to any form of art is beauty. That's something I cultivate in music as well.
All the latest guitar news, interviews, lessons, reviews, deals and more, direct to your inbox!