"He Was Not Only a Great Rock and Roll Player, But in the Classics, and in Every Other Field, He Was Phenomenal": Ozzy Osbourne Shares His Fond Memories of Randy Rhoads in 1982 GP Interview
The Prince of Darkness discusses what he learned about music from Rhoads, and how the pioneering hard-rock guitarist would find a new guitar teacher in every town he played in, while Osbourne and the rest of his bandmates were "hunkered in the bar."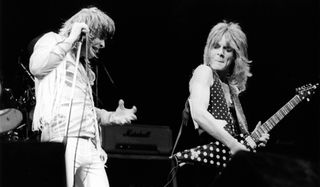 (Image credit: Fin Costello/Redferns/Getty Images)
In August 1982, just a few months after electric guitar hero Randy Rhoads – who rapidly rose to fame in 1980 and 1981 via his high-flying work with Ozzy Osbourne – was tragically killed in a plane crash, GP's then-Senior Editor, Jas Obrecht, began putting together a Randy Rhoads cover story for the magazine.
After speaking to Randy's mother, brother, and Osbourne bassist Rudy Sarzo, Obrecht was contacted by Osbourne's wife, Sharon Arden.
Arden – at the time a publicist for Jet Records – asked if her husband could say a few brief words about his late guitarist.
This interview originally appeared in the November 1982 issue of Guitar Player.
I am happy to hear from you! Tell me about Randy Rhoads.
"I'm sad by the fact that the guy's died. The guy was so unique. I don't think people have ever fully realized what a talent that guy was – not only in rock and roll, but in every other field, you know. He was not only a great rock and roll player, but in the classics, and in every other field, he was phenomenal."
Among all of the guitarists you auditioned, what made you choose Randy?
"I loved him in an instant. I fell in love with him as a player, and I fell in love with him as a person."
Did he learn quickly?
"I didn't have to teach him anything. I mean, all he was lacking was guidance."
Was he easy to work with?
"The best guy in the world! Compare him to [Black Sabbath's] Tony Iommi, and there's no comparison. And I can only compare the two because [those are] the only two people I ever worked with as a guitar player."
What attracted you to Randy in the first place?
"His angelic attitude to the whole business."
Could you describe how you put together the music with him?
"I'd give him a melody, and he'd work a riff around the melody."
Do you have any favorite hooks that he came up with?
"Every one he ever did. Every hook he ever came up with, I loved. He was original."
Did he enjoy being on the road?
"Yeah."
What was the difference between his live and his studio playing?
"Nothing at all. It sounds kind of boring to you, obviously, but the guy was such a great guy to work with. I mean, the guy was just a fucking born star, you know."
Did he change parts around onstage?
"Oh, yeah. He changed. Every night. What we both worked out, we discovered that every heavy metal band sticks to one key. I don't know about keys because I don't read music and I don't really understand it – I just get up there and scream around and jump around, you know? So I don't understand about keys or notes or whatever. And he said to me that most guitar players in modern bands play over A or G or whatever, and they fluctuate between that.
"So, we made a rule that every number that we recorded on an album was never played in the same key. It's a different key in every number. We had a great rapport together. We loved each other very dearly. I swear to God, the tragedy of my life is the day he died."
Rudy Sarzo mentioned that there might be enough material for a live album.
"We've been inundated with letters from fans saying if there's anything possible of me and Randy playing together, they would love to have it. Because, you know, it got him acclaim. The sick thing about it all is that people never acclaim people in their lives – they always wait until some tragedy happens, and then they think, 'Oh, I'll give this guy a listen-to.'
"That guy was just a born natural star. I've been doing this for, like, a long, long time now in my life – it seems to me, anyway – and if ever I could honestly say in my life I've met a natural-born star, it was a guy called Randy Rhoads. God bless him."
Was he comfortable with the recognition he was getting?
"Loved it! He loved it! He didn't take drugs, he didn't drink too much. He was a studier when we went working on the road. For instance, three weeks before he got killed, he came to me. His heart was in the classics, to be honest – in his heart, he wanted to be a classical guitar player. In fact, with the first record royalty he received, he went out and bought himself a very, very expensive classical guitar. And he sat there for days and nights, working on his theory things.
"You know, he'd get all his theories down on music paper. And he was working on that for weeks and weeks. And in fact, the night before he died, he'd been up for four days and four nights – plus gigging – working on his theory, because he wanted to get into a university and get a degree in music."
I heard that he'd find guitar teachers in the different towns the band played in.
"Every town he went to, he made sure. When the guys were hunkered in the bar, he wouldn't. He'd practice all day every day. Every day of his life, since he was with me, he was practicing all the time. And he was a dedicated musician. If I could only put that into one word, and people, honestly, believe me – as crazy of a reputation as I have – he was the most dedicated musician I ever met in my life. He was a master of his art."
Do you have any favorite memories of him?
"Just the fact that he had the best smile in the world."
Anything you'd care to add?
"Yeah. Long live Randy Rhoads!"
All the latest guitar news, interviews, lessons, reviews, deals and more, direct to your inbox!