"My Records Always Sound Like Me – Slightly Shambolic and About to Break": Graham Coxon on His Unique Style
By Guitar Player Staff published
The Blur guitarist take us deep inside "Song 2" with producer Warren Huart.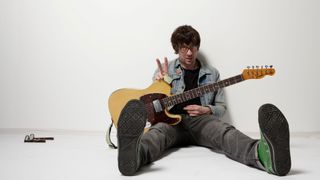 (Image credit: Future)
As the shy, unassuming guitarist for Blur in the 1990s, Graham Coxon imbued the group's Brit pop with urgent riffs, glorious leads and hooks that other guitarists would gladly hang entire careers from.
Playing mostly Telecaster electric guitars through Marshalls amplifiers, he uses distortion devastatingly, yet somehow never sounds the same.
Like a shapeshifting wizard, he gives the music exactly what it needs.
Though his work with Blur alone would place him among some of the best alternative rock guitarists around, he's shown greater diversity in his solo career, where he's explored lo-fi punk, power pop and even Albion folk.
His playing has earned him raves from producers like Stephen Street, the former knob twiddler for the Smiths who called Johnny Marr and Coxon "among the best guitarists in the world."
Coxon holds a more modest opinion of his talents.
"I think I'm more in the free-jazz world when it comes to lead playing, and I play physically," commented the guitarist.
"I like the sound of a guitar being thumped. I'd hear other people making rock albums that sounded really polished, but my records always sound like me – slightly shambolic and about to break. I cover my lack of technical ability with weird noises."
Browse the Graham Coxon catalog here (opens in new tab).
Get the latest news, reviews and product advice straight to your inbox.
Thank you for signing up to The Pick. You will receive a verification email shortly.
There was a problem. Please refresh the page and try again.