Kurt Rosenwinkel Discusses Sound, Technique and Approaching Jazz Guitar Like a Pianist
The Philadelphia-born jazz virtuoso returns to a trio setting to remind us why he is one of today's most influential players.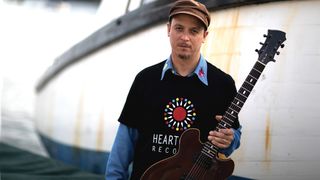 (Image credit: Renato Nunes)
Every generation of jazz guitar has its magnet – that unique, new voice so powerful that its gravitational pull becomes unavoidable.
Pat Metheny was the magnet for aspiring guitarists coming up from the late '70s to early '80s. Wes Montgomery and Jim Hall both exerted a profound pull on the previous generation of guitarists, including Metheny himself, and Charlie Christian's influence was all-pervasive before Wes and Jim had come along.
Certainly one of the most influential jazz guitarists of the past 20 years has been Philadelphia-born Kurt Rosenwinkel. His impact can be felt throughout the country's conservatories and music schools, and his signature warm-toned, reverb-drenched legato lines can be detected in the playing of several rising star guitarists.
The Berklee College of Music grad apprenticed with vibraphonist Gary Burton, then joined drummer-composer Paul Motian's Electric Bebop Band before coming to wider attention with his own releases as a leader on Verve Records, which include 2000's The Enemies of Energy, 2001's The Next Step and 2003's genre-defying, Q-Tip–produced Heartcore (all of which paired him with kindred spirit and fellow virtuoso, tenor saxophonist Mark Turner).
While 2008's The Remedy documented Rosenwinkel's dynamic working quintet in a two-CD set from New York City's hallowed Village Vanguard, his 2009 followup, Reflections, was a more intimate outing with his Standards Trio of bassist Eric Revis and drummer Eric Harland.
Rosenwinkel's latest outing, Angels Around, on his own Heartcore label, is a return to the trio setting (with the brilliant Italian acoustic bass guitarist Dario Deidda and all-world drummer Gregory Hutchinson) and a re-examination of jazz standards.
It comes on the heels of his joyous 2017 Brazilian-flavored album, Caipi, and 2019's ambient/experimental outing, Bandit 65, both on Heartcore. The guitarist spoke with GP via Skype from his home in Berlin.
Your very first recording as a leader, 1996's East Coast Love Affair, was a trio standards project. Here we are nearly 25 years later and you're still dealing with that same format and re-examining jazz standards once again.
The standards trio has always been present and developing alongside everything else I've been doing through the years. My first standards trio was meant to document that really cool chemistry I had between [bassist] Avishai Cohen and [drummer] Jorge Rossy. Likewise with Eric Revis and Eric Harland, that group chemistry felt magical, so I wanted to document it too.
And I continue to do that when something feels special, as it does now with Dario and Greg. We had wonderful times on the bandstand playing concerts around Europe and the States, including a couple of times at the Village Vanguard. So I just felt like it was a really cool trio to document.
I also love being able to bring Dario a bit more exposure to my audience, because he's such an incredible musician. And Greg, of course, is one of the greatest living drummers. He and I go way back to the '90s in New York, so there's that connection too.
Talk about your own connection to playing standards when you were coming up in Philadelphia.
I started to go to jam sessions in Philly when I was about 16. I'd go to clubs like the Blue Note and Slim Cooper's, mostly all Black clubs. Those were some of the last few places where jazz was a community music and not an academic music.
So I would learn a couple tunes out of The Real Book during the week, and then my mom would drive me to the Blue Note every Monday for the jam sessions run by the saxophonist Tony Williams, who is a very important figure in the Philadelphia jazz community.
I'd get up onstage and I'd call "Stella by Starlight," or some other tune from The Real Book, and they would launch into an intro with rhythm-section kicks and a full-blown arrangement that they had learned just from the oral tradition, from what's been passed down.
And I'd be up there, like, Oh, my God, what's going on? And that's when I really became a part of it, where it became part of me, where I received the music and felt what it felt like to play those tunes in those places and with that feeling.
That's what started my love of jazz and performing jazz standards. At home with The Real Book, it seems so skeletal. There's just chords and a melody; that's all you get when you read the chart. But when you go up onstage and you're playing with the cats, it's this whole entire world of amazing creativity and deep feelings. And it just makes you realize that there's a whole lot more to the music than what you see on a sheet.
So as a teacher and as a professor in Germany, which I was for 10 years, I tried to give that feeling of joy, or community and rapture, with the music. I tried to get off the page and give my students this feeling of togetherness that I felt, and convey that.
How did your piano studies early on with Philly jazz pianist Jimmy Amadie affect your guitar playing? You seem to have a very pianist approach to the fretboard with regard to chording and simultaneously playing bass lines and single-note lines.
Yeah, piano is definitely my first love, musically. It's my mother instrument, you could say, and I've never stopped playing it. I've always felt a kind of ease with piano that I don't always feel with the guitar.
When I hear music and I feel what I want to play, it's usually heard and felt in terms of the piano. It's a full feeling of music, and the shapes and chords that I have in my head are often more complex than I can easily play on guitar. I think that's why I've tried to find as many ways as I can to achieve that kind of sound with the guitar.
That's why I really love the freeze pedal, because you can play a couple of notes, put it on freeze and then play notes on top of that. [Rosenwinkel has been using Gamechanger Audio's Plus pedal.] I've also studied a lot of ways of using finger mechanics to get those kinds of pianistic approaches.
I'm constantly thinking and working on ways of breaking up what you're doing into left-hand and right-hand functions on the guitar, like comping for yourself. That's one thing that I guess guitarists ask me about most: How do you comp for yourself when you're soloing? And that's just my attempt to play pianistically.
That pianistic approach comes out on the harmonically rich Charles Mingus tune from the new album, "Self-Portrait in Three Colors." That seems like it's pretty challenging to play on guitar.
Yeah, I love that song so much. On East Coast Love Affair, I had this kind of dual thinking going on at the time with the fretboard, where I'd play left-hand chords in the middle register and then melody up top. I'd play a little bit up top and then go down and play a couple of chords to support it, and then keep going back and forth between those two functions.
Over the years, it's come together more organically, having both of those functions going on at the same time when I'm just playing wherever I am on the fretboard. It's not that dual-function thing anymore, but it's been infused into one thing that contains both of those functions now. I've figured out how to achieve both of those desires with one thing.
So I might play a really fast run, but the intention of that run is meant to be harmonic, like sheets of sound or something, in lieu of playing a voicing. So it's both melody and harmony. I'm implying the contour of the harmony with lines, like what saxophone players do.
On East Coast Love Affair, you had a distinct picking sound. Since then you've moved to where you've now eliminated that picking sound altogether, à la Allan Holdsworth. What possessed you to develop this approach on the guitar?
I always felt like the pick was interrupting the rhythm of the lines. And I don't really like the sound of every note having such a big transient to it. I have a smoother sound in my head. When you sing a melody, the voice doesn't have any percussive element. That's where I live in the melodies – after the transient, or after you start easing into a note.
I've really developed a strong left hand so that I don't even have to pick many of the notes. If I'm playing, I can bring them out with my left hand. And so I developed a physical technique to just be able to play.
And this is like Holdsworth, where his left hand is really playing the notes, and maybe his right hand is just being used for articulation here and there, or just to help interface with what you get when you only use your left hand, just to bring some things out or to help the shape of it along.
And then I started realizing I could also help attain that goal with gear. I started messing around with compressors and gates in order to shape the transient portion of the attack.
I'm always trying to get closer to the sound that I've always had in my head, and all of these different iterations are just attempts to try to get toward that. So Angels Around is just the latest iteration of my never-ending struggle to manifest what I really hear. And I feel like now I can actually express myself a lot more than I could before.
The result is that you're getting this incredible flowing sound on uptempo swinging numbers like Paul Chambers' "Ease It" or Joe Henderson's "Punjab," where it sounds like you're blowing over the changes like a sax player.
Yeah, that's exactly what I'm going for. I'm always in my laboratory trying to work with sound. It's like Ornette Coleman said: "Sound is the key that unlocks the door to music." You know, the sound comes first. And if you have a good sound, you can play anything.
What effects do you rely on throughout Angels Around to attain this sort of flowing legato sound?
I'm using the Fractal Audio Axe-Fx III. I go direct into that and have a pretty complex signal path that goes to a compressor and then to a filter, a gate, another compressor and all the delays and reverb. And it's also going through a model of the Fender Twin Reverb amp.
And for me, a major factor of the sound is that I can get an amp to respond really quickly. So the way I have it set up, if I just play a tiny thing very lightly, it'll jump out of the speaker. That's a major part of my sound.
What guitar did you use throughout Angels Around?
I pretty much used my Yamaha SG200, which is a really cheap guitar. I traded a guy in Berlin a couple of distortion pedals for it. I had been thinking about SGs for a long time, because I love the way they sit on the body and the access you get to the high register.
When you have the guitar strapped on, your natural hand position will rest at the 12th fret; whereas, with other guitars, because of the way the body is and where the strap is, your hand will rest much lower, which means it's harder to play higher. But the way the SG is laid out, your natural position is a higher position, so you're more naturally going to be playing in the higher register.
I played this SG almost exclusively on the album, much to the chagrin of my endorsers [Westville and D'Angelico]. But they've been coming up with some answers to this feeling of mine, and I think we're going to produce some new guitars that might give me the kind of things that I like about the SG, but with more of an acoustic sound. So we'll see where that goes.
The Kurt Rosenwinkel Trio's new album, Angels Around, is out now via Heartcore Records.
All the latest guitar news, interviews, lessons, reviews, deals and more, direct to your inbox!