Kirk Hammett's Favorite Under-the-Radar Guitar Solos
Metallica's shredmaster general recommends these lesser-known gems.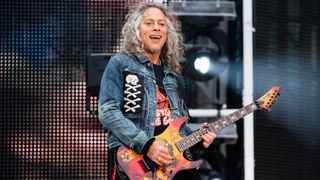 (Image credit: Samir Hussein/WireImage)
We recently asked a handful of some of the guitar world's best-known players to recommend their favorite lesser-known solos.
Here's what Metallica's electric guitar whizz Kirk Hammett had to say…
1) UFO | "Rock Bottom" from 'Strangers in the Night'
GUITARIST: Michael Schenker
"I love the version on Phenomenon, but on the live version from Strangers in the Night, Schenker shows the full breadth of his playing style. He plays melodically, he plays modally. He has this European sensibility in his note choices. He ups the intensity of the song slowly, and at one point he does a harmony line with the keyboards. The intensity builds as he plays with more and more energy, until the drum break in the middle. Then the chord change hits. He pushes the intensity dial up to 13, playing toward this crazy, emotional, dynamic conclusion. It's wonderful and beautiful, and I have so much reverence for it."
2) Judas Priest | "Beyond the Realms of Death" from 'Stained Class'
GUITARIST: Glenn Tipton
"That middle solo by Glenn Tipton is amazing. His sense of melody is astounding, but it's also his tone. It's so great, and every single passage he plays makes sense melodically. It's really catchy and hummable, and you can sing along to it."
3) Santana | "She's Not There" from 'Moonflower'
GUITARIST: Carlos Santana
"His use of the wah pedal, his attack and energy across the three solos in the song... He uses a couple of techniques that are a little off the cuff – super-long delay time, and pressing on the string behind the bridge to give a whammy-bar effect. The phrasing and tone on these solos are amazing."
Pick up Santana's Moonflower here.
Get Stained Class by Judas Priest here.
Grab UFO's live album Strangers in the Night here.
All the latest guitar news, interviews, lessons, reviews, deals and more, direct to your inbox!
Guitar Player is the world's most comprehensive, trusted and insightful guitar publication for passionate guitarists and active musicians of all ages. Guitar Player magazine is published 13 times a year in print and digital formats. The magazine was established in 1967 and is the world's oldest guitar magazine.
When "Guitar Player Staff" is credited as the author, it's usually because more than one author on the team has created the story.