Watch the Kinks' Riotous "Victoria" Performance From 'One for the Road'
Previously banned from performing in the U.S., the group came back with this high-octane crowd pleaser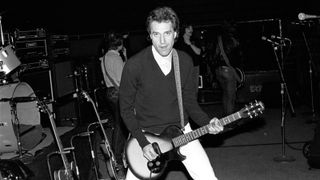 (Image credit: Ebet Roberts/Redferns)
Back in 1969, the Kinks were on the verge of newfound success in America. Some four years earlier, the Ray and Dave Davies-fronted English group had been banned from performing in the U.S. by the American Federation of Musicians.
Though no specific reason was given, many assumed the prohibition was due to onstage fights between Dave and drummer Mick Avory. In one famous brawl from their 1965 U.S. tour, Avory had hurled his hi-hat stand at his bandmate's head, rendering the lead guitarist unconscious and in need of 16 stitches.
But as 1969 dawned, the ban was lifted, just in time for the Kinks to promote their exciting new concept album, Arthur (Or the Decline and Fall of the British Empire).
The long-player's songs told the plight of the titular character, a carpet layer trying to get by in the opportunity-blighted landscape of post-war England.
Though the subsequent U.S. tour was something of a bust, Arthur sold well in America; the lead single "Victoria" reached number 62 and the album itself hit 105, continuing an upward trend that began with The Village Green Preservation Society, the Kinks' 1968 gem.
With Arthur, the stage was set for the Kinks' 1970 breakthrough, which came courtesy of the Top-10 single, "Lola," Ray's offbeat song about a young man's romantic encounter with a transvestite.
"We did some shows and played L.A. and the [famed late-1960s venue] Boston Tea Party," Dave recalls of the group's return to the U.S. "But it took us a few shows to get back into the swing of things. It was like starting all over again, but we had a good fanbase, which went up and up and up throughout the '70s and right up till [1977's] Sleepwalker album."
Though Arthur has not been as celebrated as other concept albums of the era, it was widely hailed upon its release as a work that some critics felt surpassed even the Who's Tommy with its musicality.
In this classic clip, the Kinks perform a spirited rendition of the album's opening track, "Victoria." Taken from the group's 1980 live release, One for the Road, this uptempo number proved to be a crowd pleaser at Kinks gigs for decades.
Order the Kinks' Arthur 50th Anniversary Deluxe Edition here.
All the latest guitar news, interviews, lessons, reviews, deals and more, direct to your inbox!