Jimmy Rip Discusses His Greatest Collaborations and Explains Why Buenos Aires Is the Rock 'N' Roll Capital of the World
He's gigged with Mick Jagger, Jack Bruce, Television, and more. But it's with his own band that Rip really gets cooking.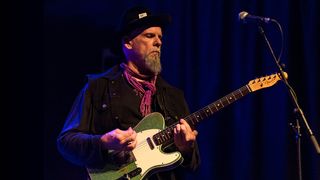 (Image credit: Darren Eagles/Getty Images)
During the 1980s and into the '90s, Jimmy Rip was one of the hottest session guitarists on the scene, racking up gigs with Mick Jagger, Rod Stewart, Debbie Harry, Jerry Lee Lewis, Willie Nelson, Jack Bruce, Hall and Oates, Mariah Carey, and more.
So what was it that made the New York–born musician everybody's go-to guy? He has no idea. "Nobody ever told me what they liked about my playing," Rip says with a laugh. "Maybe it's because I'm a pleasant person to have breakfast with. It's kind of strange. People hire you, but they never really give you compliments.
"I think it's because of my versatility," he offers after a bit more thought. "I grew up on New York City radio in the '60s, when you could literally hear anything: rock, pop, soul – you name it.
"For four or five hours a day, I would spin the dial and play along to each song. That was more valuable than guitar lessons. By the time I started going to auditions, I had a certain amount of taste and skills. Whatever people asked me to play, I could do it. I wasn't stuck in just one bag."
While juggling recording sessions and tours, in 2006 Rip also joined Television following the departure of their second guitarist, Richard Lloyd. He remains a member of the New York City–based band despite having relocated to Buenos Aires 11 years ago.
"I came down here for a visit and immediately fell in love with the music scene," he says. "It's like New York used to be: It's very rock and roll. People are playing music everywhere. There's kids walking around with gig bags. It's the most happening music spot on the planet. So I decided to stay. The place has been very good to me."
Once he set up stakes in Buenos Aires, Rip busied himself producing and collaborating with many local acts and formed his own band, Jimmy Rip & the Trip, a raucous blues-rock trio that includes bassist Luli Bass and drummer Silvana Colagiovanni, both of whom are half his age (he's 64).
"I heard these girls play and I couldn't believe it," Rip enthuses. "They had a Led Zeppelin cover band called Led Ladies, and they knocked me out. Luli was a monster on the bass, and Silvi played the 'Moby Dick' solo like a pro. I knew I had to work with them."
The trio has released two albums – 2012's eponymous debut and Blues Life in 2016 – but it's their just-released third disc, Muy Crudo, that has Rip jazzed. "Muy crudo means 'very raw', and I think the music lives up to the title," he says. "On the first two records, we were a little all over the place, but this stays in one lane and really goes for the throat."
Rip's riffs and solos are rough and rude throughout the record, but he also distinguishes himself as a forceful lead vocalist. "That's kind of a new thing for me," he notes. "I've sat in the room and stood onstage with the best singers in the world, and I know I'm nowhere in their league. But I've kind of pushed myself into singing, and I'm gaining confidence the more I do it. The bottom line is, I'm having a blast."
What was New York's session scene like back in the day? Was competition fierce?
Big time. You had to really know your stuff and be ready to play whatever they threw at you. I was probably the fourth or fifth guy who got called. I was known as "the rock guy" – me and Hiram Bullock.
We also used to always get each other's sessions if the other guy couldn't do it. Jeff Golub, too – he came in after us. We were friendly, and sometimes we'd throw the work around, but we were still competing for the same gigs.
What were auditions like?
They were cattle calls. You'd walk in and see the same guys. One by one, each guy went in to play two or three songs. You could either do the job or you were out. It was tough, but that's how it went. That scene doesn't exist anymore.
The era of the studio cat has been gone for a while. On the other hand, I like bands. I like the idea of a group of people doing what they do together, as opposed to calling in a bunch of side people.
You worked extensively with Mick Jagger. How did that come about?
I got to know Mick when Bette Midler was doing her video for "Beast of Burden." They needed a band to be in it, and a friend of mine called the director, Allan Arkush, and said, "You should call Jimmy. He looks good – he's rock and roll." So I went to the Peppermint Lounge to be in the video. I had no idea Mick Jagger was going to be in it. But there he was. It was wild.
During lunch, we started talking and hit it off, so that was cool. A little while later, Mick started making his album Primitive Cool, and I got a call from Steve Ralbovsky at CBS: "Mick's looking for guitar players. You should do it." I'm like, "Tell him it's me. We know each other." So I wound up doing a bunch of auditions. I kept getting called back, but it was always with a different band.
Then a month went by and I didn't hear anything, and I read that Mick was making the record with Jeff Beck and G.E. Smith. That was a drag. But then two weeks went by and I got a call: "Come to Holland to be on the record." It worked out great. Jeff Beck was supposed to do the tour, but he opted out, and then Mick asked me to be the bandleader and put it all together.
How did you wind up playing with Joe Satriani on that tour?
Bill Graham suggested him. The idea was that Joe would play the Jeff Beck parts from the record. I must say, Joe couldn't have been easier to work with. The only point we disagreed on was volume. Joe thinks I played too loud, and I think he played too soft. But you know... whatever.
It was a guitar player's dream. Probably 17 of the 25 songs we played were Stones songs, so I told Joe, "Play everything Keith Richards didn't play." I just played all the Keith parts. We were a great match onstage. Joe's such a brilliant player. I think I only played one solo for the whole show.
How would you describe your guitar relationship with Tom Verlaine in Television?
Fun, funny, unique. It's very similar to the one we have as humans. We've spent the last 40 years laughing with each other. We have endless arguments, but they're always about history and crazy stuff. It's never about music, because at the end of the day the band's aesthetic is Tom's.
I'm happy to conform to that. I'm much more of a bluesy player than should be in that band, but it works. See, this is where my being a studio player comes into it. I know how to be myself, but I can adapt my skills for the situation. But I'm always lending support.
Is it hard to maintain being in that band while living in Buenos Aires?
Just the rehearsal schedule, but of course there are no shows now with Covid. Tom doesn't like to rehearse very much. If we have a run of 15 shows, we'll do one day in a rehearsal studio.
We're not reinventing the wheel. We try to present the songs people know and love, so our rehearsals are just to get our fingers moving. I go to New York for one day of rehearsal and then we hit the road. [laughs] Well, one day we'll hit the road again.
The women in your band are considerably younger than you. Musically, how much do they have in common with you?
Everything. These girls are obsessed with music history. Everybody in Argentina is. There are still violent arguments about Page, Hendrix or Beck. It's not unusual to find young people – and women, it doesn't matter – discussing rock music and the blues. They know their stuff. It's very open in that way.
So you're not the older guy going, "Okay, let me tell you about Buddy Guy."
Not at all. Both of them have been playing in blues bands since they were 12 or 13. There's a lot of traditional blues players here who are as good as anybody. You walk into a room and you think you're in Chicago in 1958. It's amazing how knowledgeable they are.
As the album title promises, your guitar tone on the record is very raw.
That's what I like. I'm using these Singletone amps. It's an Argentinian company. The guy who builds them does it all by his head and heart – no schematics. I have seven of them, and they're amazing. I pair them with the first guitar I got when I was six. It's a hollowbody Zimgar.
Nobody's seen one of these things. I've shown it to every collector on the planet, and each one says, "What's that? That's incredible!" I've owned 300 guitars in my life, and I've never seen another one like this. I had P-90s and a Bigsby put on it. Everybody loves it. Ry Cooder tried to buy it from me.
Anything other than the Zimgar?
There was a Tele and a Strat, both Custom Shop. They really sparkle. They sound good against the Zimgar. There's some SG on the record, too. That's about it. I don't need anything else. Plug in and let's go!
Jimmy Rip & the Trip's Muy Crudo is out now.
All the latest guitar news, interviews, lessons, reviews, deals and more, direct to your inbox!
Joe is a freelance journalist who has, over the past few decades, interviewed hundreds of guitarists for Guitar World, Guitar Player, MusicRadar and Classic Rock. He is also a former editor of Guitar World, contributing writer for Guitar Aficionado and VP of A&R for Island Records. He's an enthusiastic guitarist, but he's nowhere near the likes of the people he interviews. Surprisingly, his skills are more suited to the drums. If you need a drummer for your Beatles tribute band, look him up.