Jackson Stokes on Diming His Super Reverb, the Power of the Live Show and Living Next Door to Devon Allman
Jackson Stokes is charting his own path with a tour de force of soulful rhythm and blues guitar playing.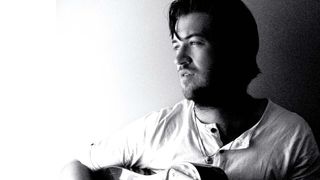 (Image credit: Future)
After honing his skills under Devon Allman's wing for many moons, Jackson Stokes has released his eponymous solo debut on Allman's new label, Create Records.
Allman produced the tightly arranged affair, which runs the gamut of rootsy rhythm-and-blues styles. Stokes earned his stripes playing in Allman's band preceding the formation of the Allman Betts Band, and ABB slide ace Johnny Stachela makes a sweet-sounding contribution to Stokes' uplifting "Sins Are Forgiven."
We chatted with Stokes about his journey, from growing up as Allman's neighbor to playing in his band and breaking out on his own.
How did you connect with Devon Allman?
I was playing my acoustic to my parents' Allman Brothers Band records when my dad said I should take it over to the neighbor's house because Devon Allman, who was related to Gregg and Duane Allman, lived there. When Devon answered the door, he asked me to play a little bit, and he could tell that I was more into it than a normal 12-year-old.
About a week later, I heard him rehearsing with his group Honeytribe, and he agreed to let me hang around if I would sit in the corner. I eventually started asking about what scales to play over chord progressions. I'd go home to work on that.
Tell me about your professional experience working with Devon.
He produced an EP for my band Delta Sol Revival in 2012. I co-wrote and played rhythm on the first five tracks of his album Ride or Die, and then I joined his band. That evolved into the Devon Allman Project, which toured throughout 2018.
Devon said, "I want you to play in my band for a couple of years, and then I want to gladly kick you out of the band to go do your own stuff." It timed out perfectly because he clearly needed to go do the Allman Betts Band with Duane Betts and Johnny Stachela.
What is your go-to gear?
I rock my trusty 1970 Fender Super Reverb with the reverb on three and the volume cranked to 10, if I can get away with it at the venue. My favorite pedal is the Analogman King of Tone, because it simulates that sound with the amp at a lower volume.
I use a Rogue Analog Delay for slapback echo, and a standard Cry Baby wah. I'm still experimenting with different guitars, but my main guitar lately is a 1963 Gibson ES-330. We made the record over two years, so it's an insane hodgepodge of instruments.
A lot of the guitar tones were Devon's choices, because I trust him, and I used a lot of his gear as well. The solo on "Slave for Your Love" is his Gibson semi-hollowbody on the treble pickup through an MXR Custom Shop Shin-Juku Drive into his Victoria 1x12 amp. I used his Maui Blue Strat on "You and Your Partner."
Recommended Listening: Jackson Stokes
• "You and Your Partner"
• "Sins Are Forgiven"
• "Slave for Your Love"
• "Take Me Home"
What's it like to be a young player putting out a rootsy guitar-driven debut album in the digital age?
Streaming services have definitely hurt record sales, and it's hard to get my generation out to shows. But once they finally do, they always tell me that it was so much fun and a totally different thing to experience live instruments jamming.
A record doesn't let you feel the air from an amplifier in your face, or feel the bass in your bones and your heart. That's why, at the end of the day, live music lives on.
Jackson Stokes' self-titled debut is out now via Create Records.
All the latest guitar news, interviews, lessons, reviews, deals and more, direct to your inbox!
Jimmy Leslie has been Frets editor since 2016. See many Guitar Player- and Frets-related videos on his YouTube channel, and learn about his acoustic/electric rock group at spirithustler.com.