"I Never Thought the Song Would Be A Hit": Aldo Nova Tells the Incredible Tale of His Breakthrough Single "Fantasy"
How some free studio time led to the 1982 smash that kickstarted his career.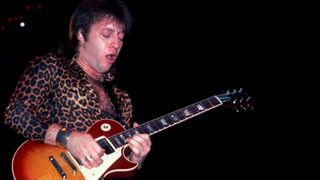 (Image credit: Paul Natkin/Getty Images)
"I'm okay with it now, but for the longest time I tried to play it down," singer and guitarist Aldo Nova says about "Fantasy," his soaring 1982 signature song.
"Some people have said it started the pop-metal genre, and I guess that's possible. Soon afterward, I saw a lot of bands come in with a similar sound, and that led to hair metal, which I didn't want to be associated with."
He laughs.
"But after a while I came around," he says with a shrug. "It's a great song and a big hit. What's not to be proud of?"
Led Zep Meets Christopher Cross
In the early 1980s, Aldo Caporuscio was a budding young guitarist and performer in Montreal.
By day he worked at a music store, and at night he played the city's downtown clubs.
"I did all the Top 40 hits and a lot of new wave covers," Nova recalls. "More and more, though, people told me they wanted to hear rock, so that's what I started writing."
With Led Zeppelin as his North Star ("They had killer riffs, each one as good as a verse or chorus"), Nova came up with a turbo-charged power-chord pattern that felt like a good opener.
From there he started building a song in layers.
"I definitely borrowed from a couple of places," he admits. "The melody in the verses was kind of based around Christopher Cross's 'Ride Like the Wind.' I even phrased my vocals like he did.
"And there's a descending guitar line under the riff that's very much like 'Dazed and Confused.' Once I had all those pieces together, I had 'Fantasy' ready to go."
Keys to the Studio
Nova's opportunity to get into a proper studio came about by a most unusual circumstance. One night, after performing a club date, he ran into a local musician with a label deal who was recording at Montreal's Bobinason Studios.
"He was looking for a songwriter," Nova says. "I told him I wrote, and we started working together."
When the guy skipped out of the sessions that had been booked, Nova got his big break.
"The people at the studio said I could use his time and do whatever I wanted."
Nova had never recorded a proper demo of "Fantasy," but as the lucky recipient of a large chunk of free studio time, he operated as his own one-man band.
"I played everything except the drums," he says. "We tried a couple of drummers, but this guy Terry Martel nailed it."
For guitar tracks, Nova used his favorite Wine Red Les Paul Custom.
"I cut the solo on the fly, but I had a plan for it," he says. "I wanted it to sound like dueling guitars, like those southern rock bands used to do, so I double-tracked the solo with one on the left and the other on the right."
Bang for the Buck
Once Nova finished tracking "Fantasy," American producer Tony Bongiovi came in to mix.
"He made everything sound like cannons," Nova says of Bongiovi, whose second cousin Jon Bon Jovi would work with Nova in the 1990s. "He did a phenomenal job."
The recording led to a publishing deal and then a full label contract with Portrait Records, which gave the young rocker a chance to produce his self-titled debut album.
Thanks to its potent blend of sharp hooks, arena-quaking electric guitars and a tight sheen of surging synths, "Fantasy" vaulted its way onto AOR playlists in the early months of 1982, climbing to number 23 on Billboard's Hot 100 and reaching number three on its Mainstream Rock chart, while the album Aldo Nova quickly went Platinum.
All of which came as a surprise to the man suddenly living out the title of his debut single. "I never thought the song would be a hit," he says.
Aiding its ascent was an elaborate video that was in regular rotation on MTV, in which the guitarist, clad in a leopard-print jumpsuit, emerges from a helicopter and is led to a warehouse by machine-gun wielding bodyguards.
Reaching a locked door, Nova aims his Les Paul and shoots out a laser beam to get inside the building, after which he performs onstage for awaiting fans.
"Back then nobody had ever seen anything like that in a video before," says Nova, whose new album, The Life and Times of Eddie Gage, is available now.
"It looked like it cost a million bucks, but we did it for only $15,000.
"It was definitely money well spent."
Order The Life and Times of Eddie Gage by Aldo Nova here.
All the latest guitar news, interviews, lessons, reviews, deals and more, direct to your inbox!
Joe is a freelance journalist who has, over the past few decades, interviewed hundreds of guitarists for Guitar World, Guitar Player, MusicRadar and Classic Rock. He is also a former editor of Guitar World, contributing writer for Guitar Aficionado and VP of A&R for Island Records. He's an enthusiastic guitarist, but he's nowhere near the likes of the people he interviews. Surprisingly, his skills are more suited to the drums. If you need a drummer for your Beatles tribute band, look him up.