"I couldn't even touch a guitar string because the pain was so bad… I had to re-establish the connection between my brain and my fingertips." The Blasters' Dave Alvin on the highspots and the horrors of his career in five songs
As he returns to the road after a fight with cancer, Dave Alvin reflects on the tracks that defined his time with The Blasters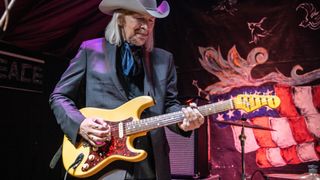 (Image credit: Harmony Gerber/Getty Images)
Dave Alvin says that he's playing the guitar pretty well these days, but the fact is, he's happy to be playing at all. And the larger fact is, he's pretty darn thrilled to even be here. Back in 2020, the singer-songwriter and guitarist was diagnosed with prostate cancer. Soon after, his doctors gave him worse news: He also had stage 4 colorectal cancer that spread to his liver. "Oh, and I've got this lung cancer that keeps returning," he adds.
Since then, Alvin — a legend in roots rock, country and punk, who founded his one-time band the Blasters, in 1979 before embarking on an illustrious solo career — has endured a host of surgeries, and he now reports that he's in remission. "You learn so much when you go through this kind of thing," he says, "but one of the biggest things I've learned is you don't beat cancer — you just learn to live with it." He sighs. "It is what it is."
As part of his treatments, Alvin received rounds of radiation and chemotherapy. For a time, he suffered from neuropathy — nerve damage caused by chemo — and was unable to play guitar for seven months. "I couldn't even touch a guitar string because the pain was so bad," he says. "It was like touching razor blades." Eventually, the effects of neuropathy abated, and Alvin was able to pick up the guitar again. Even so, it was rough going at first. "I had to re-establish the connection between the synapses in my brain and how they sent messages to my fingertips," he explains. "It was scary for a while, but I kept at it and each day, it seemed to get a little easier."
Last year, Alvin felt well enough to begin playing shows again with his frequent collaborator Jimmie Dale Gilmore, and the pair were booked for concerts through this past summer, with more dates scheduled for fall. "The way I feel now is, I've got good days and bad days, and some days are in-between," Alvin says. "The shows have been great, so I can't complain. I'm really happy to be back out there." Alvin sat down with us to reflect on five notable songs from his Blasters past.
"AMERICAN MUSIC"
"The Blasters started as a blues R&B band. We were doing Howlin' Wolf and Junior Parker songs. People told us we'd never get a record deal if we didn't have original tunes, so at a band meeting my brother Phil said, 'Okay, everybody come in next week with two or three songs.' Come the next week, I had three songs and nobody else had anything. Suddenly, I was our songwriter. American Music was the third song I wrote for the band. I was trying to find a way to simply state our mission without being too heavy-handed. The message was, 'We're here to spread the joy of our homegrown music.'"
"At first it was scary bringing songs in. I didn't go to songwriting school, so for me, it was all guesswork. All the guys in the Blasters were older than me, and they had a lot more experience playing music. Here I am bringing songs to them — 'Hey, I think we should play this.' I was intimidated. Gradually, I started to think, Some of these are pretty good. I knew this one was good."
"We made a nice recording of it. I don't know if my solo is good or great, but it got the job done. There's a little bit of Chuck Berry, a little bit of Tampa Red and some Cajun guitar in there. It's a mix-up of blues, rock and roll and folk music."
"MARIE MARIE"
"This was the fourth or fifth song that I wrote for the band. One night I was lying in bed bashing away on my '64 Fender Mustang, and all at once the melody came right to me. I didn't have lyrics, so the next day, about a half hour before rehearsal, I sat down at the kitchen table with a blank piece of paper and said, 'I know this song's good. The melody's really good. What's it about?'"
"Then I remembered something I'd seen when I was about seven years old while riding in my parents' car. It was sunset and we were driving to see their friends. We had to go through this rural area, and we drove by an old farmhouse. There was a girl sitting and playing guitar on the front porch. I just remembered that image — it just stuck with me. By the time I left for rehearsal, I had the song written. The lyrics were vague, but they worked. I even had the backstory to it all."
"Out of the blue, Shakin' Stevens covered this one. Not long before, I had quit my job as a fry cook. The Blasters were getting enough gigs in Hollywood, and I was making roughly as much as I did as a cook. I thought that was pretty cool. Then I got word that this guy Shakin' Stevens did Marie Marie. He had a huge international hit with the song. It was crazy: One minute I'm a fry cook; the next thing you know I'm a BMI writer. [Broadcast Music Inc. collects and distributes royalties to members whose works have been performed.] Getting those checks was insane."
"I'M SHAKIN'"
"My brother Phil and I were record collectors, and we had a scratchy old 45 of Little Willie John's version of 'I'm Shakin'.' One of our earliest fans, Anna Statman [an A&R rep for Slash Records, the Blasters' label], was a big Little Willie John fan. She used to pester us about cutting it.
"The Blasters were famous for our fights, and one of our biggest fights was over 'I'm Shakin'.' I told Phil that on the original, the drummer kept time on his hi-hat in the break — the timing is really odd. Phil thought I was crazy and said I didn't know how rhythm-and- blues worked. We had a huge fight over it."
"Years later, we were doing a Blasters reunion tour and I was introduced to a drummer who played on all the King Records sessions. I asked him if he played drums on 'I'm Shakin' ' by Little Willie John, and he said yes. Then I asked, 'Did you keep time on the hi-hat in the breaks?' And he said, 'Of course I did.' I went to my brother and said, 'Phil, I want you to meet somebody...'"
"SO LONG BABY, GOODBYE"
"I wrote this song in my car while driving on the Long Beach Freeway. I had been with this girl who never understood why I wanted to be a musician. More to the point, she just didn't like it. We had broken up and gotten back together a few times. Then came the final breakup. I went to her place, we broke up, and I drove to Hollywood to drink beer and hear some punk rock music."
"I knew we weren't getting back together. The song came to me while driving. I went through the whole thing — 'Am I doing the right thing? Am I free?' — all those thoughts you have. And I started driving faster and faster. As the song came to me, I was like, 'Yes.' I didn't even have to record it when I got back home. I knew I'd remember it."
"The late, great James Harman was a friend of mine. He was a brilliant harmonica player who couldn't play a note on the guitar. He had an amazing collection, though, and he loaned me a 1961 white Stratocaster that he swore once belonged to Magic Sam. Could it have? Sure, why not. That's the guitar I used on this song. James also loaned me a '58 Les Paul. As a player, I was out of my league on both of those guitars at the time, but they sure recorded better than the Mustang."
"DARK NIGHT"
"I was writing songs for the fourth Blasters album. At the time, whether it was on the news or stuff I heard in bars, it seemed like intolerance and the threats of violence were increasing. It was surprising to me, because I had thought that all that stuff was starting to fade away, and now it was returning. This song was a reaction to that, like, 'Shit, do we have to go through this again?' Apparently, we do — constantly."
"For my guitar parts, I wanted a Pops Staples kind of sound. The song starts off with that heavy-tremolo Pops Staples Fender sound. At rehearsals, we'd goof around and play around with stuff. That's when the loud guitars came in. We had pretty strict rules that songs had to be a certain length, and guitars had to be played a certain way. We didn't want to sound like every other local blues band. For solos, the idea was that the guitar parts should be pre-1960. In our view, post-1960s guitar playing had been abused."
"The song was used in the movie From Dusk Till Dawn, which was friggin' great. The way they used it was pretty impressive. Usually my songs in movies are cues for somebody to walk into a bar or something, so this was really cool. I only wish that the movie had been a bigger hit. It did okay, but it wasn't like what Pulp Fiction did for Dick Dale and Misirlou."
All the latest guitar news, interviews, lessons, reviews, deals and more, direct to your inbox!
Joe is a freelance journalist who has, over the past few decades, interviewed hundreds of guitarists for Guitar World, Guitar Player, MusicRadar and Classic Rock. He is also a former editor of Guitar World, contributing writer for Guitar Aficionado and VP of A&R for Island Records. He's an enthusiastic guitarist, but he's nowhere near the likes of the people he interviews. Surprisingly, his skills are more suited to the drums. If you need a drummer for your Beatles tribute band, look him up.