How Traffic's Dave Mason Wrote "Feelin' Alright?"
Dave Mason shares good memories of a song about feeling bad.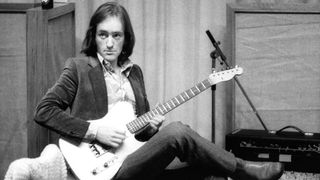 (Image credit: Estate Of Keith Morris/Redferns)
"For something that's only two chords, it's been pretty good to me," guitarist Dave Mason says of his 1968 Traffic classic "Feelin' Alright?" Over the years, the song has been recorded by everybody from Three Dog Night and Grand Funk Railroad to Paul Weller, Gladys Night and the Pips, Isaac Hayes, and others.
And then there's Joe Cocker, whose 1969 rollicking interpretation Mason calls "the definitive version." "Let's face it – it's a pretty hard song to screw up," he says. "You've got a C chord and an F chord. I didn't need anything more than that. That's something guitar players should think about: Less is more."
Not Feeling Too Good
As a member of Traffic with keyboardist Steve Winwood, woodwind player Chris Wood, and drummer Jim Capaldi, Mason experienced fast success.
The band's debut album, 1967's Mr. Fantasy, charted on both sides of the Atlantic, and one of the guitarist's songs, "Hole in My Shoe" reached Number 2 in the U.K. But it was too much too soon for Mason, who quit the group in January 1968. "I was 21 years old and didn't know how to handle it," he says. "I wasn't ready for fame, so I backed out."
For a few months, Mason floated around, producing a band called Family and playing on sessions. At one point he even entertained the idea of joining the Jimi Hendrix Experience. Keen on working on his songwriting, he headed for Hydra, an island in Greece, where he composed "Feelin' Alright?"
"I think I had the words first," he recalls. "The funny thing is, people seem to think that it's a fun sort of song, but it's really about unrequited love. There's a question mark in the title. It asks, 'Are you feeling all right?' 'Actually, I'm not feeling very good at all.'"
He maintains that the song's simplicity was no accident. "I had been playing sitar, so I wanted a certain sitar-like quality," he explains. "It's not one chord, like a James Brown song, but it's close. The good thing was that I didn't need to do demos. Two chords I could remember."
"You're Re-Hired!"
Traffic had begun recording their second record but hadn't replaced Mason. When the guitarist paid them a visit at the Record Plant in New York City, he found the band woefully short on material.
"They only had five songs between them," he recalls. "So I said, 'I've got five songs myself.' One of them was 'Feelin' Alright?' Just like that, it was 'Okay, you're back in the band.'"
The regrouped quartet headed back to England to finish the album at Morgan Studios in North London with producer Jimmy Miller, who had helmed their first record.
"The guys in the band never really said they liked my songs," Mason says, "but Jimmy Miller always had good things to say. He thought 'Feelin' Alright?' was terrific." Mason remembers the sessions for the song as straightforward, orderly affairs.
"I played acoustic guitar on the basic track, and after that we did overdubs. I was fine with whatever the guys wanted to do with it." Picked as the first single from the group's eponymous second album, "Feelin' Alright?" stiffed – and Mason wasn't surprised.
"I wouldn't have picked it myself." But he was elated when Joe Cocker released his version a year later. "Joe had that incredible piano intro, and the song just flew. Joe's version is what inspired 60 other cover versions of the song. In fact, when I perform the song now, I don't do it like Traffic; I play it like Joe Cocker."
With A Little Help From His Friends
In fact, Mason recently paid tribute to Cocker's version with a new recording of the song he made remotely with some capable assists from pals Mick Fleetwood, Sammy Hagar, Michael McDonald, and the Doobie Brothers.
"We call ourselves the Quarantines," Mason says. "If it weren't for the pandemic, this never would have happened. Everybody was bugging me about doing something, so I suggested 'Feelin' Alright?' I pulled everybody together and we played it à la Cocker."
Mason says that the logistics of recording remotely were "somewhat strange at first," but he's delighted with the result. "You wouldn't even know we weren't together," he says. "It's pretty amazing. You can get guys in various cities on their computers, and before you know it, you have a band."
All the latest guitar news, interviews, lessons, reviews, deals and more, direct to your inbox!
Joe is a freelance journalist who has, over the past few decades, interviewed hundreds of guitarists for Guitar World, Guitar Player, MusicRadar and Classic Rock. He is also a former editor of Guitar World, contributing writer for Guitar Aficionado and VP of A&R for Island Records. He's an enthusiastic guitarist, but he's nowhere near the likes of the people he interviews. Surprisingly, his skills are more suited to the drums. If you need a drummer for your Beatles tribute band, look him up.