How Graham Nash Wrote Crosby, Stills, Nash and Young's "Teach Your Children"
Featuring a Jerry Garcia solo, the 'Déjà Vu' classic sent a message that remains just as relevant and powerful today.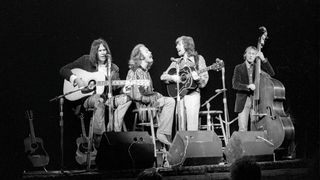 (Image credit: om Copi/Michael Ochs Archives/Getty Images)
"It's a song that has spanned generations," Graham Nash says of "Teach Your Children," the country-rock classic from Crosby, Stills, Nash & Young's epochal 1970 album, Déjà Vu. "It's certainly a beautiful-sounding record, but I think it also contains a valuable message, and that's why I wrote it in the first place. It was relevant then, and it's just as meaningful now."
Images And Words
"Teach Your Children" has its origins in Nash's last weeks with the Hollies, in 1968. "We were playing a five-night stand at a nightclub in Leeds, and we were all staying at a hotel close by," he recalls. "Back then, I was smoking a little dope, and the rest of the Hollies were not. In one night, I wrote 'Lady of the Island' [which appeared on 1969's Crosby, Stills & Nash] and half of 'Teach Your Children.' I thought I had something good, but I just didn't get around to finishing it."
It wasn't until a year later, after which he'd relocated to America to begin working with David Crosby and Stephen Stills, that Nash was inspired to complete the song. A longtime photography fan, he had loaned a number of items from his collection, which included the Diane Arbus photo Boy in Central Park with Hand Grenade, to a gallery exhibit in Santa Clara, California.
While attending the opening, Nash was struck by what he saw. "They had put a picture of [Alfred] Krupp, of the German arms magnate family that provided all of the German war material for World War I and II, right next to the Diane Arbus shot of the seven-year-old boy with a grenade," he says.
"I realized right there that we had better start teaching our children better; otherwise, civilization was in jeopardy. That was it. I went back and finished what I'd started in England."
Stills' Genius, Garcia's Magic
Nash recalls the first time he played his new song for Stills as a pivotal moment. "Stephen said, 'That's a very interesting song, Graham. Don't ever play it like that again. You sound like Henry VIII.' Meaning it was too stately, too English. I asked him how I should play it. He picked up the guitar and he played it in the beautiful picking pattern that made him so distinctive. He said, 'This is how it should be played.' That's the Stephen Stills genius. He was right. It needed that gentle flow."
While recording at Wally Heider Studios in San Francisco, the trio that had grown to a quartet with the addition of Neil Young made fast work of the song.
"It's a simple arrangement, and we kept the instruments minimal," Nash says. "There were a couple of acoustic guitars, a tambourine, and a bass." After tracking the vocals, it came time to lay down a guitar solo.
"That's when Stephen said, 'Neil and I have played a million bloody solos. Let's think of something different,'" Nash recalls. "And Crosby said, 'Jerry Garcia's in the next studio with the Dead.' I had heard that Jerry had been playing pedal steel for a couple of weeks, so I said, 'Pedal steel sounds like a great idea.'"
Crosby went next door and played the track to Garcia, to which he said, "Let me at it! I can't wait." Garcia brought his pedal steel into the studio where CSN&Y were working, and after one pass at a solo, an ebullient Nash said, "Jerry, that's fantastic!"
Garcia admitted that he'd fluffed a couple of notes and asked to give it another go, to which Nash said, "Sure you can, but we're not going to use it. The first one was perfect."
Garcia did another pass, and, sure enough, Nash told him he was sticking with the first take. "Jerry laughed and agreed with my decision. There was something so pure about how he played it the first time. It was obvious."
Child's Play
Also obvious to Nash was the song's commercial appeal. "I knew it was a hit right away," he states. "I was in the Hollies, man. "We had 15 Top-10 hits, so I knew what a radio record should sound like."
Sure enough, the track moved quickly up the charts when it was released in May 1970, rising to Number 16. The only thing that stopped its momentum was another CSN&Y single, "Ohio," which the quartet released in June, following the Kent State shootings on May 4. "Not many bands would kill their own single, but we wanted 'Ohio' out right away, so that's what we did. No regrets."
All the latest guitar news, interviews, lessons, reviews, deals and more, direct to your inbox!
Joe is a freelance journalist who has, over the past few decades, interviewed hundreds of guitarists for Guitar World, Guitar Player, MusicRadar and Classic Rock. He is also a former editor of Guitar World, contributing writer for Guitar Aficionado and VP of A&R for Island Records. He's an enthusiastic guitarist, but he's nowhere near the likes of the people he interviews. Surprisingly, his skills are more suited to the drums. If you need a drummer for your Beatles tribute band, look him up.