Hollywood Fats and the Fine Art of Playing Blues at 90 MPH
Hollywood Fats took the genre at his own speed and left everyone eating dust.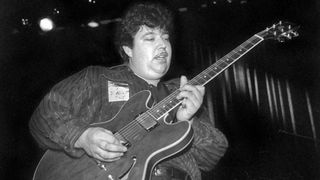 (Image credit: Clayton Call/Redferns via Getty Images)
Michael Leonard Mann, aka Hollywood Fats, was born in Los Angeles in 1954 and died of a heart attack in 1986 at the young age of 32. A reckless lifestyle shouldn't define him, because Hollywood Fats was an accomplished and evolved blues guitarist who left behind a beautiful musical legacy.
Fats, who started playing guitar at 10, exhibited an obvious knowledge of the blues encyclopedia and, seemingly, a debt to players like T-Bone Walker, Charlie Christian and Gatemouth Brown.
He worked with James Harmon, Muddy Waters (at the age of 19), Canned Heat, Kid Ramos, John Lee Hooker, Albert King, the Paladins and the Blasters, to name a few.
Despite having an unofficial masters degree in the blues, he had his own wonderful thing, as can be heard on Hollywood Fats Band, the 1979 debut from his eponymous quartet on the PBR International label.
When one plays a genre with a long tradition created by a specific culture, sometimes the artist is left a very fine line to walk. Expressing too much individuality can become a foreign language within the genre and be deemed illegitimate.
This makes it difficult for a genre to grow. If the artist complies entirely, a rigid regurgitation of the "right" licks could be the result.
The Hollywood Fats Band walked that line successfully. They were wonderfully rooted in classic swinging blues, but we undoubtedly hear what they had to testify according to the gospel of Hollywood Fats.
Hollywood Fats Band is a great overview of Fats' versatility. When folks haven't heard Hollywood Fats, I play them his version of Gatemouth Brown's instrumental "Okie Dokie Stomp."
By the first few notes, they are reeled in. This piece exemplifies how Fats remains rooted at a breathtaking 90-mph cruise control, connecting and migrating his solos with a swinging, regal musicality. He never goes for a British-style, alpha-blues guitar climax, and to me the result is hypnotic.
On "She's Dynamite," he drives the song with a great chugging rhythm. Yes, it's a shuffle in E that some guitarists would play on autopilot, but Fats keeps it brimming with energy and inventiveness. Check out his comp under the vocal - it's like a jagged piano part.
The LP's opener, "Rock This House," shouts out a compelling diminished line, and Fats is like a horse busting out of the gate. What follows is four minutes of great chord comping, distorted jazz chords, single-note lines doubling the bass and terrific swinging guitar fills. It's epic. Every track on Hollywood Fats Band offers a wealth of goodness.
The rhythm section of bassist Larry Taylor and drummer Richard Innes is subtle and in the pocket, while pianist Fred Kaplan and harmonicist/vocalist Al Blake are living inside the music, always supportive and nuanced.
The harmonica/guitar unisons are classic, huge and exciting. I might be nitpicking, but lyrically there are some questionable clichés. That said, the vocals feel authentic, and Blake propels the music.
In the worst-case scenario, blues vocals sometimes come off like a mandatory commercial sandwiched between the guitar solos, but the Hollywood Fats Band always marches forward, like a little blues army.
There are a lot of things I love about Fats' playing. Though it's overused to flatter or describe a player with "I love his tone," his sound was perfect - enough distortion to create exciting single-note lines that were enhanced by right-hand picking force, along with a creamy reverb to create depth.
To my ears, his 1961 cherry-red Gibson ES-345, plugged into a '59 Bassman through a 1962 brown Fender reverb unit, slaughtered any sonic competition. Fats also played a mid-1950s Gibson L-5 CES, and is pictured on the cover of Rock This House, the 1993 reissue of this album, playing a white Stratocaster.
Whatever Fats played, he always sounded like himself, and if you're a fan of swinging blues guitar, Hollywood Fats Band is a must-hear.
All the latest guitar news, interviews, lessons, reviews, deals and more, direct to your inbox!
Jim Campilongo has 14 critically acclaimed instrumental records available on vinyl, CD and digital download here.