Here's Why Marvin Gaye's 'What's Going On' Remains a Perfect Moment in Music History
In a world of noise, this soulful album is balm for the ears and shelter from the storm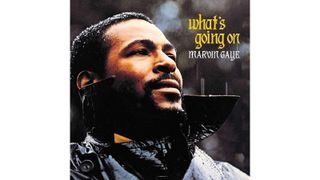 (Image credit: Tamla)
This is a strange way to start a column about noteworthy records, but, kind readers, it's harder and harder for me to listen to music.
Aside from my senses being assaulted when I leave my New York City apartment (is the national bird the jackhammer?), music is everywhere.
Inescapable.
It's in the Uber, it's at the supermarket, it's at the hardware store, it's at the bank…
A few months back, I was running errands and realized I had heard "Jessie's Girl" three times and "Hotel California" twice at four different locations.
Huh? Are there only 10 songs in the world?
One might think when I return home I'd put on something personal to cleanse the palate, but instead I receive four or five YouTube music links from my inspired, loving friends and see dozens of silenced music performances on my Instagram and Facebook feed.
Instead of wanting to explore new ideas and new music, I withdraw. I want to evacuate from any stimuli whatsoever.
Many days I actually force myself to play a record, and 100 percent of the time I'm so glad I did!
On one of those days, I put on Marvin Gaye's What's Going On, and it brought me back to a time when music was not taken for granted.
It has real instruments, it's cutting edge, and completely and utterly unique, inspired, humble, soft and beautiful. It makes me want to move…and it's trying to change the world.
Marvin Gaye's 11th solo record, What's Going On was released on the Motown label in 1971.
This LP was conceived as a concept record, and it remains timeless, yet undeniably ahead of its time.
What's Going On balances that problematic line of addressing issues like the environment, inequality, needless war and hopelessness, while urging compassion for each other to remedy the overwhelming chaos of the early '70s.
All the while, it's cemented in a "pop" presentation that's grooving and infectiously accessible.
Influenced by the melodic ideas of Miles Davis, Marvin wanted to incorporate the musicality of a jazz mentality and jazz harmony.
This amazing LP plays like a "soul opera," where the tracks segue from one to another masterfully.
Marvin preaches to us the Gospel of Marvin Gaye while singing beautifully over cascades of harmony, with his heart on his sleeve.
The record opens with the title track and the haunting alto sax line played by Eli Fontaine, who conceived the part while warming up to the song.
To my ears, this is one of the top 10 perfect moments in pop music history, and I assume you've heard it just the same way I do.
It's magic.
Next up is "What's Happening Brother," about a soldier returning from war and trying to assimilate into a culture that remains difficult and unchanged.
This song creates a harmonic journey that descends and ascends with the narrative.
"Flyin' High (In the Friendly Sky)" has shades of Mr. Gaye's tour de force, "Trouble Man," where Marvin's voice is reminiscent of a Miles Davis trumpet performance.
"Save the Children" states, "When I look at the world, it fills me with sorrow," and on "God is Love," he professes his Christian ideals – "all He asks of us is we give each other love" – that, in my opinion, any spiritual adherent or atheist could successfully live by.
Every track is significant, including "Mercy Mercy Me (The Ecology)," "Right On" and "Wholy Holy."
But my personal fave, "Inner City Blues (Make Me Wanna Holler)," combines the infectious style of Curtis Mayfield with a jazz mentality that knocks me out every time I hear it. It's the perfect marriage of message and groove.
What's Going On is filled with hope and never feels naïve or arrogantly preachy. It's a cry for help.
To this day I can't fathom how Marvin Gaye and company pulled this feat off over 50 years ago.
His solution to the world's problems? We need to care about each other.
I was hesitant to start this column like an old guy yelling "Get off my lawn, you young whippersnappers!"
But if you're struggling and assaulted by an onslaught of sound, you're not alone.
If you are trying to find some beautiful, uncorrupted music that can unthaw your senses, What's Going On is shelter from the storm.
Order What's Going On here.
All the latest guitar news, interviews, lessons, reviews, deals and more, direct to your inbox!
Jim Campilongo has 14 critically acclaimed instrumental records available on vinyl, CD and digital download here.