Here's Why Junior Brown is Bar-Band Virtuosity Personified
'Guit With It' reveals the show-stopping excitement of his guit-steel double-neck performance in full.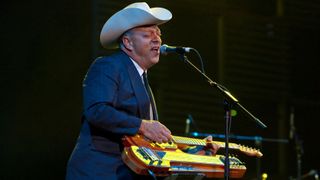 (Image credit: Skip Bolen/WireImage)
Junior Brown is what I would call a bar-band virtuoso.
What is that, you might ask? Fair question.
To me, it's an artist who thrives in a 200-capacity (or less) venue, one who, along with putting on a great show, never comes close to taking more than what he gives.
Junior Brown is among the elite of this genre.
Playing his guit-steel double-neck, a hybrid electric and lap-steel guitar, he delivers show-stopping solos and will quote Hendrix at the drop of a hat.
His detuning plunges are exciting and feel like a bomb hit the building.
And then there is his songwriting.
In my opinion Junior Brown is a totally underrated tunesmith. His songs are filled with melody and original hooks, and they breathe characters and scenarios that become real people, living in honest-to-goodness situations.
Junior's prose gives life.
For evidence, I point you to his album Guit With It. Released on Curb Records in 1993, it's a great overview of Junior's unique depth and encyclopedic knowledge of country music and beyond.
Guit With It begins with the fast Ray Price shuffle "Doin' What Comes Easy to a Fool," which has great playing throughout.
Special mention goes to Junior's dismount on his guitar solo, a wild counterpoint phrase that is hall of fame major league.
Next up is "Highway Patrol," where Mr. Brown channels Red Simpson like nobody I've heard. He remains himself while nailing the genre.
On the instrumental track "Sugarfoot Rag," Junior throws in the kitchen sink for an action-packed four minutes of instrumental bliss.
My favorite song here is the little masterpiece "My Wife Thinks You're Dead." The spoken lyric is danceable all by itself; I feel like I'm listening to an audiobook.
Jimmie Vaughan plays a curiously out-of-tune solo, but maybe I'm nitpicking and that was the point.
I shrug my shoulders. Junior steps up next to deliver a guit-steel solo that's one for the ages.
The track "Names And Addresses" reminds me of a great Willie Nelson tune that incorporates some moderate jazz changes.
Junior sings and plays these changes as if they fit him like a comfortable pair of old slippers.
"Guit-Steel Blues" is another instrumental tour de force, one on which his guit-steel quotes Hendrix's "Red House" and takes us on a ride on the edge of our seats.
This is a blues that makes you feel good, and Guit With It is a great hang.
Back in the 1990s, I was lucky enough to open for Junior Brown twice. It was a humbling experience.
Performing at the time with his wife on rhythm guitar, a swinging bassist and a drummer playing a lone snare drum, Junior and his band filled the house with sound wherever they went.
When our set was over, he plucked six notes and obliterated everything I had played before him down to a well-intentioned, forgettable introduction.
I was a young musician and knew I had a lot of work to do.
Like Chet Atkins, Roy Buchanan, Link Wray and Lonnie Mack, Junior Brown is cut from bar-band virtuoso cloth. With him, and all the aforementioned players, the presentation is close-up and personal, with one eye on the audience.
In contrast, arena performances demand participation. We all stand in the vastness and show our gratitude that we were lucky enough to hear Keith Richards play the intro to "Satisfaction" one more time.
Sorry folks, I need more than that. I don't go to a show to unconditionally praise artists.
I long to be entertained and moved by the soul and urgency of the music. Bar-band virtuosos like Junior Brown create a relationship based on the here and now, and Guit With It captures his mastery in full.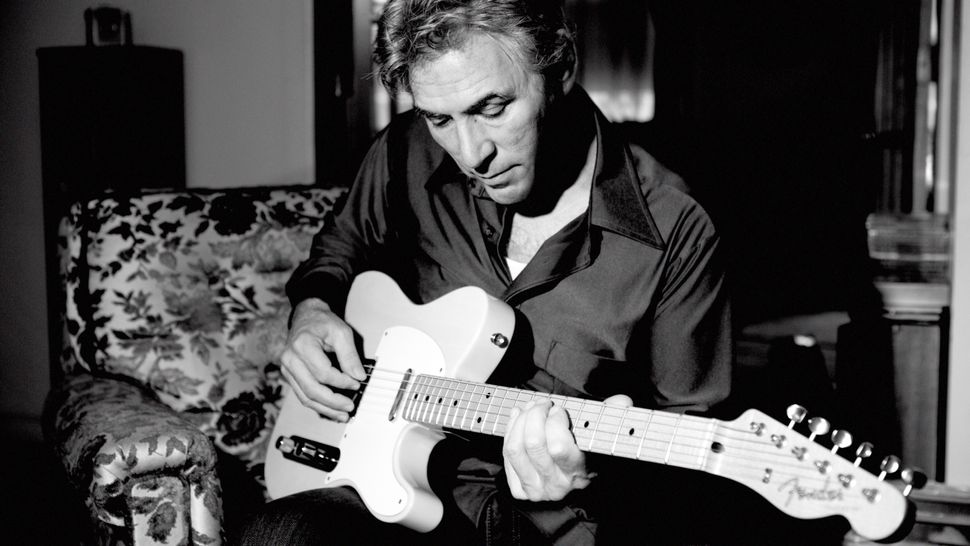 Jim Campilongo has 14 critically acclaimed instrumental records available on vinyl, CD and digital download here.
All the latest guitar news, interviews, lessons, reviews, deals and more, direct to your inbox!
Jim Campilongo has 14 critically acclaimed instrumental records available on vinyl, CD and digital download here.