Gwenifer Raymond on How Celtic Mysticism and Folk Horror Inform Her Unique Acoustic Style
The Welsh fingerstylist talks technique, gear, and the inspiration behind 'Strange Lights Over Garth Mountain.'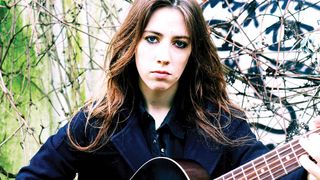 (Image credit: Tom Ranft)
Although the classification seems odd for an artist who was born and raised in Wales, has a PhD in astrophysics, and holds down a day job as a video-game coder, Gwenifer Raymond begrudgingly embraces the "American primitive" label with which her hypnotic and often unsettling brand of acoustic fingerstyle guitar has been stamped.
"A label is the easiest way to describe a thing, and I think 'American primitive' is probably the easiest way to describe what I do," she says from her home in Brighton, U.K. The term, which acoustic guitarist John Fahey coined in the late '50s to describe his own music, was always intended to somehow convey an ineffable and ever-evolving amalgam of influences.
"Fahey himself invented the term because he couldn't think of what it was he did, right?" Raymond asks. "So in and of itself, the moniker is kind of representative of the idea that I don't really know what it is I do, I just play instrumental guitar that has some influences from American folk music – and then a bunch of other shit thrown in there."
For Raymond, not all of these influences are folk-based. The guitarist, now 35, cut her teeth playing in punk and alternative bands and cites groups like the Pixies, the Fall, Gang of Four, and the Butthole Surfers as particular favorites. "I just liked the screeching-feedback mad shit that they would play," she says of the latter.
Raymond also credits another '90s alternative-rock behemoth, Nirvana, not only with inspiring her to pick up the guitar but also with introducing her to the world of acoustic blues.
"Just after Kurt Cobain died, my mum bought me a cassette tape of Nevermind and that blew my little preteen brain right out. I immediately asked for a guitar and got a cherry-red Squier Strat," she says.
"Then I got Nirvana's MTV Unplugged in New York album, which had them doing the cover of Lead Belly's 'Where Did You Sleep Last Night?' and investigated that. I was also discovering people, like Dylan and the Velvet Underground, who were equally influenced by early pre-war American blues music, so I started looking into that stuff as well."
Raymond found a local guitar and banjo instructor well versed in the traditional genres she was developing, and with his help began developing her clawhammer technique – a right-hand approach that combines a downward thumb movement for the bass note with an upward two-fingered "claw" that sounds the melody notes on the upper strings.
"I've turned my right hand into an autonomous engine at this point," she says. "I used to watch movies and play the same riff for an hour and a half." Central to Raymond's practice regimen were the seminal recordings of country-blues legend Mississippi John Hurt.
"You just slowly get the boom-boom of the bass notes going, and then you introduce the melody notes and eventually learn to do it on the beat, and then the offbeat, and then you put a triplet in, and you can speed it up," she says. "Once you learn a few tricks, you've taught your hand to do all those things and it becomes a very offline process."
Raymond's clawhammer drives both her 2015 debut, Sometimes There's Blood, and its follow-up, 2018's You Never Were Much of a Dancer.
But on her latest release, the expansive Strange Lights Over Garth Mountain (Tompkins Square), the guitarist applies her technique and favored open tunings of G, D, and C minor to songs that embrace nerve-jangling dissonance and often completely eschew standard folk structures in favor of a more through-composed feel.
Raymond attributes this evolution to her having been commissioned to score the 1907 French silent horror short film The Red Spectre.
"I had to write a seven- or eight-minute-long track that followed the emotional arc of the movie, so it wasn't like a verse-chorus style thing," she says. "That just immediately sparked me into wanting to write more compositional songs with movements and more complicated musical arcs in them."
That Raymond was hired to compose music for a film about a magician who performs a demonic ritual is not accidental. In interviews, she often references the folk horror genre, which includes films, like 1971's Blood on Satan's Claw and 1973's The Wicker Man, that invoke ancient pastoral themes and pagan legends.
Strange Lights song titles like "Incantation" and "Hell for Certain" also hint at a proclivity for the mystical. According to Raymond, when growing up in Wales, which is steeped in Celtic pre-Christian mythology, such affinities are par for the course.
"When you're Welsh, this stuff is just part of life," she says. "There are festivals that are super pagan, but yet it's also Christian, like they can't disentangle the two aspects.
"I was just telling some people about the Mari Lwyd today, which is a New Year's tradition of putting a big horse's skull on a stick underneath a cape or a shawl and roving around the village knocking on people's doors. Then you would have what is essentially a Welsh rap battle, which is having a chat-off until someone's announced the winner. Then you drink a bunch of beer."
Like so many other artists affected by the pandemic, Raymond had studio time booked to record her new album but had to abruptly change her plans when the U.K. went into quarantine.
"I eventually ended up recording and mixing the entire record on my own in my flat in Brighton," she says. "I miked the guitar with an AKG C414 XLS between the 12th fret and the sound hole and then used a pair of matched Rode NT5 small-diaphragm condenser mics for extra dimension. Everything ran into a Focusrite Clarett 4Pre USB interface."
Raymond, who favors small-bodied guitars over larger dreadnoughts, tracked all of Strange Lights with a Waterloo WL-14 LTR with ladder bracing.
"You can get that guitar with X bracing or ladder, but as I understand it, there's less interference with the sound in the body of the guitar with the ladder bracing. They generally have a nice, warmer, fuller tone," she says. "The X brace is better for the neck, and so back in the days before truss rods, the necks wouldn't pull forward as much as a result. But obviously, on a modern guitar, that's not really an issue."
Raymond uses a plastic thumb pick and standard steel-nickel finger picks by Dunlop, and after much experimentation has settled on Martin Retro strings that employ a monel nickel/copper alloy.
"When I'm trying guitar strings, I ask myself, How long do you have to break them in before you get that nice, ideal tone? And then how many gigs will that last? The monels are half the price of some other acoustic guitar strings, so it's okay that I have to change them every two or three gigs. And they break in almost immediately, so I don't have to play my guitar for an hour or two before a show to make them sound not insane."
Given that Raymond's instrument is her primary means of connecting with her audience, her close attention to tone is not surprising. To the guitarist, communicating with sound is often more effective than doing so with words.
"Talking is hard, as I often discover during interviews," she says. "In conversation, if you're trying to get something across but you can't quite find the words for it, you just make a noise and a gesture. In many ways, that's what instrumental music does. It's creating the mood of a concept in a non-representative way.
"And it can do that because the words might not even really exist. Or maybe they exist, but not in the language that you speak, because there are plenty of words in different languages that don't exist in others. So it's the nonverbal grunting that you do when you can't quite get an idea across. But prettier."
All the latest guitar news, interviews, lessons, reviews, deals and more, direct to your inbox!