Freddie King: Five Acts of Legend
By Guitar Player Staff published
Learn more about this legendary, linebacker-sized bluesman's career and influence.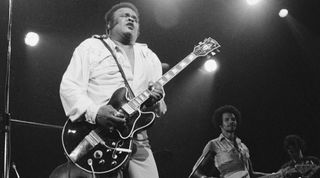 (Image credit: Michael Putland/Getty Images)
He could murder all comers in a cutting contest. Eric Clapton once said of performing with the "Texas Cannonball": "Freddie could be pretty mean, but subtle with it. He'd make you feel at home, and then tear you to pieces."
His 1961 single, "Hide Away," became a blues standard, and it also broke into the pop charts (reaching #29 on the Billboard Hot 100) - a near miracle at a time when mainstream white audiences had little knowledge of blues music.
He broke the mold by being one of the first blues artists to employ a multiracial backup band.
The linebacker-sized bluesman's ferocious tone was produced by a two-digit fingerpicking technique - using a plastic thumbpick and a metal pick on his index finger - as well as a Fender Quad Reverb cranked to almost heavy-metal volume.
He was progressive. His songwriting skills infused layered hooks, sonic textures, distinct melodies, bridges and crafty musical movements into the basic 12-bar blues format.
Get the latest news, reviews and product advice straight to your inbox.
Thank you for signing up to The Pick. You will receive a verification email shortly.
There was a problem. Please refresh the page and try again.