Five Reasons Liona Boyd is a Guitar Legend
The "First Lady of the Guitar" is a classical master.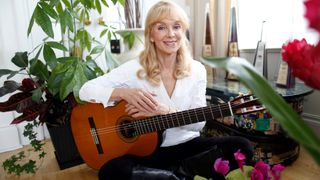 (Image credit: Marta Iwanek/Toronto Star via Getty Images)
One of the most popular classical guitarists, and a successful pop crossover artist, Liona Boyd has been hailed by no less than Andrés Segovia and Chet Atkins for her musical virtuosity. Here are five reasons she is an acoustic guitar legend…
1. Masterful Education
Born in London in 1949, and raised in Canada, Boyd began playing guitar at 13 and quickly excelled on the instrument. While a student at the Guitar Society of Toronto, she studied with classical guitar greats like Segovia, Julian Bream, Narciso Yepes and Alexandre Lagoya.
"Segovia told me I was playing too fast… Julian Bream helped me with Bach… Lagoya, of course, concentrated more on tone," Boyd told Guitar Player in 2006. "But the one thing all of these masters provided more than anything else was inspiration. It wasn't just technical advice – they would get me fired up."
2. Collaboration
Unusually for a classical guitarist, Boyd took an interest in popular music genres early in her career and has frequently performed with rock and folk artists. In the 1970s, she was Gordon Lightfoot's opening act on a successful tour that saw her play in sold-out ice hockey arenas.
A performance in Nashville brought her to the attention of Atkins, and, together with John Knowles and John Pell, they recorded the country/classical crossover album The First Nashville Guitar Quartet in 1979. Boyd has also recorded with Eric Clapton, David Gilmour, Alex Lifeson and Rik Emmett, among others.
3. Off the Beaten Track
Boyd has occasionally performed in uncommon settings. In 1975, she went on the road in British Columbia and Yukon, where she paid her dues touring in frigid temperatures and playing for appreciative crowds "in all the remote, snowbound communities of northwest Canada," she writes in her 1998 memoir, In My Own Key: My Life in Love and Music.
With Atkins' help, she landed an appearance on the NBC morning news/talk show Today early in her career. Most unusually, during O.J. Simpson's 1995 murder trial, Boyd performed in a federal courthouse to entertain "bored-stiff jurors" at the request of the presiding judge, Lance Ito.
4. Diversity
After recording in the classical genre for many years, Boyd began exploring Latin, jazz, easy-listening and new age music starting in the mid 1990s. Her 2002 release, Camino Latino, showed off her talents as an interpreter and composer of Latin styles and saw her performing with guitarists like Al Di Meola, Steve Morse, and Strunz and Farah.
5. Adaptability
Following the release of Camino Latino, Boyd was diagnosed with focal dystonia, a neurological condition that causes involuntary muscle contractions and abnormal postures. To compensate, she developed her songwriting and vocal skills and performed less-demanding guitar arrangements.
Her later albums – including 2009's Seven Journeys: Music for the Soul and Imagination and 2015's Relaxing Guitar for Insomnia, Dreaming and Romance – have leaned increasingly toward a mix of classical and new age.
In all, Boyd has racked up five Gold and three Platinum albums over her career and earned five Juno awards, Canada's Grammy equivalent. She's also a five-time winner of the Guitar Player Readers' Poll for Best Classical Guitarist and has been inducted into the magazine's Gallery of Greats.
All the latest guitar news, interviews, lessons, reviews, deals and more, direct to your inbox!
Guitar Player is the world's most comprehensive, trusted and insightful guitar publication for passionate guitarists and active musicians of all ages. Guitar Player magazine is published 13 times a year in print and digital formats. The magazine was established in 1967 and is the world's oldest guitar magazine.
When "Guitar Player Staff" is credited as the author, it's usually because more than one author on the team has created the story.